This is a touching testimony from a mother who realized she was losing her son to the world. Praise the Lord for the way He is using AiG resources in this family to "bring him back."
I just wanted to thank you for this wonderful ministry! It has been a huge blessing for my family. I am a mother of two and married to a non-Christian, so the weight of teaching my kids the truth of the Bible falls on me, but AiG has made my load lighter with all your great resources! I recently bought some dinosaur books/DVDs from AiG as my 7 yr old son is very interested in dinosaurs, but I don't like the secular books the library has. He is so excited about them and I have peace of mind knowing that he is learning the truth. I also read "Already Gone" and it really opened my eyes that, even though I homeschool and we go to church every Sunday, the responsibility of my son knowing and believing the Bible is mine and no one else's. I have realized that I have been negligent in the area of my son's Biblical foundation and the authority of scripture. Through talks, I found out that he was already falling away and am using the Bible and your resources to bring him back. Thank you!

– L., Texas
Road Trips
Ellen Bauer of Iowa has traveled to the
Creation Museum
20 times in five years! She's probably logged well more than 20,000 miles, back and forth. But that's not all—on six of the occasions, she has brought a busload of visitors with her! Ellen will spend many months promoting her bus tours to the Creation Museum, and as a result, she often finds passengers from many states who will join her. Ellen estimates that she has brought 250 people here from Iowa and neighboring states.
She told us that even before the modern creation movement started in the 1960s, her father, a Lutheran pastor, had trained her in biblical apologetics, and thus she could argue against evolution before there were the many resources like the books and tapes—and creationist museums—we have today.
Here is a photo of the group she brought recently for a two-day visit, and yes, she thought they needed two full days to take in everything the museum has to offer.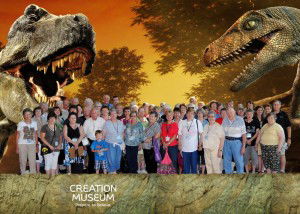 Ellen has been here so many times that she knows one day is just not enough time to take in the entire museum experience. Feedback from people like Ellen has prompted us to institute a new ticket policy: each ticket is good for two days at the museum (two consecutive days).
How about following Ellen's example and bringing a group from your church? Group discounts will make it more affordable.
Ellen, thank you!
Also, my friend Eric Mock, a pastor and a VP at the Slavic Gospel Association ministry, is bringing a group to the Creation Museum from the Chicago area—about a five-hour drive away. See the brochure below of what his trip entails—if you live near Chicago, please consider coming with Eric. Eric, by the way, was instrumental in helping translate my Foundations videos into Russian, and at a very high quality—see this blog post.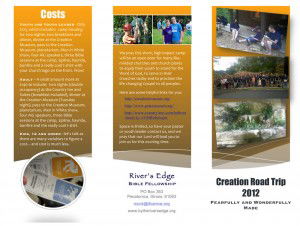 Thanks for stopping by and thanks for praying,
Ken