It is thrilling to see how Dr. Georgia Purdom, AiG speaker and researcher, is able to reach an increasing number of women through various conferences. Georgia is a very talented speaker, and we get rave reviews from those who have listened to her powerful teaching. This past week, Georgia spoke at a women's conference in Vermont. She sent me this report:
I enjoyed a great time speaking at a women's conference at Essex Alliance Church in Essex Junction, Vermont, this past weekend.  The 200 women that attended were very engaged during each session and had a great desire to learn about the importance of the authority of the Word of God.  They were also eager to equip themselves as we sold out of many of the resources very quickly. There were many young women in attendance and several asked questions pertaining to what they were learning in their high school classes about evolution.  One woman told me that she never really thought the issue of the age of the earth was important but that as a result of the sessions she had completely changed her mind! A couple women said that the conference was a real light in a very dark state.  Praise God for the opportunity to share with these women.
Here are some photos: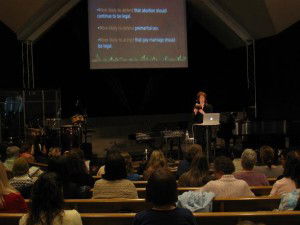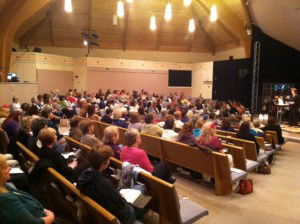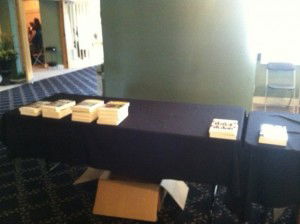 Notice how empty the resource tables were! That's because those in attendance purchased most of the AiG resources Georgia brought to the conference. More information is spreading in the community—I just love it!
On April 19–20, Georgia (along with Mary Mohler, wife of Dr. Albert Mohler, and other speakers) is speaking at AiG's first "Answers for Women" conference to be held in Legacy Hall at the Creation Museum. Actually, I will also be giving a presentation! There will also be some great music (including the use of AiG's newly donated Yamaha C7 concert grand piano).
You can find out more about the Answers for Women conference at this link.
You can also follow Georgia on her blog. See the Outreach conferences page for more speaking events by Georgia and other gifted speakers.
Thanks for stopping by and thanks for praying,
Ken