We are a ministry that is well-known for encouraging young people to get to know their Bible and to build their worldview from its truths. It's a reason we produce so many resources for children—DVDs, books, a children's section inside of our Answers magazine, the holding of student assemblies around the country, and so on—and that's why AiG has an affiliation with the National Bible Bee. After getting to know the ministry leaders and their hearts, we have decided to promote their discipleship program for young people, which is best known for its annual competition for young people who study God's Word, memorize it, and then apply biblical truths—along with the participation of their families so that it's an integrated approach for all.
One of last year's three winners flew to the Creation Museum with her family from Oregon this past week to tour our Bible-upholding facility and also to meet with me. The winners of each category (there are three age groups) won Creation Museum memberships for their families and received other items from AiG and Creation Museum. I was glad to personally congratulate Olivia, age nine, for being one of the big winners at the competition that took place in Nashville in 2011. Here is a photo of the family and me: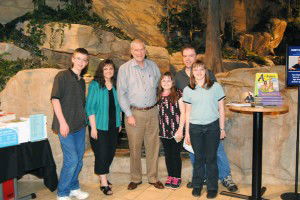 I find it so encouraging that young people like Olivia are being trained by their parents to love God and His Word. Find out more about the Bible Bee by going to www.BibleBee.org.
Here is one of my previous blog posts about the Bible Bee, where you will read how we are involved (including a presence at the Bible Bee competition  itself).
Olivia told us that most museums are boring, but—after spending Wednesday and Friday with us—she said this museum was "fun." Her father told us that our video set The Creation Mini Series changed their entire family several years ago and that God has used the ministry of AiG more than any other to impact their family. The family indicated that our singer and dinosaur model builder Buddy Davis is a huge favorite of theirs—and not just because they share the same last name. Here is a photo of them with Buddy taken on Friday: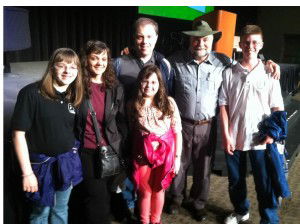 Here us a photo of me and Olivia taken at the Creation Museum: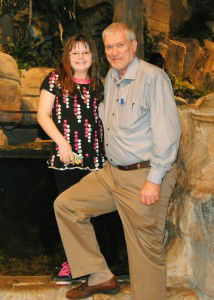 A Surprise Visit
I shared the following on my Facebook this past week, but thought it would be good to include in this blog for anyone who did not get to read this moving story.
I just had to share with you this heart-touching account of how AiG had greatly influenced a young boy.
Recently we heard about a five year old boy who was in hospital in Cincinnati for treatment for Leukemia. We found out he just loves AiG singer and dinosaur sculptor, Buddy Davis. So Buddy and his wife Kay decided to pay a surprise visit to young Kaden. We sent some items from our Dragon Hall bookstore along with Buddy—model dinosaurs, books etc. Buddy and Kay sent me this report of their visit:
We visited with the … family for about an hour yesterday afternoon.  The whole family was so excited that we came[,] as they were not expecting us.  The [d]octor was in the room when we arrived and Kaden kept looking around … and smiling when he saw me. His favorite songs are the woodpecker one and "Behemoth is a Dinosaur." The family said that they watched [the] "I Dig Dinosaurs" DVD over and over again.  He loves my "Front Porch Gospel" DVD where I sing many songs.   He was looking at the pictures in your "Dinosaurs for Kids" book--and the toy dinosaurs were a hit.  He also started to play with my dinosaur sculpturing kit.

His parents said that he tells the nurses about dinosaurs[,] … the flood, and Noah's Ark.   His nurses all know "Buddy" [now] and he told them that dinosaurs "stink" because Buddy said so. [Well, they] finally figured out he meant "extinct".  This is a very sweet family and I invited them to the museum.  I told them that we would be praying for them as Kaden has to be in the hospital until April 10.  He has Leukemia but his diagnosis looks very positive at this point.  The parents names are Kevin and Halie and the children are Kaden (5 yrs old), Maddie (3 yrs old), and Elijah (2 yrs old).  What a blessing it was for us to meet them.
Here is Buddy with the family at the hospital bed of Kaden.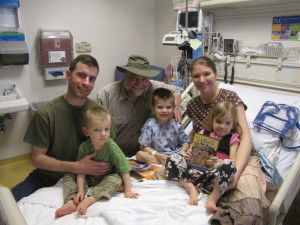 Praise the Lord the children like Kaden can look up to Christians like Buddy and learn about the Lord Jesus and His Word.  Please pray for Kaden.
Thanks for stopping by and thanks for praying,
Ken