Over the years, the state of Georgia seems to have some of the most AiG-supportive churches in the country. Of course, our ministry's neighboring states—and even Michigan (only three hours to the north of us)—have hundreds of congregations each that fully support our ministry. But Georgia is also in that mix.
Last week, the senior pastor of Cross Point Baptist Church of Perry, Georgia (south of Atlanta and near Macon), visited the Creation Museum with one of his deacons and spoke to our staff on Thursday morning. Pastor Jeremy Morton told us that he was thrilled with the quality of the museum (which he toured with me the day before) and the rest of the AiG outreaches, and he encouraged us to remain humble before the Lord—to acknowledge Him in everything we do. I heard some good reports of the devotional he gave to the staff—I was not there, for I had to leave early Thursday morning for my speaking engagement at a homeschool convention in South Carolina. (More about that convention later in this blog post.)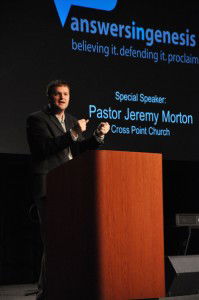 After the visit, Pastor Morton sent in this email:
As a local church pastor, I am eternally grateful for the faithful service of friends like Ken Ham and the AiG team. To say the least, their ministry is a gift to God's Kingdom. Not only is AiG a team full of visionaries leading a first-class ministry, but they are also humble, faithful servants of God.

I am so blessed by their heart to equip the church to know, believe, and proclaim God's Word. Touring their museum is not only educational, but it is a deeply spiritual experience, too. AiG has called me to a deeper, richer love of God and his truth. I look forward to using their Bible study materials at our church. By God's grace, we will never be the same.
His deacon, Ken Davis, who accompanied Pastor Morton, also wrote to us:
Seeing what this ministry is doing is incredible. I was blown away with the unity everyone had about what they were accomplishing. Ken Ham was a pleasure to meet and having him take out his time to show us around was awesome. Looking forward to visiting with my family when the Ark Encounter is completed. It was nice meeting you and hope to see you again soon. God bless you and your family.
Here is a photograph of Pastor Morton (right) and Ken Davis with me.
See the church's website for more information.
We are thrilled there are so many pastors who do support AiG and stand for God's Word beginning in Genesis.
Teach Them Diligently
Here are some photographic highlights of when I spoke at the Teach Them Diligently Convention this past Thursday through Saturday in Spartanburg, South Carolina.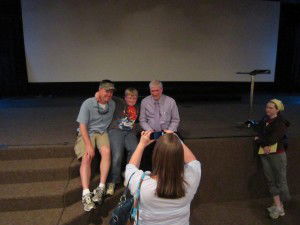 Thanks for stopping by and thanks for praying,
Ken