As many of you know, recently I spoke at an AiG conference in one of the largest (if not the largest) church in Bermuda.
After my first message on the Sunday morning—in which I covered the topic of the relevance/importance of the book of Genesis and the decay of cultures—the pastor gave a powerful challenge to the congregation. To me, his challenge was refreshing. I say this because the pastor really understood the nature of the message I gave. He challenged the congregation concerning how they are teaching their children/families and that they needed to commit to pass on that spiritual legacy to the next generation.
The reason I was so pleased is because in many churches, the leaders often give what I would call the standard "altar call." Pastor Gary Simons of Cornerstone Bible Fellowship really understood the "Already Gone" message. So many young adults are leaving the church, and many young people still going to church are "already gone" in their minds, and they are ready to leave when they become adults.
Here is a photo of some of those people who stood together to take up the challenge given by the pastor to do their best to train up the next generation to stand uncompromisingly on God's Word and to be able to defend the faith.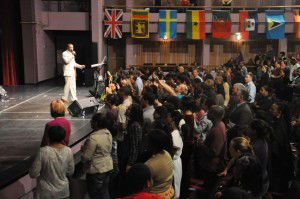 I selected the audio of his challenge, and I urge you to listen to it—it will encourage you. And to me, it is a great lesson for other Christian leaders to help them understand the types of challenges that need to be given to families today.
One of the church members who sent me the audio file wrote the following:
Thanks again for coming to our small Island and blessing us with solid teaching. I especially appreciated it as I work with the young people in our church and I know that they are trying to keep afloat in the difficult situations they find themselves in at school—it is the hardest thing they deal with in their lives and most of them don't make it—they give in to the pressure and live defeated lives spiritually. I am convinced we are not giving them enough help to survive the school system.
You can listen to all the talks I gave in Bermuda on the
church's website
.
You can find out more about the church at www.cornerstone.bm.
Pastor Simons also wrote a follow-up news item about my visit to the island.
Thanks for stopping by and thanks for praying,
Ken