You probably know this passage.
"Though the mountains be shaken and the hills be removed, yet my unfailing love for you will not be shaken nor my covenant of peace be removed," says the

Lord

, who has compassion on you. (Isaiah 54:10)
It's been called a "love note" from our Creator and Savior. Joetta Schmitt, music leader and vocalist at our upcoming teaching conference, "Answers for Women," shared the following with me:
We can sing praises to Him in any and every situation of our lives, and that He will be faithful—no matter what. We are called to offer our hearts in praise to Him because He has heard us before we even ask, and He has filled the need before we knew it was there. When we understand this truth and begin to live it out, our hearts will naturally long to praise Him!
I hope all women will join AiG as we worship our Creator and study His Word at the "Answers for Women" conference, coming to the Creation Museum's Legacy Hall, April 19–20. See
www.answersforwomen.org
for more information.
Message from Habakkuk
One of the wonderful experiences we have at AiG each week is to hear a Christian leader—typically a local pastor—who speaks at a staff chapel. It helps us start the ministry day on the right footing.
Last week we heard an excellent message on the book of Habakkuk from Pastor Jason Brown of El Bethel Church in Owenton, Kentucky (about 45 minutes away). He came to speak at the suggestion of Kevin Bridgers of our staff—if you've called AiG to place orders, it's possible you've spoken to this very friendly and knowledgeable staff member.
Here is a photo of this six-foot-seven-inch pastor (though from the photo it's hard to tell how tall he is).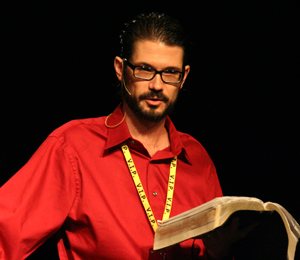 I'm so grateful that there are so many pastors in our region who preach God's Word with fervor and are on-side with us.
Thanks for stopping by and thanks for praying,
Ken