Since we just celebrated the birth of Jesus during the Christmas holidays, I thought right now would be a great time to remind you of an excellent message that we recently released on DVD. It features my brother Steve Ham, and he's packed a lot of scripture, new research, and statistics together. I suggest that you may want to rewind the DVD in a couple places to make sure you get the full impact of every sentence. This is one of what I would call our "core" presentations, and it really needs to be understood, because it impacts your view of Jesus. And remember, Jesus is the Word!
In the beginning was the Word, and the Word was with God, and the Word was God. He was in the beginning with God. All things were made through Him, and without Him nothing was made that was made. (John 1:1–3)
At our national conference this past summer, Steve challenged everyone to seriously consider "which Jesus" our churches, Christian schools, and we ourselves are telling others about. In this DVD,
Christian Unity
, Steve shows that today many Christian scholars who identify themselves as theological conservatives and evangelicals are preaching a Jesus different from the Jesus of the Bible. In order to accommodate their personal belief that millions-of-years-evolution is true, they are essentially re-writing major doctrines and accounts in the holy Scriptures from beginning to end. Many no longer believe in a literal Adam and Eve, a literal sin in a literal the Garden of Eden, a literal Ark and Flood, or that the Jesus created the world as recorded in the Old Testament and as He says He did in the New Testament (plus they're pushing lots of other doctrinal changes too!).
Steve shows from John 17 that unity within the true Church was a huge priority to Jesus, and unity around the truth of the clear teaching of Scripture is what Jesus demands of us.
We often hear church leaders today claim that what AiG teaches is divisive, and that we should be preaching unity. But here's the problem. These people who compromise God's Word with evolution and millions of years want unity around man's fallible word, and they create division over what God's Word clearly states. At AiG, we want unity on the clear teaching of God's Word, and we believe there must be division with those who cling to the fallible teaching of man's words and reinterpret the clear teaching of Scripture. Yes we need unity, but it needs to be the right sort of unity!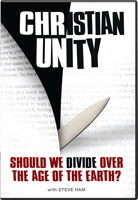 I also think this DVD really helps to show why the Christian leaders who are re-writing Scripture are so adamantly opposed to believing in a young earth and recent creation, and why their unorthodox new teachings are creating such intense dis-unity in seminaries, Christian colleges, and many churches today. Their impact on the beliefs of college students and even the current generation of new pastors is wreaking havoc.
I urge you to purchase this video!
And if you haven't done so, I urge you to purchase and read Already Gone and Already Compromised. These books detail research into how compromise with evolution and millions of years is infiltrating churches and Christian colleges.
End-of-Year Announcement
I'm thrilled to share that a few AiG supporters have offered to match, dollar-for-dollar, every gift that is made online until December 31—up to $75,000 for AiG and $75,000 for the Ark Encounter—$150,000 in total! As Answers in Genesis and its many outreaches continue to take a bold stand regarding the authority of the Bible, equipping young people and adults to uncompromisingly defend the Christian faith and proclaim the gospel, I ask you to please consider a special
year-end gift to AiG
and the future
Ark Encounter
.
Your support of AiG will help fund many life-changing ministries—outreaches God has mightily blessed. And your gift to build a full-scale, evangelistic Noah's Ark (research indicates millions will visit it) will help see that the gospel of Christ is proclaimed even further.
Donate online today, and have your gift doubled.
Also, for information about charitable gift annuities, appreciated stocks, and potentially tax-free IRA rollover gifts (age 70 1/2 and up), please call our Advancement Department at (859) 727-2222 ext. 436.
I thank you for standing with us—and thanks for stopping by, and thanks for praying,
Ken