Yesterday, I gave keynote talks (as other speakers, such as Dr. Andy Macintosh from the UK) at what the organizers in Malaysia are calling a very needed ground-breaking "All-Asian Creation Conference."
Just as we find in the USA, Australia, UK, Europe, and so on, evolution and millions-of-years teaching have not only permeated the culture as a whole but have also permeated the church. The church in Malaysia suffers from the same basic problem we see everywhere we go—most of the leaders (pastors, Christian academics/professors at Christian institutions, and so on) have adopted millions of years and evolution into God's Word.
From what I can ascertain, the BioLogos group (an extremely liberal group theologically, founded in the USA by Dr. Francis Collins)—along with the sad compromising teaching of Hugh Ross—has saturated the church.
However, the conference that began yesterday will challenge these Asian church leaders to return to the authority of the Word of God. Many more than expected have registered for the conference—hundreds of Christians, including many pastors and other Christian leaders, will be challenged concerning taking God at His Word beginning in Genesis.
Christians here have told me that the average person in the church considers Genesis as not important, or that what one believes about Genesis has nothing to do with the gospel, and so on. Well, they are about to be challenged.
Apparently about 10 percent of the population in Malaysia are Christians, which is a higher percentage than Australia or England. If God's people begin standing against this compromise starting in Malaysia, we believe it could really mobilize the church in a big way.
The night before the conference, we met with the local organizers and a number of volunteers who flew from America to help with this conference.
The following is a photograph of the group that met the night before the start of the conference for prayer and set up: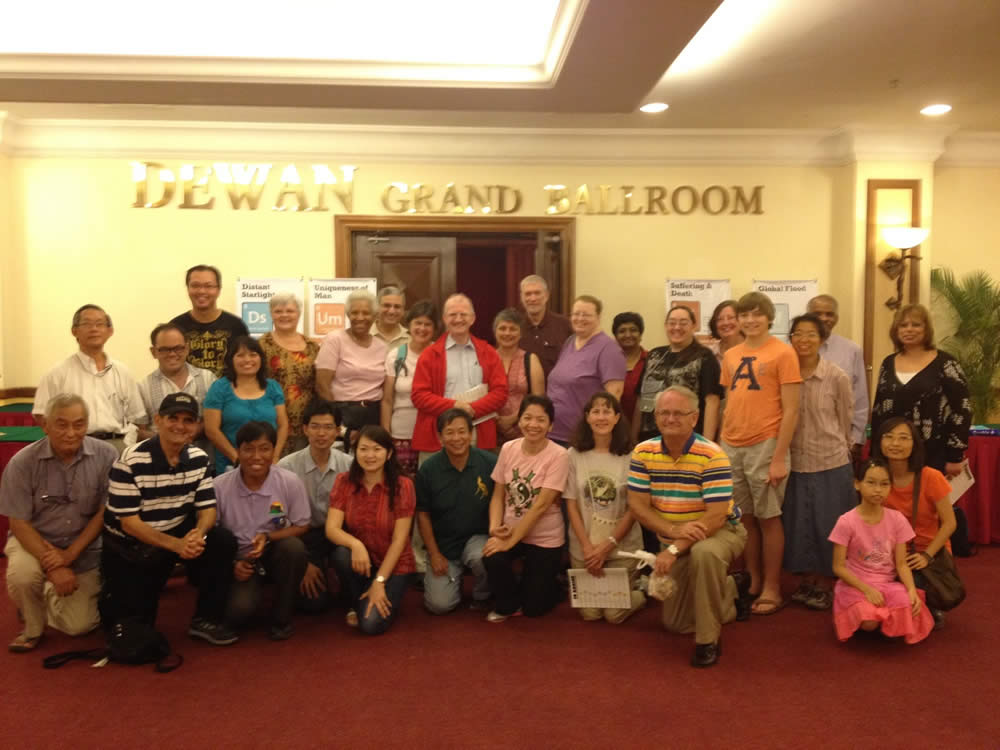 The local organizers went to considerable trouble to have a number of teaching signs made, and it is thrilling to see the way the Lord is using AiG material to get the message out around the world. See the following photos: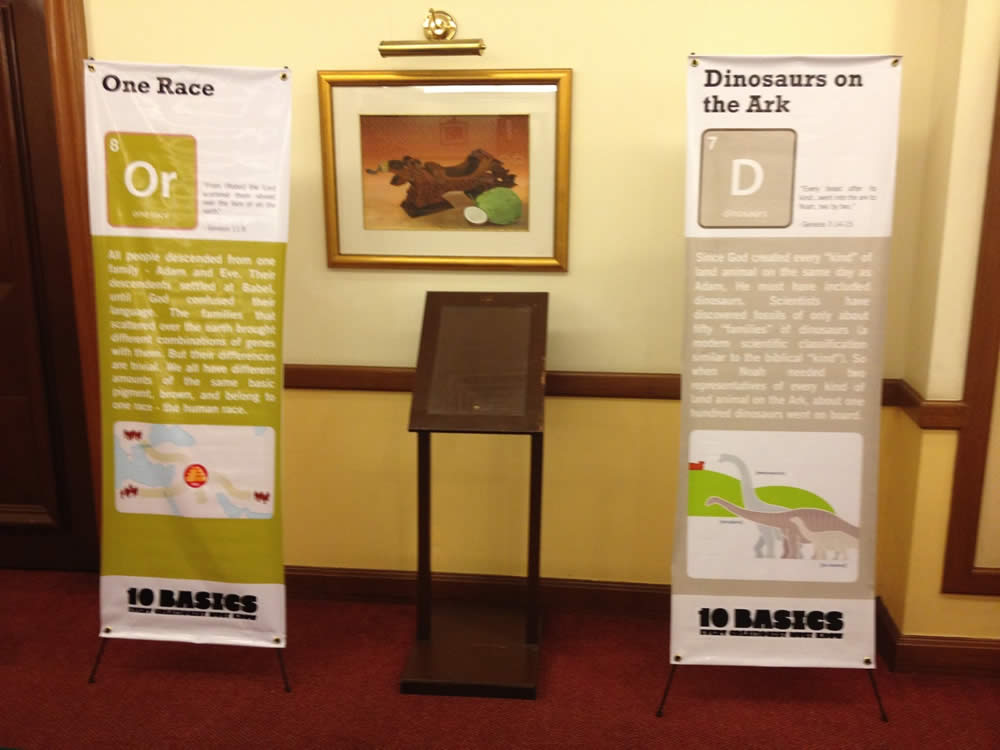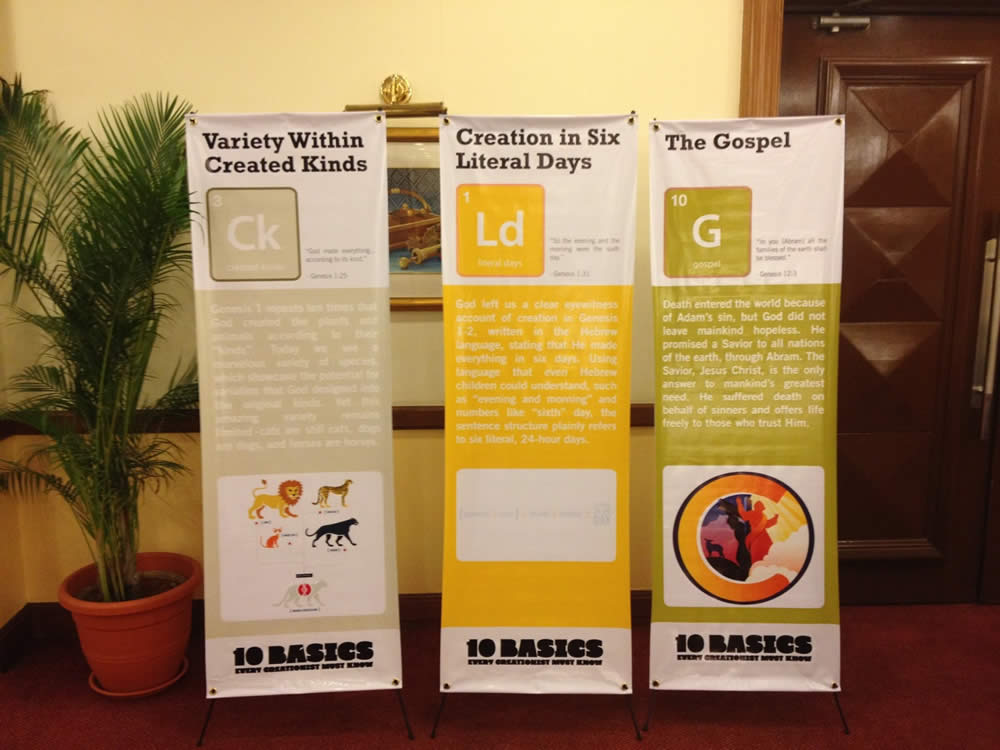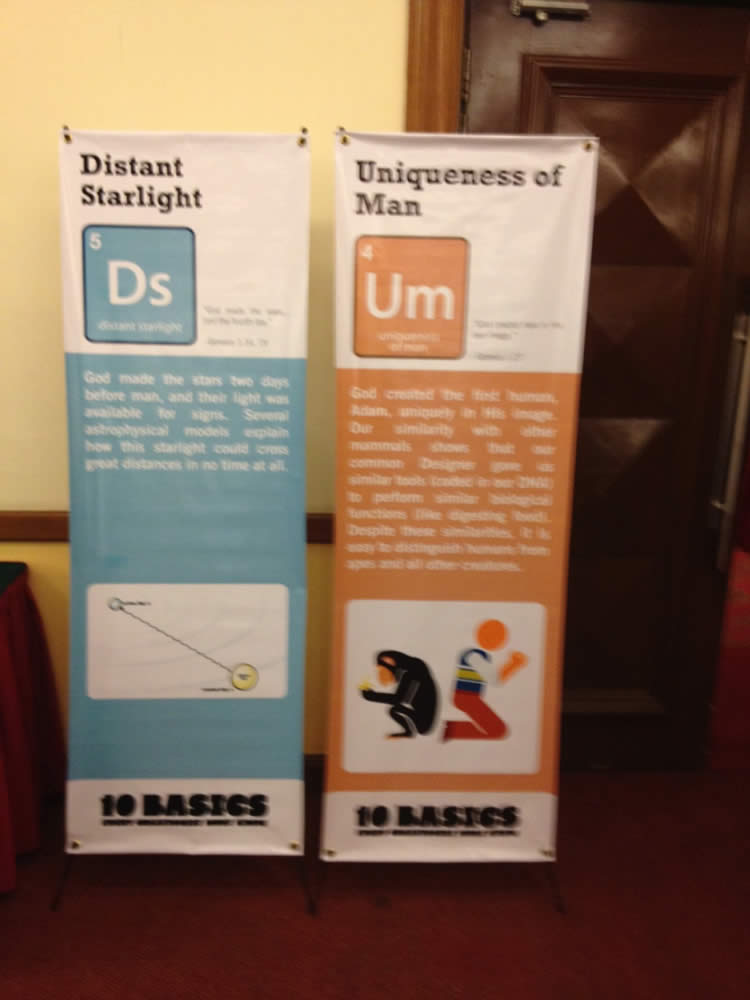 The following is a photo of the notebook that is being given to every participant: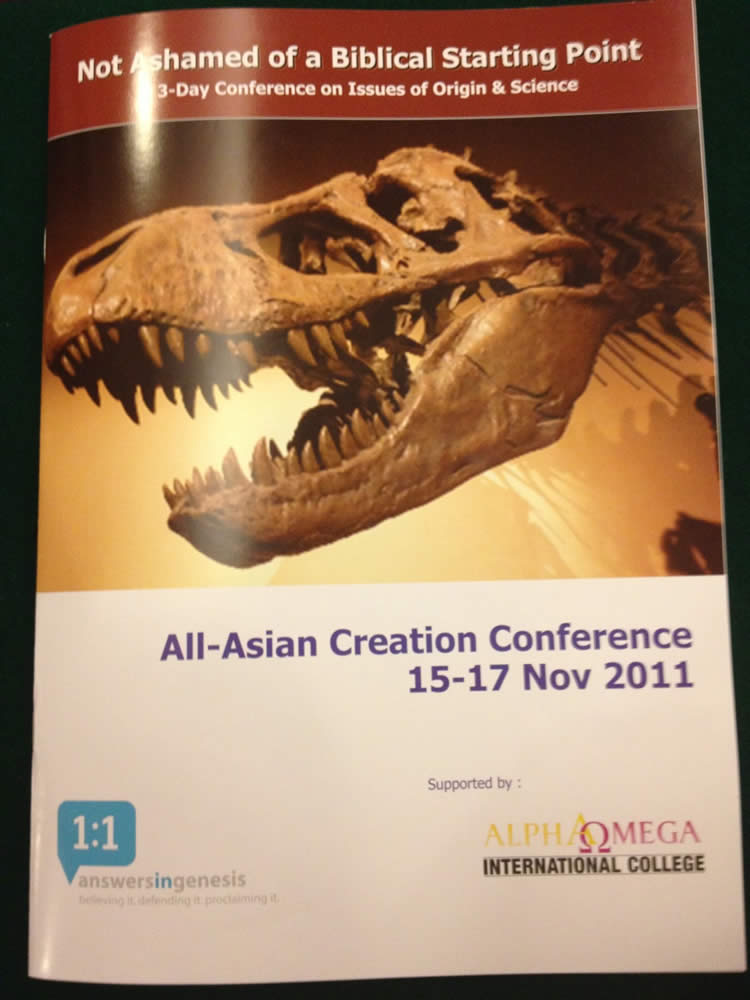 The local organizers had a special t-shirt made, and this t-shirt certainly will be a conversation starter. Check out the photo below: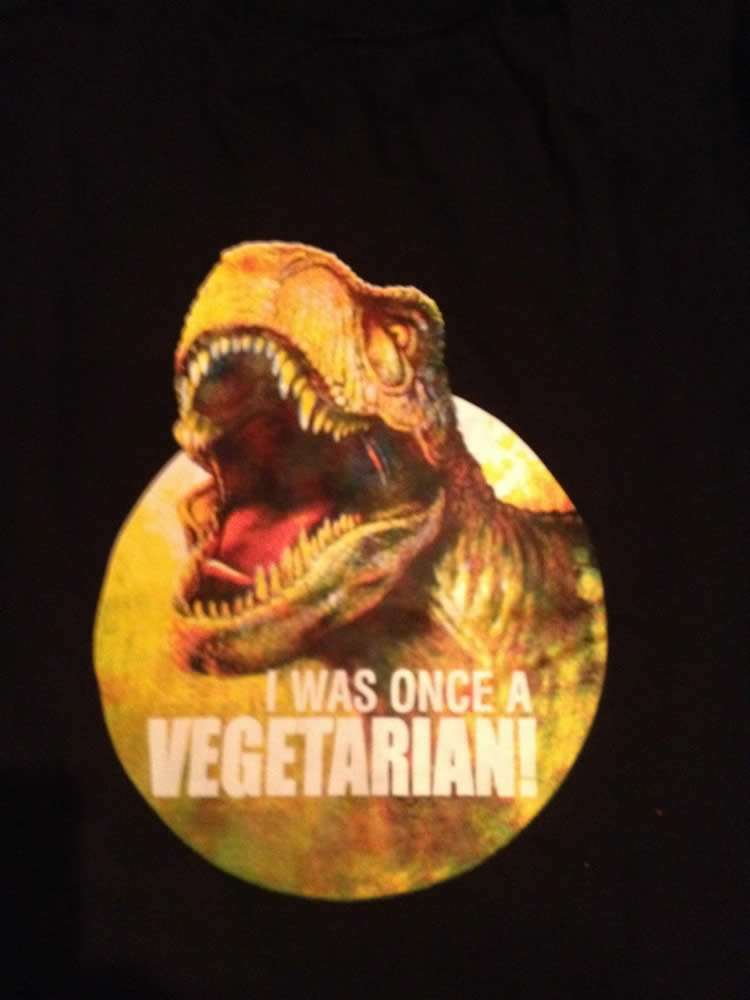 800 chairs were set out last night. Organizers originally hoped for 400 people for this three-day conference, but over 600 have registered so far, coming from over 20 countries. Also, an additional 200 is expected to come for the evening programs. For a country like Malaysia, this is tremendous.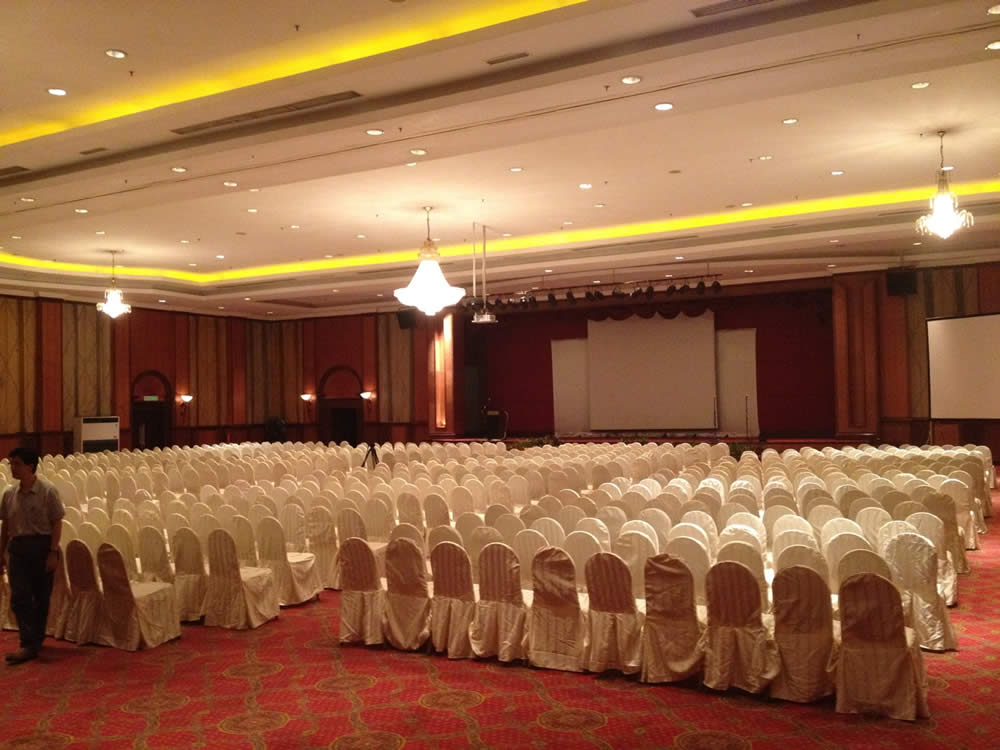 We are in Subang, which is something of a sister city of Kuala Lumpur, the nation's capital. As we looked out of our hotel window last night, we then prayed that God would use this conference to reach many for Him and to help bring reformation to the church as the hundreds of Christian leaders are challenged to return to the authority of God's Word beginning in Genesis: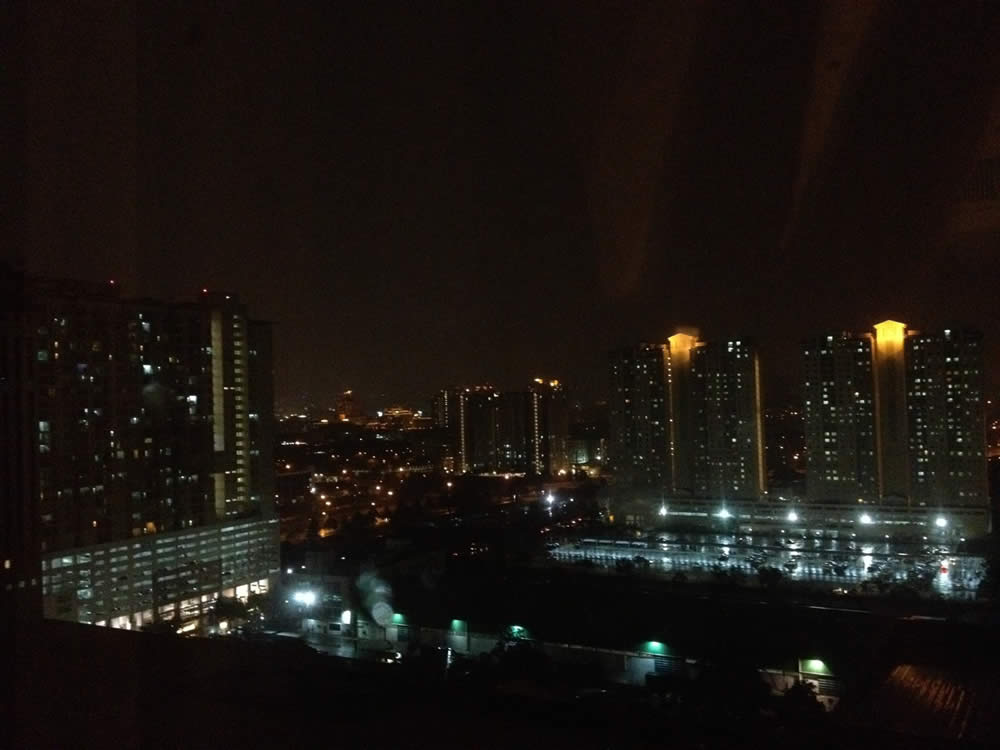 Please pray for this three-day conference in Malaysia.
IncrediWorld
Our staff had an "incredible" time last week learning all about IncrediWorld—Amazement Park, our next Vacation Bible School (VBS) program!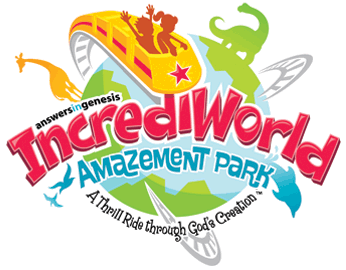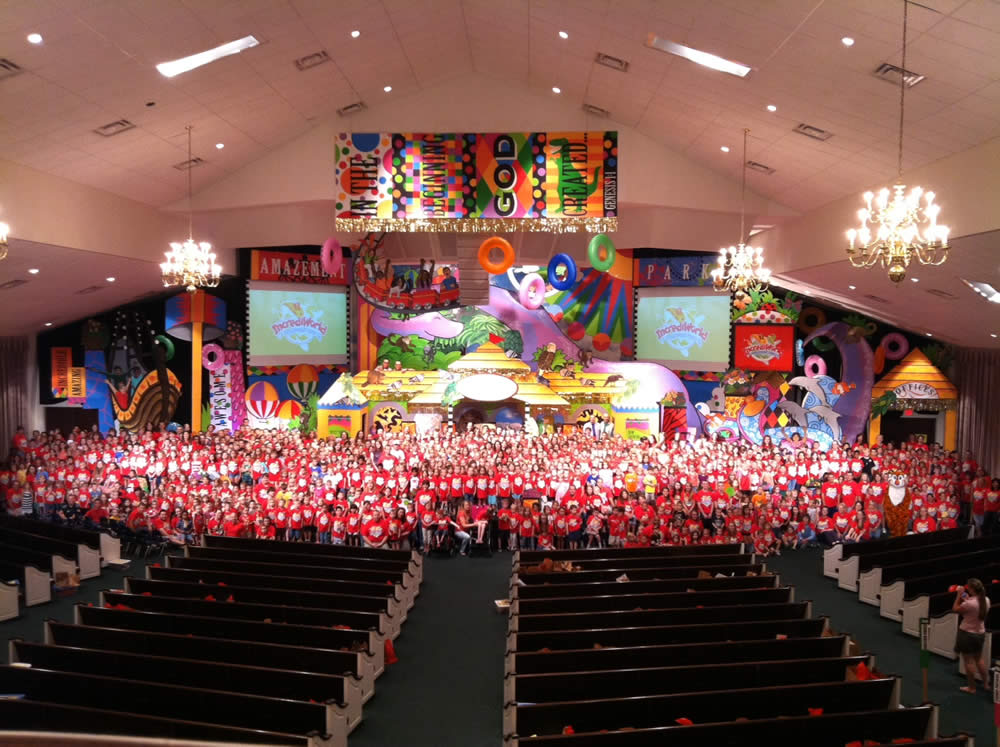 The main writers for this apologetics and evangelistic VBS program for 2012 is a husband-and-wife team, Randy and Barb. Ohio residents, they drove to our northern Kentucky offices last week and brought their enthusiasm and passion for VBS with them as they gave our entire staff a preview of next year's VBS.
They shared the important teaching points of IncrediWorld and some of what the people from our test churches (see the photo above of an Ohio church and a huge group of young people who turned out to test the VBS program) have had to say about this exciting program to reach youth nationwide next year:
I was very moved by how the four-year-olds in my room were so excited how Jesus died for THEM! I also thought it was interesting to see how much they absorbed through the week. By the last day they knew what days God created what things, and they were asking and answering very "big" questions! – B.D.
I felt the kids loved every moment! There was so much hands-on, exciting info. They loved "ganging up" on Dr. Ino-It-All, had tons of fun with the bird beaks, and loved all the teaching games. I was so blessed by VBS this year! My family and I are living proof of how God uses VBS to save His children. That's how we started coming to the church, and now, as a result, one day we'll be in His presence because of it! I am eternally grateful for VBS. Words cannot do justice for my appreciation! – D.H.
This is absolutely the best VBS material I have ever used! The utilization of Scripture was penetrating to the hearts of the workers and the kids. As a VBS teacher, I learned so much more about God, the Bible, and Creation through this material. I am now better equipped in engaging non-believers about God being the Creator of the heavens and the earth. It helped answer the dinosaur questions I had in my own mind. I t was exciting to teach and the kids absolutely loved it.

On dinosaur day, we were quizzing the kids about dinosaurs. One question we asked them was, "What did dinosaurs eat when they were first created?" One first-grader shot up his hand and then gave us an animated response of how dinosaurs "only ate flesh and bones, and tore all the other animals apart!" But after reviewing Scripture and learning how God originally made all humans and animals to only eat plants, the same little boy raised his hand. He said, "Is it okay if I change my answer, now that I know what God really did?" And I think that's what this VBS did. It helped a lot of people "change their answer."

On Gospel Day, we had four decisions for Christ, just from one class of twenty kids. One student asked us, "So, can I tell God where I want my ride to end before I die, even if I'm not nine yet?" We said, "Yes, yes, you can!"

Overall, I found the information in this kit very helpful and want to use it in further discussions I'm having with different family members and friends. This VBS material was not only educational, but also fascinating. – M.D.
This material has surpassed even the previous years' materials. Hard to believe that is even possible. Each day fits so beautifully with the next that there is zero gap. We are addressing points of information in which these children are interested and are presenting it to them in a way that is very accessible. Fantastic! – K.M.
That's what our VBS programs are all about: presenting the gospel and encouraging children to always look to the Bible for answers to the questions it touches on. We're excited about IncrediWorld because it teaches children to know that God is the true Creator of our incredible world—it was not evolutionary processes over millions of years. They'll also learn that God's original "very good" world was changed after Adam sinned, and that because of our sin, we need a Savior to provide a way for us to spend eternity in heaven with God. They'll find out that Savior is the Creator—Jesus Christ (Colossians 1)! And, they'll learn the truth about some of God's most incredible creatures—dinosaurs!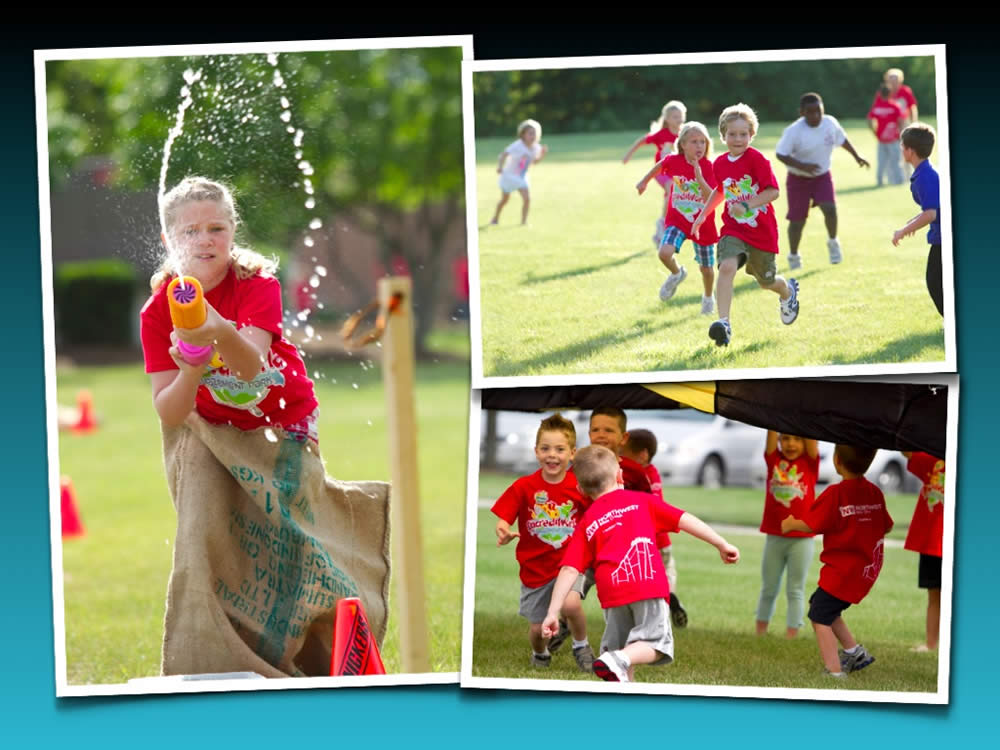 Thousands of churches used AiG's VBS program this last year. More and more churches are using these programs each year as they are so full of teaching—based on the authority of Scripture, with an apologetics component and evangelistic emphasis. There really is nothing like AiG VBS programs on the market.
You can preorder your IncrediWorld starter or super-starter kit right now. Just visit our online bookstore for ordering information, and check out our VBS website at AnswersVBS.com/2012.
Thanks for stopping by and thanks for praying,
Ken