Kids and adults just love AiG's dinosaur sculptor and singer, Buddy Davis! Buddy speaks and conducts concerts at the Creation Museum on a regular basis, and he also travels, speaks, and sings in churches. Buddy and his wife Kay were an integral part of the original vision for the Creation Museum, and they have become part of our close family.
I especially love Buddy's songs as they are so packed with content—great solid Bible teaching and answers from science. I guess we could call them "apologetics songs with a folk flavor that communicate to all levels indepth teaching on God's Word!" If you've never obtained a copy of some of the many CDs Buddy has produced, then I urge you to do so from the AiG online store.
Buddy and his wife Kay maintain a unique and exciting Facebook page, and I urge you all to "like" their Facebook page and become one of their fans.
The following is a recent comment someone posted on Buddy's Facebook page:
I would like to commend you for your life's work! What an encouragement and joy you are and bring to all, kids especially!

I am part of a group known as the Kid's Time Gang and we get together every Saturday morning on WPRZ 88.1 FM from 9 AM – 11 AM and Share our Faith and Love for Christ with music ….lots of yours!  Bible stories, devotions, and Bible-based contests and lots of phone calls during a "live" kid's program.  Not a Saturday goes by that at least 1, 2, or 3 kids call in and request your songs.

God has Blessed you with such unbelievable talent, and your Love for Him Shines forth in your music and lyrics!  The Kids love "Books of the Bible" and "The Woodpecker Song"!  On behalf of all the kids and families whose lives you touch in His Most Wonderful Positive Way, and all the co-workers for Christ like us, I just want to say "Thanks for all you do!"  We Pray for God's continued Blessings and Anointing on you and look forward to sharing what comes next.
Love at the Petting Zoo!
Well no, we are not talking about any of the animals at our petting zoo next to the museum but two of the human zookeepers! This past weekend a very special couple who both work at Answers in Genesis were married. Greg and Emily who work in our petting zoo had their special day.  It was a real joy for my brother Stephen to see all the AiG staff supporting Greg and Emily on their wedding day, and they report that Emily was a beautiful bride. Congratulations to Emily and Greg!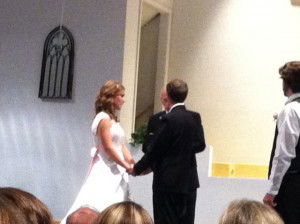 Thanks for stopping by and thanks for praying,
Ken