Whenever AiG hosts a major national conference that features several faith-building speakers, we're continually amazed to see a broad representation of participants—including how many states and countries they represent.
After a year of planning, AiG is getting ready for people coming from all over the country and gathering in our "backyard" of northern Kentucky for our Apologetics Mega Conference, July 18–22. Online registration concludes this Friday evening, but not to worry, after that date we invite you simply to show up at the door. We'll have room for you at the spacious new facilities of Florence Baptist Church, just 20 minutes from the Creation Museum in northern Kentucky. But register now online at www.2011megaconference.org.
This year our national conference is somewhat more in-depth than last year's family-oriented conference (which drew almost 3,000 adults, teens, and children). If you've been to one of our family conferences and seek follow-up biblical instruction, then AMC is for you! Bible teachers—pastors, Sunday school teachers, youth group leaders, and so on—will be especially blessed.
For suggested ages 13 and up, this conference falls on the heels of the release of one of the most important and provocative Christian books of the year: Already Compromised. The book offers true accounts and an eye-opening statistical analysis of the state of our Christian colleges—institutions that are producing so many of our future church leaders.
One of the themes of the Apologetics Mega Conference is to understand the depth of compromise in Christendom in general and what can be done to fix it. More than ever, the church needs to equip its people to defend the authority of the Word of God and the gospel of Christ.
Another reason to join us at AMC is the opportunity to visit the nearby Creation Museum.
So come hear me and other speakers, such as Dr. Charles Ware (a superb Bible teacher), July 18–22, at Florence Baptist Church in northern Kentucky. The site is also about 20 minutes from downtown Cincinnati.
For more details and to register, go to www.2011megaconference.org. See you there!
Chirping Child
Overheard in the Creation Museum bookstore on Saturday: a child was begging her mom to buy some candy. He wanted her to get some "amber candy" we sell in the bookstore, with a real cricket inside (the dead cricket is visible inside the candy—see photos).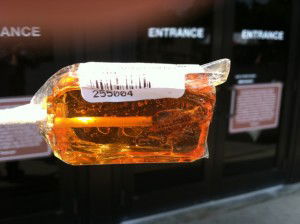 The mom's response: "You won't eat broccoli, but you'll eat a cricket!"
Here is a photo of some of the candy that contains not only crickets, but other interesting "edible" creatures as well!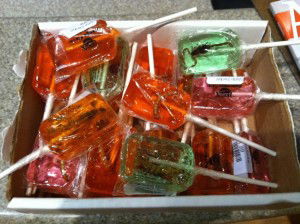 You may be surprised, but these are extremely popular items at our Dragon Hall bookstore!
Thanks for stopping by and thanks for praying,
Ken