I'm in Georgia this weekend, but before I left, I had the opportunity to meet Jada (four years old) inside the Creation Museum. She has been to our museum about 50 times! She lives about 25 minutes away, and usually comes with her uncle Brandon (he's a student of apologetics at Boyce College, and also teaches at a local Baptist church). Jada knows much of the museum's exhibits by memory, and even at her age (four), she can tell you something about carbon dating and how it has nothing to do with dating the earth to be very old! "Precocious" is the best word to describe her.
Here she is with me (along with staff member Ed Moore, far left, who knows Brandon and Jada through church, and Mark Looy at the far right).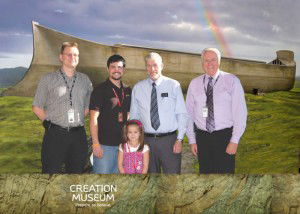 I gave her some special presents as a way of saying "thank you" for coming to the museum so many times: a new Buddy Davis CD and a children's DVD of Buddy and me talking about dinosaurs.  Here is a photograph with Jada holding the CD and DVD: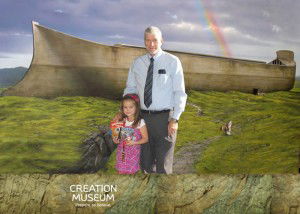 Facebook Site Growing
My new personal Facebook site has over 3,000 followers in just over a week:
www.facebook.com/aigkenham
In Georgia Today
This morning, I am speaking at New Hope Baptist Church in Fayetteville, Georgia. Our AiG conference with Dr. Jason Lisle and me begins this evening—with the final sessions tomorrow evening. Go to the AiG
event page
for details.
Thanks for stopping by and thanks for praying,
Ken