I've written on this blog before about the National Bible Bee contest. I am on its advisory board and am personally excited about promoting an event that encourages so many young people (over 6,000 this past year) to memorize and recite Scripture, and to learn Bible truths along the way.
Here's a report from AiG's Roger Patterson, whose daughter is at the national finals of the Bee competition this weekend in Illinois: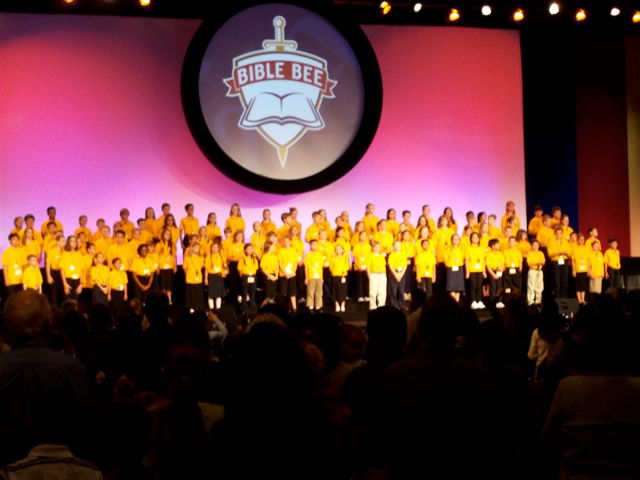 We are in Chicago for the finals of the National Bible Bee. Thursday night there was an opening ceremony with a processional and medal ceremony for the contestants, and Dr. Michael Farris (of the HSLDA) as the MC. There are 100 contestants from three age categories represented here. Back in August, thousands of students across the country competed in local bees to determine those who would advance to nationals this weekend in Chicago.

Our daughter Ally is competing in the primary division. Friday morning she competed in the preliminary round where all of the students will recite as many verses as they can in ten minutes (from a selected list) and then take a written exam. The top 15 contestants advance to the semi-finals, and then the top 5 move on to the final round. The semi-finals and finals will be broadcast over the internet later today [Saturday; at www.BibleBee.org].

You can find out more about the National Bible Bee at www.BibleBee.org and access the webcasts of the final rounds.

Our family encourages other families to consider participating in this great family discipleship program through Scripture memorization and Bible study.

–Roger Patterson (curriculum writer and editor, AiG)
We even have a booth at the Bible Bee there in Chicago; Roger and his children are shown here in the photo.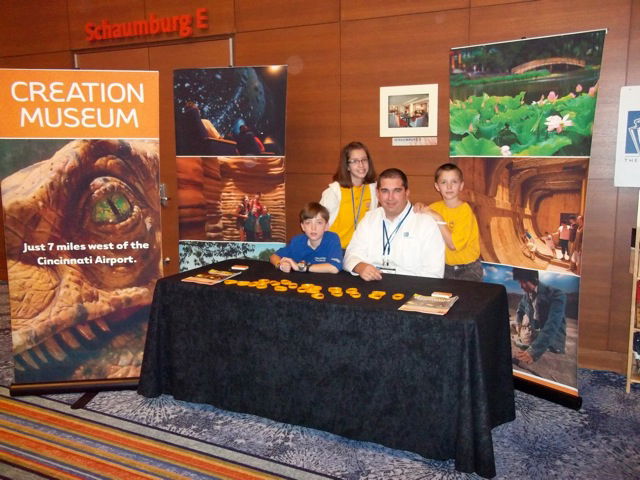 Thanks for stopping by and thanks for praying,
Ken