I am so encouraged to know that there are literally dozens of creation groups spread out all across America (and even to Canada, Mexico, and several nations abroad). We have a good relationship with nearly all of them, and thus, we are encouraged when these creation groups are represented here at the Creation Museum.
Rick Faison is the president of the Philadelphia Society for Creation Science. He and his wife, Vicki, toured the museum last week and met some of our staff. As Rick and Vicki walked through the offices, they noticed some very familiar names on the nameplates outside the doors of some staff members, and stuck their heads in to say hello and talk with AiG scientists like Dr. Jason Lisle and Dr. Georgia Purdom. Rick is an avid reader of Dr. Lisle's materials on logic and defending the Christian faith.
Here is a photo of Rick, Vicki, and Mark Looy of our staff: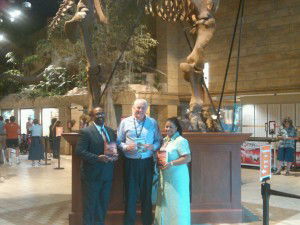 They are holding Dr. Andrew Snelling's remarkable two-volume set, Earth's Catastrophic Past, which they picked up in our museum bookstore (this set is an update to the classic book, The Genesis Flood). Mark
is holding up a museum DVD (which takes viewers on a video tour of the museum's exhibits) that he gave to the Faisons (plus other resources).
From Brazil: Learned "More About the Creator"
A university student from Brazil volunteered at the Creation Museum for a couple of weeks recently. English is not her native language, but she sent us this exciting note:
Being at the Creation Museum was the best experience I had had. It was a place where I could not only meet a good science but also to meet people committed to God's truth, His word, and committed to be a tool for God's plans. I met people that worked in housekeeping, offices, guest services, noah's café, bookstore, collections room and doing others activities and I could see the same thru them; God.

I have never been in a such nice, lovely and peaceful place. (It was hard for me to say goodbye and not cry leaving the museum after my last day of work.) I would like to say that I loved and loved to be part of this team and I get so glad of saying that. I had a privilege of having so many wonderful and great people around me. I thought I would come to the USA to learn about creation, creationism, but His first plan was to make me learn more about the Creator. That changes lives; it changed mine.
Devotion
The lame take the prey

(Isaiah 33:23) The lame take the prey.

Even though in ourselves we are weak and lame, the Lord Jesus Christ answers our prayers for the lost, and He saves them right out of the mouth of the Devil.
Thanks for stopping by and thanks for
praying
,
Ken