Tom Meyer is a ministry friend who lives as a student in Jerusalem , but travels on occasion to the U.S. (where he's originally from). He visited the Creation Museum last year, and this past week he was back. We had him speak to our staff during two chapel sessions and also five times to our museum guests—he recited Genesis chapter 1-11 from memory in front of our visitors! For our staff Thursday morning, he spoke a few chapters from the Book of Revelation—when an AiG tour group heard him in Jerusalem last year, he recited all 22 chapters of Revelation from memory!
Here is a photo of Tom speaking to our staff on Thursday. On Tuesday, he alternated between the book of Book of Hebrews and the Books of Genesis and Exodus.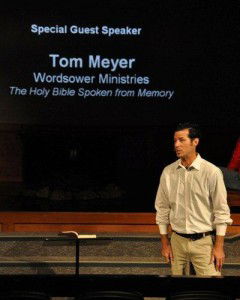 Tom and his fiancée Sarah will be getting married in Jerusalem next year—he proposed to her on Christmas Eve in Bethlehem . What a romantic!  See my previous blog post about Tom and his ministry.
On Friday evening, Tom took in a Cincinnati Reds baseball game. One of the things that he misses about living in America is going to ballgames. In the photo taken at the stadium, Tom (wearing a Chicago White Sox cap) thanks one of our staff members for getting him a ticket to the game.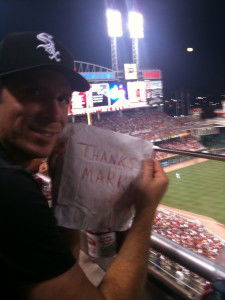 Find out more about Tom's evangelistic ministry in Israel—a nation which (surprisingly) does not have many evangelical, Bible-believing churches at all—go to:
www.thescripturecannotbebroken.com
For information about our next tour of Israel (it's this October), go to: http://www.pilgrimtours.com/aig.htm
Thanks for stopping by and thanks for praying,
Ken