Over the last four weeks, Answers in Genesis has had the great privilege of presenting the Seven C's of History at First Baptist Atlanta (Dr. Charles Stanley's church).  Dr. Terry Mortenson presented the first four C's being Creation, Corruption, Catastrophe, and Confusion, while my brother Stephen (AiG's Senior Director of Outreach) finished with the last three C's of Christ, Cross, and Consummation.
Both Steve and Terry were overwhelmed with the response from First Baptist Atlanta—especially with one very special young man.  Jeff, a young college student was excited to tell Steve that he came to know Christ as his Savior. This happened last year when he heard the similar messages that I preached when I also had the opportunity to speak at First Baptist.  Steve reported that Jeff was so eager and excited about the answers he now has, which helped him make real sense of the world. He was especially joyful to tell Steve what a difference it made in his life when he could finally find out that he didn't have to believe in the myth of evolution any more and that knowing the Creator has given him real purpose in life.
It is truly a joy to hear of these great testimonies from people who have had their eyes opened to the truth of God's Word and the wonder of His gospel.  Praise God!
AiG has more speakers coming to the Atlanta area beginning in a few days (Dr. Tommy Mitchell and later Carl Kerby).  Check out the AiG calendar for details.
Christian Family Nights at Baseball Games
Last week, the
Creation Museum
had the opportunity of being the title sponsor for the Florence Freedom baseball team's "Christian Family Night" in nearby Florence, Kentucky—about 20 minutes from our museum.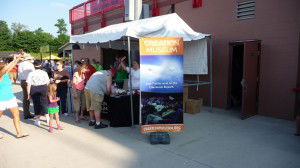 The Creation Museum was featured on the stadium's large screen television in the outfield with our commercial spots being played between innings.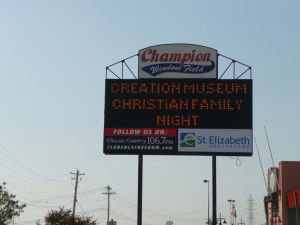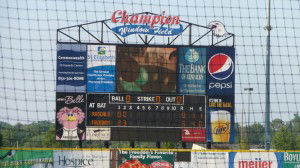 Dinosaur bobbleheads were given to children 12 and under.
And AiG/museum co-founder Mark Looy threw out the first pitch (using one of our new Creation Museum baseballs!).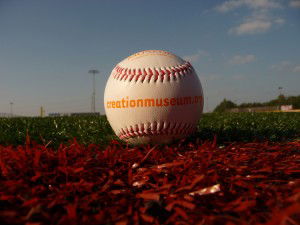 The next baseball game for our museum promotions team will be on Saturday, July 10, when we travel to Louisville, Kentucky for the Louisville Bats' "Faith Night" (see http://web.minorleaguebaseball.com/schedule/index.jsp?sid=t416&m=07&y=2010).
Devotion
He spoke boldly

(John 7:25-26, 46)  Then said some of them of Jerusalem, Is not this he, whom they seek to kill? But, lo, he speaks boldly, and they say nothing unto him. Do the rulers know indeed that this is the very Christ? …The officers answered, Never man spoke like this man.

When His enemies were seeking to kill our Master, the Lord Jesus Christ did not cower and suppress the truth, but He spoke all the more boldly.
Thanks for stopping by and thanks for
praying
,
Ken