Many of you have probably heard of the TV program Bill Nye The Science Guy—the Emmy-winning PBS children's program.  There is no doubt that Bill Nye is a great communicator and was (and still is—the programs are still running  on PBS) very popular with children.  In fact, when he taught operational science (the same science that creationists would agree with—based on direct observation and repeatability), he did a great job.  However, Bill Nye also teaches children to believe in evolution and millions of years—in fact, he has been very outspoken against creationists.  According to one of his bios, Bill Nye is the host of three currently running television series. His latest project is hosting a show on Planet Green called Stuff Happens.
This month, Bill Nye was awarded the "Humanist of the Year" award.  From the American Humanist website we read:
The Humanist of the Year award was established in 1953 to recognize a person of national or international reputation who, through the application of humanist values, has made a significant contribution to the improvement of the human condition. Selection of the awardee is based on research derived from biographical data, writings, studies, and contributions to humanity. Nominations are accepted from AHA members. The Awards Committee, with the approval of the Board, makes the selection. A bronze plate bearing an inscription is awarded at the Annual Conference. The awardee's acceptance speech is published in The Humanist.
You can watch three YouTube videos of the acceptance speech by Bill Nye at this link:  
http://friendlyatheist.com/2010/06/07/its-bill-nye-the-science-guy/
On the American Humanist website we also read, "Presenting Mr. Nye with this award is an honor," said David Niose, president of the American Humanist Association. "Nye's positive impact on the world of science and education has been invaluable to children and adults alike. By celebrating an appreciation for science, he's instilled a sense of respect and interest in the physical world that surrounds us."
Well that is what the secular humanists say about Bill Nye.  But what does God say?
God says:
But whoever causes one of these little ones who believe in Me to stumble, it would be better for him if a millstone were hung around his neck, and he were thrown into the sea. (Mark 9:42)
Bill Nye may receive the accolades of men in this life, but he has to stand before God to give an account in the next!
Last year's Humanist of the Year Award recipient was PZ Myers, a Professor at the University of Minnesota, Morris.  He is not a heavyweight in scientific circles, and can act rather childishly  (yet usually in a very vile and blasphemous way, not becoming of a university professor) on his atheist blog, which is probably why it is a popular blog among atheists.  With this award, Bill Nye now joins the ranks of the likes of PZ Myers.
You can find out more about Bill Nye's award from the American Humanist website.
Another PhD Scientist Tours the Museum
One of the regrets that I have in being away from the office so much—even though it was a privilege to speak to so many people at a wonderful series of talks in Philadelphia last week and then in Richmond, Virginia, at the end of last week—is not being able to meet some of our special AiG friends when they tour the museum, such as Dr. Stewart Turner and his wife Sylvia of South Carolina. As
Creation Museum
members (and Stew is a graduate of one our Creation College conferences), this couple is now heavily involved in conducting teaching seminars on the book of Genesis. Based out of South Carolina, Dr. Turner does his own "Relevance of Genesis" talk, which is patterned after our presentations here at AiG.
Dr. Turner earned his PhD in aerospace engineering from the University of Arizona, and he served (as a civilian worker) in the US Air Force for several years. His expertise was in analyzing most of the weapons in the Air Force inventory today. I've lost count now of the number of PhD scientists who have toured the museum since we opened three years ago.
Dr. Turner's talks are illustrated by some wonderful PowerPoint slides/photos—I've been told that he is an excellent photographer.
Find out more about the Turners by going to their website at www.CreationLectures.org—you'll discover that he has 18 different talks in his repertoire.
Here is a photo taken of Stew this week near the museum lake: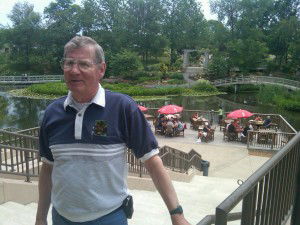 This was his third time to the museum.
On the same day that Dr. Turner visited, I missed seeing a ministry friend from Florida (we'll protect his identity) who does missionary work inside Cuba. He gave our staff a semi-confidential report on the flourishing underground church in Cuba, amidst strong government opposition to religious liberty in that Communist nation.
Maybe I should stay in the office more to meet such interesting people! It would also help this weary body to get some rest after a lot of travel over the last few months!
Devotion
He shall order the lamps

(Leviticus 24:3-4) Aaron order it from the evening unto the morning before the LORD continually: it shall be a statute for ever in your generations.  He shall order the lamps upon the pure candlestick before the LORD continually.

During the day we get distracted from the Lord Jesus Christ, but in the morning with an open Bible we set the Light of His word before us to straighten us out.
Thanks for stopping by and thanks for
praying
,
Ken