Yesterday I spoke to our entire staff—and to the AiG board members who were in town for a three-day board meeting—in a chapel session on the importance of standing up for the authority of God's Word in the culture. I thought it would be a good refresher for the staff to be reminded of why AiG has such a vital message to bring to the church and world.
I began my talk by playing a very revealing video about the state of Christianity in England—and what America will become if it keeps moving in the direction it is—and I urge you to watch this CBN news report first before listening to my talk:
http://downloads.cbn.com/cbnnewsplayer/cbnplayer.swf?aid=9425
You can listen to the talk (actually, it is part one; I am giving the second half today) here:
http://media.answersingenesis.org/Blog/052610-ken-ham.mp3
From the Very Beginning
It's great that our ministry can reconnect to AiG friends going back to the very beginning of the AiG ministry some 15–16 years ago. David Bottorff in central Kentucky visited the Creation Museum once again (he's been here at least a dozen times). He shared with us that since he became a Christian, there have been two things that have helped his Christian growth more than any others: 1. Developing an attitude of service, and 2. Growing in his confidence in God's Word, in which AiG played a major part as God used the ministry.
With the latter, David tells us that, some 15 years ago, he was wondering how trustworthy the Bible really was. For example, he thought he would have to go to Heaven to hear God give him the answer as to how dinosaurs could be explained biblically. He heard about a seminar that was going to be held near Ashland, and soon discovered that it was our Answers in Genesis conference—a meeting designed to help Christians defend their faith and answer questions about the Bible.
David made the one-hour-plus drive to Ashland, not knowing exactly what he would learn. When he arrived at the seminar site, he noticed that I was going to be giving a talk on dinosaurs and the Bible. That greatly intrigued him. As a result of listening to that talk, plus learning so much at this conference, he became an on-fire Christian. He's been a close ministry friend ever since; he even drove up here for our groundbreaking for the museum several years ago.
We thought it would be appropriate that to take his photograph in front of one of our dinosaur displays inside the Creation Museum.
After he left, David—who admits that he is an AiG "groupie" (in the good sense of the word)—wrote to us with a wonderful testimony of how he is engaged in "creation evangelism." Some of his ideas below might spur you to do the same:
In retrospect I would like to add to what I told you yesterday [at the museum], because there really was more than just the one message about dinosaurs that "lit my fire." That Creation Seminar in Ashland was three days long. I took our youth to the first night, on Sunday, when we heard the message on dinosaurs, and the "scales fell from my eyes." Then my son, Andrew, and I went back each night for the other sessions, and each evening I got even more excited. I think it was the second night that Ken spoke on the Flood.

No one had taught me how to apply the Scriptures to every-day issues. I think this relates directly to Ken's "Already Gone" research.  But the insight I gained through that first seminar ignited a flame that has never waned.

Anyway, my family and I have been aligned with AiG ever since. We were at the museum site for the groundbreaking, came a number of times as volunteers during the construction phase, joined as charter members, and now "peddle" our free museum passes "mercilessly".

We place AiG booklets with tips in our motel rooms, leave them with restaurant tips, and include them with bill payments. They even fit in Netflix envelopes!

Whenever I have to call the phone company, or make a phone order, etc., I'll ask folks if they are familiar with the museum. If they are interested, I'll send them information, sometimes a DVD. (I especially like to send the new museum tour DVD.)

I say all this not to brag but hopefully to encourage. AiG has encouraged me beyond words and emboldened me. I follow Ken's blog regularly and am blessed by his frequent testimonies of people coming to Christ and believers becoming equipped.

AiG has become a lightning rod for the secularists and humanists, a true testimony of the bold Truthfulness of your message. I love the way you all handle each challenge as a divine opportunity. So many times we as believers are content to fly under the radar and in so doing miss great opportunities to impact unbelievers and our culture, but you all seem to relish each affront and handle them with tact and wisdom and grace.

I pray for you all regularly and I thank God and you for all you have accomplished. Keep up the good fight! David Bottorff

P.S. It was during my second visit after the museum opened that it hit me why I find such joy in being there. In all the exhibits and displays, in all the videos, in the gardens, in the bookstore, with the petting-zoo animals; in everything your thoughts are directed toward God. That is worship. And the atmosphere at the museum contributes to an almost total freedom to do so. I take great joy in that and find great peace and satisfaction. Thank you for letting me share. David
At the Farm
Last night, the AiG board of directors sponsored a special evening at a local catering and banquet facility called "The Farm" for our staff and families. It was great food and great fellowship! Here is a photo of Chairman Don Landis bringing a devotional at the dinner: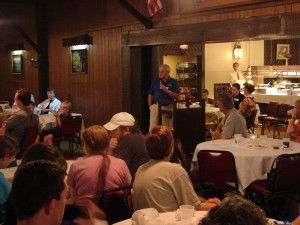 Thanks for stopping by and thanks for praying,
Ken