Yesterday's special guest here at the Creation Museum walked 1,500 miles to get here! Let me explain.
Museum member Daniel Johnson of Colorado is walking across America. He started in northern Maine. Along the way he is boldly sharing his Christian faith. He made sure that his walk to San Diego, California, would take him past the Creation Museum. As a museum member, this is a highlight of his cross-country walk. He had already visited the museum before it was finished (on a "behind the scenes" tour for members) and then toured again a few months after the museum opened.
Here is a copy of the news release we sent to local media about Daniel's incredible journey:
CREATION MUSEUM HOSTS COAST-TO-COAST HIKER

Daniel Johnson Treks through Cincinnati Area on Nationwide Quest to Share Gospel Message

An outdoor enthusiast from Colorado is hiking his way across the country in an effort to bring attention to his evangelical Christian faith, and is scheduled to be at the Creation Museum on Monday and Tuesday, January 11–12. At the museum, he hopes to connect with local fans who have been following his progress online. Daniel Johnson departed from the "top" of Maine in June 2009, and hopes to reach the "bottom" of California in August 2010. His journey, which he calls "Coast to Coast for Christ," has garnered media attention all along the way–his intent from the beginning.

Inspired by a coast-to-coast hiker who undertook the challenge for no particular reason, Johnson decided that he could launch a similar effort, but with a specific purpose in mind–to share his Christian faith with people he meets along the way. As a fan of the Creation Museum, which he has visited before, and a fellow believer in a literal interpretation of the creation account in Genesis, Johnson is excited to be in the museum's "back yard"–Cincinnati. He plans to spend parts of Monday and Tuesday at the museum.

Johnson recently finished hiking the Appalachian Trail, and is now following the American Discovery Trail, which should take him all the way to California. The Creation Museum's hiking paths around a three-acre lake make a great side trip while in Kentucky. We are looking forward to hosting Daniel at the Creation Museum, and we hope that the visit will be an encouragement to him on his remarkable journey. We commend him for using his love of hiking to bring attention to the gospel message.
Daniel spoke to our staff this morning and told us that he has 2,000-plus remaining miles to go. Please pray for his safety—and for his witness.
Final Evening of First Answers Conference for 2010
Last night,
Dr. Jason Lisle
(astrophysicist) and I spoke at the final evening of the Answers conference in Mason, Ohio. Again, a great turnout and tremendous feedback. Here are two photographs of Jason:
1. Speaking to the audience—as people look up at a screen to view one of Dr. Lisle's slides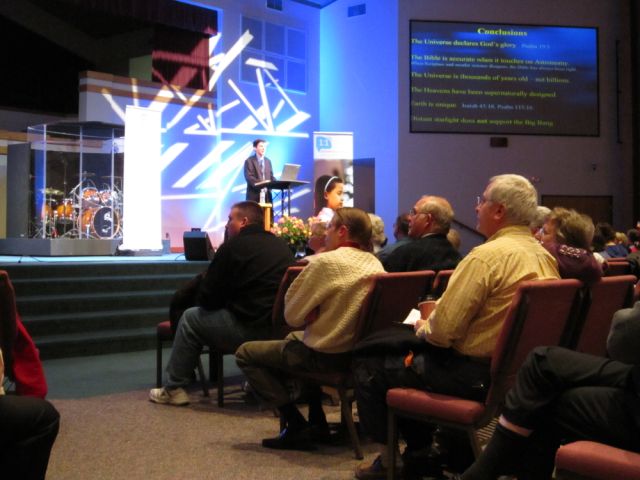 2. Taking questions after his presentation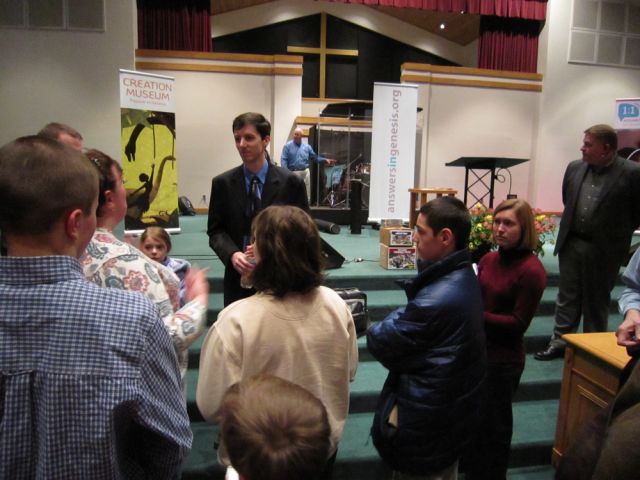 Devotion
Desired

"Thirty and two years old was he when he began to reign, and he reigned in Jerusalem eight years, and departed without being desired. Howbeit they buried him in the city of David, but not in the sepulchres of the kings." 2 Chronicles 21:20

The beauty we bring to this life is the beauty of the Lord Jesus Christ shining through us. If we have allowed this to happen, we will be missed when we die.
Thanks for stopping by and thanks for
praying
, Ken