First of all, to all Americans reading this—HAPPY THANKSGIVING! I trust you all have a blessed time with family and friends.
Our own Dr. Georgia Purdom briefly spoke to our staff recently, and she showed us a clip from her new DVD on genetics. In the photo here, you see a "still" of her from that new video.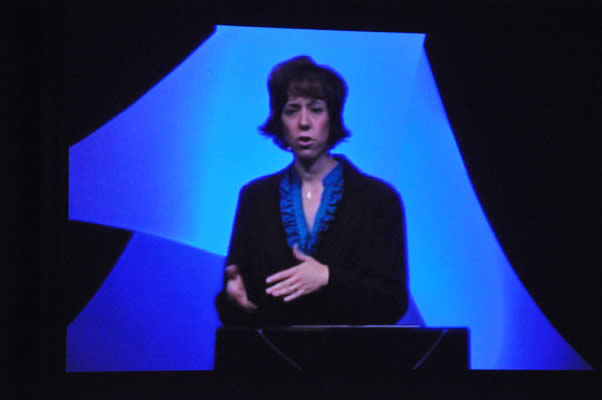 It's a semi-technical talk entitled Genetics, Evolution, and Creation: Most Asked Questions. Dr. Purdom has a PhD in molecular genetics, so she knows what she's talking about! Keep watching for this DVD, which is coming soon. When it comes out, why not order a copy for your skeptical family member or friend who has a background in science and may think that biology has proved Darwinian evolution?
Next Tuesday here at the Creation Museum, Dr. Purdom—an absolutely superb speaker—will give a non-technical talk to museum guests. Entitled "Is Genesis Relevant in Today's World," she will give a noon lecture on why people no longer believe the Bible is true; she will relate that to an unbelief in the history of Genesis. I would say it's a talk for ages 11 and up.
Dr. Purdom, with a PhD in molecular genetics from Ohio State University, is (to our knowledge) the only female PhD scientist engaged in full-time research and speaking on Genesis for a biblical creationist organization. She is the presenter on the DVD The Code of Life: DNA, Information, and Mutation.
Her lecture on December 1 at noon is free with paid museum admission (or museum membership). If you have never heard her speak, you are in for a real treat.
Devotion
Will circumcise your heart

(Deuteronomy 30:6) And the LORD thy God will circumcise your heart, and the heart of thy seed, to love the LORD thy God with all your heart, and with all thy soul, that you may live.

We submit ourselves under God's knife and allow Him through troubles to remove from our lives the affections that keep us back from wholehearted devotion to Him.
Thanks for stopping by and thanks for
praying
, Ken