The former highly ranked tennis player David Wheaton is a good friend of Answers in Genesis. While he honeymooned in Scotland a few months ago, a photo of David was taken standing on top of parking spot #23 in front of Edinburgh's famous church, St. Giles—where the great Reformer John Knox preached.  Knox is buried under this gold plate! As I've noted before, Charles Darwin is celebrated by being buried inside the famous church in London, Westminster Abbey, yet Knox's grave is in a Scottish parking lot!  There's something wrong with this picture!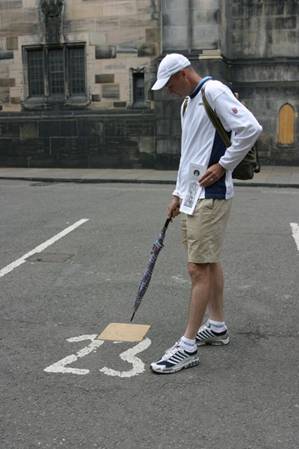 Author of "University of Destruction," David interviewed me recently for his nationwide radio program—listen to part one of my interview with him at
Thechristianworldview.com/tcwblog/archives/2829
Find out more about David and his pro tennis career (including a doubles Wimbledon victory) and his new "job" as a biblical apologist at: Thechristianworldview.com/tcwblog/
Also, watch a video about David and his pro tennis career on this website:
www.cbn.com/entertainment/sports/700club_davidwheaton08209.aspx
In Mississippi
Today I am in Mississippi for an AiG conference at Morrison Heights Baptist Church (near Jackson) Sunday and Monday.  You can obtain details from the
AiG website
.
Museum Continues to Be Mocked
Despite nearly 900,000 visitors through our
Creation Museum
, the secularists, angry that such a place exists to tell people the truth about evolution and stands on biblical authority, continue to mock in an attempt to throw as much mud as possible.  Another (of the many in recent times) of the mocking lectures will be given in Brooklyn:
Morbid Anatomy Presents at Observatory.  "Humans riding on the backs of Dinosaurs: A walk through the Creation Museum in Petersburg, Kentucky USA."  by John Erik Troyer, Ph.D., Centre for Death and Society, University of Bath  Date: Monday October 26th…Admission: $5

In May 2007, the twenty-seven million dollar Creation Museum opened in Petersburg, Kentucky. The museum is dedicated to representing a "young earth," Christian explanation of the planet, which makes the known universe roughly 6-10,000 years old. Within the museum, visitors can view a large-scale Garden of Eden diorama, a fully loaded planetarium, and animatronic dinosaurs. Since opening, well over 835,000 people have visited the museum. The Creation Museum is a key player in what Troyer calls the American Science War and is part of an ongoing battle between advocates of Evolutionary Biology, Intelligent Design, and Creationism.  This presentation closely (and humorously) examines the relationships between Creationism, Intelligent Design, and Evolution in America by giving a pictorial tour of the Creation Museum in Petersburg, Kentucky. There will also be artifacts from the museum for your perusal.
Well—at least it's more publicity! Thanks for stopping by and thanks for
praying
Ken