A man from Fisher, Illinois, visited the Creation Museum recently, and when he left, there had been quite a change in his view of the book of Genesis. Before coming, he said he would have called himself an old-earth creationist. In college, he studied archaeology, geology, anthropology, biology, and astronomy. When asked which museum exhibit convinced him to change his way of thinking, he said it was the information on radiohalo dating (it just so happens that yesterday's lead article on our website dealt with radiohalos: Radiohalos in the Shap Granite, Lake District, England). He was also impressed with the Dinosaur Den exhibit and the "Last Adam" theater on the life of Christ. He told us that he looks forward with great anticipation to bringing his family for a return visit.
A French Testimony and the "Seven C's of History"
Some ministry friends from Ohio returned recently to the museum. They brought a special guest with them—Marine from France. Here is what they wrote us, including how the "
Seven C's of History
" that Answers in Genesis teaches in our materials (and in the Creation Museum) are being used by God:
Thanks so much for a day we will cherish. We are the family from Ohio [who came with] with Marine, our French exchange student with us who had received Christ a year ago. She gives her permission for you to share with supporters about how awesome God works. I pray that the testimony I leave with you about Marine encourages you.

In the summer of 2006 my wife, Karen, was excited about an ad in the local newspaper. She wanted to host a French student for a one-month cultural exchange. I was not as excited. I put it to prayer, and God gave a peace in the matter. We contacted the agency and let them know of our interest. They provided the information on some students for us to choose from. We again took the matter to prayer.

Karen and I agreed not to tell each other who we believed 'the one' was until we both knew. We then sat down and revealed our choice. We both chose Marine, and it was reaffirmation from God to us. Karen contacted the agency just before the deadline. 'I'm sorry,' the woman said. 'But we only have one student left to place . . . her name is Marine.' We laughed—and knew it was meant to be.

Marine came as a 15 year old agnostic from Paris, France to rural Ohio. We had been praying that she'd see Christ in us and receive His salvation while with us. Saturday night came (her first week with us), and we shared that as a family, we go to church together. She responded, 'No thank you.' We prayed and my wife cried.

It probably wasn't the most tactful thing to do, but the next morning we said, 'O.K., we're going to church together as a family today.' She agreed. I guess we really didn't give much of an opportunity for her not to agree.

The month went very well. Marine grew close to our family, and she grew fond of visiting church. She even bought a crucifix necklace, but hadn't received Christ as her Savior. We fervently prayed for her and her family. Marine invited us to visit her family the next summer in Paris. The next summer we packed up the family and headed to Paris.

The week-long visit to Paris was almost up, and Saturday night came. Marine said, 'I know tomorrow is Sunday and you go to church.' I said, 'No that's o.k., maybe I can just share with you the information we brought for missionary friends of ours in France. (Our missionary friends live only 30 minutes from Marine, and we brought many French Bibles and some French gospel literature to leave.) What an opportunity to share the gospel! I had frequently read Ephesians 6:19-20 in preparation to have boldness to share.

The next day we shared the gospel. The seed had been planted with them.

Last summer Marine returned to America with her step-sister for another visit. We went to Washington D.C. and had a ball. Towards the end of the visit our church was having Vacation Bible School. Karen asked the girls if they would like to help with crafts, etc. (as she and our children would be there all week). The girls eagerly helped.

The week was based on the Creation Museum's 'Seven C's of History'. The gospel was clearly given. By late in the week Marine said, 'I have some questions for Pastor Drew.' Thank God! We knew what this meant. Karen and I and our kids had been praying for the Holy Spirit to move. Marine received Christ after a thorough explanation and questions and answers. She came out and said in wonderful English, 'My name is now in the Lamb's Book of Life. We all busted out in tears. Praise God.

Her sister also trusted in Christ two days later. How awesome is our God? He is awesome!

Marine came back this summer to Ohio for two months. Yesterday we spent a wonderful day at the Creation Museum. As my wife and I were looking in the bookstore of the museum I smiled and said, 'Isn't this cool? God took Marine from being an agnostic to joyfully looking through this store with an armful of Christian books trying to decide which ones to get.' God indeed is good.

May God bless you and the Creation Museum. God used His truth and AiG's Seven C's of History to change a life and bring Him glory.

—Scott, Ohio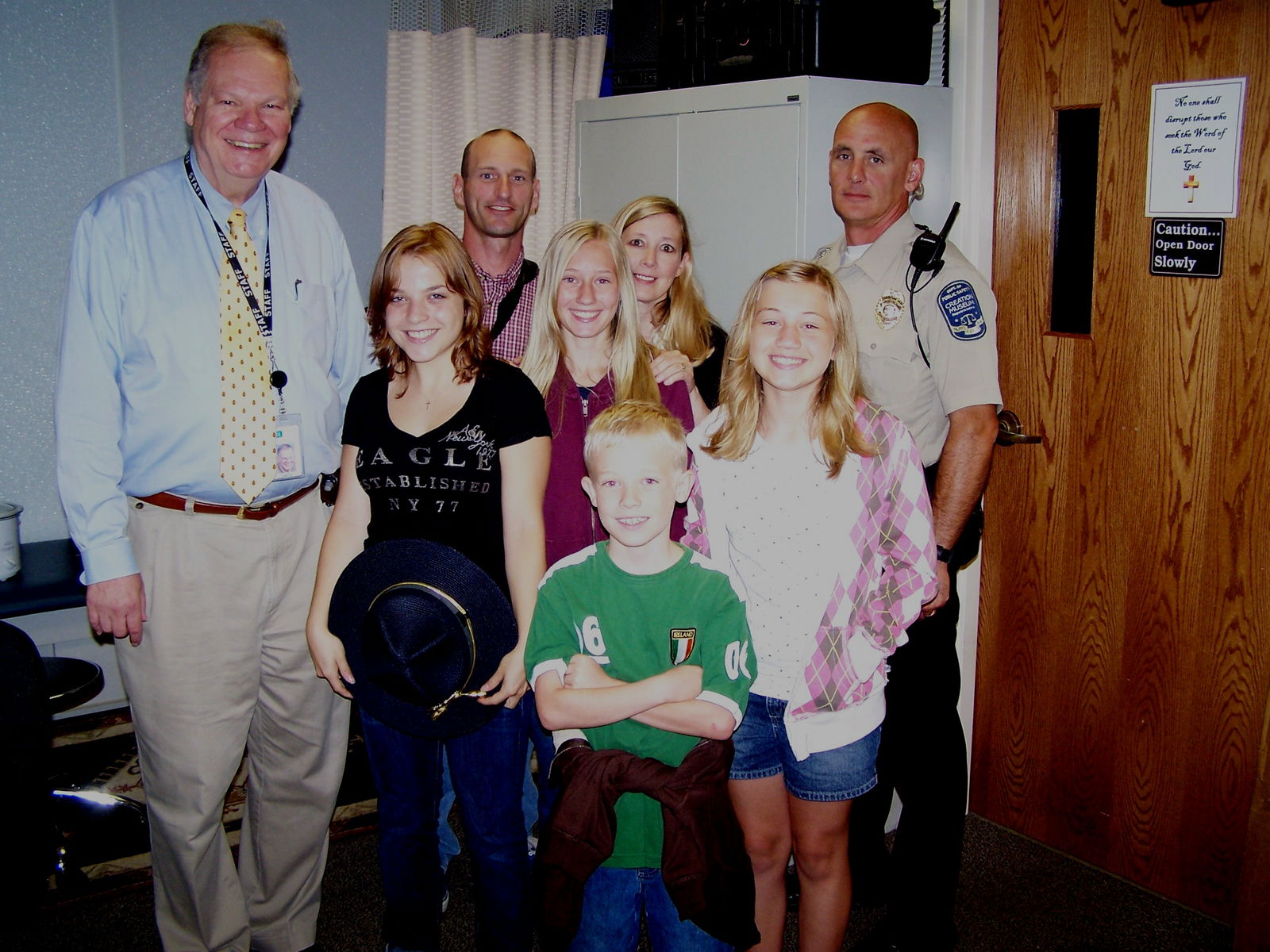 Scott and his family—with Marine in the black blouse—are flanked by Dr. David Menton (our biologist) and museum safety officer Darin Powell.
Devotion
"We look up and He looks out"

(Psalm 25:15) Mine eyes are ever toward the LORD; for he shall pluck my feet out of the net.

We look up (with our eyes on the Lord Jesus Christ) and He looks out for us (scanning the path before to clear our way from danger).
Thanks for stopping by and thanks for
praying
,
Ken