Along with attending his son's baseball tournament near Gatlinburg, Tennessee, for four days recently, Mark Looy of our staff got to do two ministry-related things while he was at the northern end of the Great Smoky Mountains.
On Sunday he and Renee attended the worship services of what's called "The Cowboy Church." It's a Sunday service that is an outreach to the many tourists who visit the Smoky Mountains—plus for the regular worshipers who live in the area.
The worship leader of this unique church is Creation Museum friend Pat Corn. He introduced Mark to the crowd and those watching on the web and gave a big plug for the museum. Pat even put out AiG/Creation Museum literature in the foyer of the building (The Cowboy Church uses the large auditorium of the Country Tonite show, where big stage productions take place). Pat—an excellent musician—and his wife Monica are also very good friends of Bob and Jan Thompson of our staff.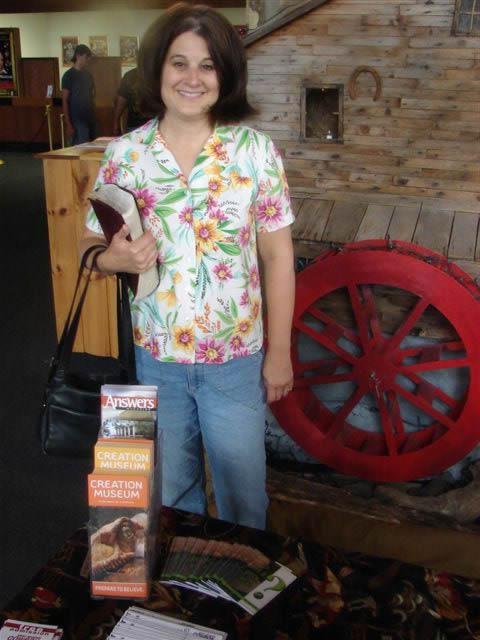 Mark found it interesting that right next door to the auditorium is a dinosaur museum with this message (from its website): "Dinosaurs first appeared during the late Triassic period, about 225 million years ago. After their appearance, they ruled the earth for 160 million years"—a different message than what Pat shares at his church.
By the way, Pat often shares—both at church and during his Tuesday evening Bible study (where he has shown our videos; he particularly enjoys our astronomy DVD The Created Cosmos)—that dinosaurs are explained by the Bible, not the evolution/millions-of-years story.
Defending the Faith 2010
A few miles down the road from this unique church in Pigeon Forge is a relatively new convention center in Sevierville, which will host our national conference "Defending the Faith 2010." This family conference will run for a few days in July of next year—with special sessions for women and another for young people (in addition to general talks). This will somewhat follow the format of our successful Branson (Missouri) family conference last year, where we saw 2,500 turn out—who also enjoyed the many family attractions in the area.
The large hall we are renting in Sevierville for this July 19–23, 2010, family conference has a similar capacity and is close to so many attractions. Mark had the opportunity to walk through it, and as someone who has literally set up several hundred events over the years, he believes the location (this part of Tennessee is within a day's drive of half of America's population), plus all of the family activities in and around the beautiful Smoky Mountains and Gatlinburg, make this an ideal spot next summer for a vacation—plus those who attend get some excellent Bible-affirming teaching. I can't wait to take Mally there as well so that she can enjoy this scenic part of America.
If you don't get our printed newsletter (and live in the U.S.), sign up right now to receive this free teaching resource—in the July issue, we are including a brochure with more information on this great family teaching meeting in Tennessee for 2010. We'll be featuring many AiG speakers, plus Dr. Voddie Baucham (he's a dynamic speaker), Dr. Herbert Samworth (a Bible scholar who is an excellent communicator), youth speaker Bill Jack, archaeologist Scott Lanser, and some great music from Buddy Davis, a folk musician who feels quite at home with the music typically heard in this part of America.
Devotion
Every step of the way

And if you refuse to let them go, behold, I will smite all your borders with frogs (Exodus 8:2).

At every step of the way of rebellion the Lord Jesus Christ is faithful to warn, warn, warn, and give an opportunity for the turn around repentance; we should warn also.
Thanks for stopping by and thanks for praying,
Ken