The book Already Gone—which I blogged about recently and stated that this new book will shock the church and which I believe is probably the most important book I have authored—is now available through the AiG website. Stocks arrive in our warehouse next week (Wednesday). You can also order bulk copies at a very special discount.
For those of you who have the Amazon Kindle wireless reading device, the book is available in electronic format from Amazon right now:
http://www.amazon.com/dp/B0029O0CR6
More Scholars at the Museum
Between many media interviews on Tuesday about the
Ida fossil frenzy
, I was happy to meet with some long-time friends of the ministry here at the
Creation Museum
—all three of whom are experts in their fields (two hold earned doctorates).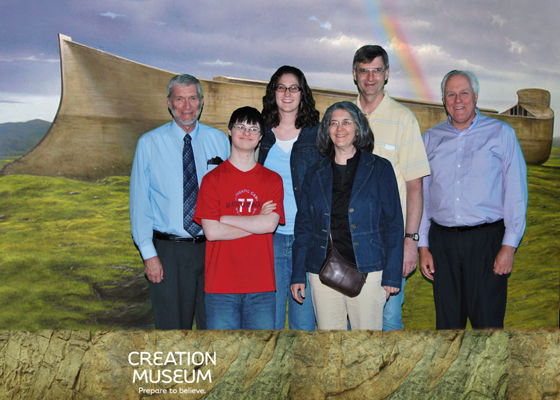 In the photo you can see me (and Mark Looy of our staff—at far right) with Dr. Jeremy Walter and his family. He works at Penn State University in central Pennsylvania and is one of the writers in the book we carry, In Six Days. Also, Dr. Steve Carter and his wife Ruth were visiting from the same state—they are occasional volunteers for us, now that he has stopped practicing medicine.
Our third distinguished visitor on Tuesday was Gilbert Lindstrom. He is a soil chemist and former Fulbright scholar (who studied in Australia). Gilbert once taught chemistry courses at Christian Heritage College in San Diego, where Mark taught a few years later—this is the school (now called San Diego Christian College) that was co-founded by creationist pioneer Dr. Henry Morris.
Mr. Lindstrom's visit prompts me to make a suggestion of a family idea worth considering. Mr. Lindstrom had something of a family reunion at the museum, with family coming from Colorado, Kansas, and South Carolina to gather here. Coming to the family-friendly Creation Museum is a great place to meet up with your family. Did you know that almost 2/3 of Americans are within a day's drive of the museum? I.e., about 190 million people live within 650 miles of our Cincinnati-area museum. So, think about a family gathering here.
As these friends of the ministry were touring the museum, a reporter with the Los Angeles Times was also walking through. When the Times' article on the museum appears, we'll let you know.
101 Year Old Visits the Creation Museum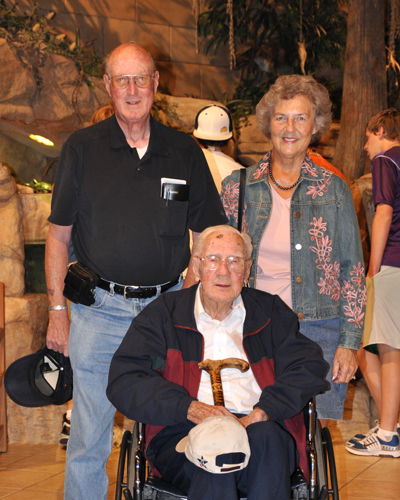 With a ready smile and a gentle way, Edward Ristow, Sr., visited the Creation Museum recently with his son Edward, Jr., and daughter-in-law Pat. One wouldn't expect from talking to him that he had just celebrated his 101st birthday on April 13.
We learned that Edward is originally from New Jersey, where he worked for the New Jersey state highway department for 51 years (where he started out as a thirteen-year-old boy). Retiring from his position as supervisor of records, Edward moved to Buckeye, Arizona, to live with his son and daughter-in-law.
During all of those years he served God in many capacities. Serving as minister, Sunday school superintendent, senior Bible study teacher at age 99, and many other positions. One of his fondest memories is of listening to Henry Morris at a conference in San Diego, California, 38 years ago. He said the topic was how so many animals could get on the Ark.
When asked what brought him to the Creation Museum, his daughter-in-law explained that they were on their way to visit family in Pennsylvania. Normally they would fly, but Edward requested that they drive so they could visit. They also stopped at the Branson Sight and Sound Theater in Missouri. Edward has been featured on the Today Show (NBC TV) twice with the distinction being his advanced age. He praises God for his good health and alert mind.
More on Ida
The world's media covered the story about IDA, the supposed "missing link" that was touted as great evidence for Darwinian evolution. Yesterday we had more media interviews (with more lined up over the next few days) concerning all the hype about this lemur-like fossil. If you haven't read
AiG's article dealing with this
, I urge you to do so at AiG's website.
What is interesting is that many secular media sources were even questioning the validity of the claim. One such newspaper article comes from my homeland of Australia:
[Philip] Gingerich told The Wall Street Journal: "There was a TV company involved and time pressure. We've been pushed to finish the study. It's not how I like to do science".

"That rings all sorts of warning bells," [University of New England paleoanthropologist Peter] Brown cautioned. He said that however it was prepared, the paper did not provide sufficient proof that Ida was the ancestral anthropoid.

"It's nice it has fingernails, something we have, as do most primates . . . but they've cherry-picked particular character[istics] and they've been criticised (by other scientists) for doing that."
—Leigh Dayton, "Scientists Divided on Ida as the Missing Link," The Australian, May 21, 2009.
When secular news media question the claim, you know there is something not right!!
Thanks for stopping by and thanks for praying,
Ken