I wanted to share with you some exciting outcomes of Answers in Genesis's first-ever Answers for Women Conference, held in Waterloo, Ontario, Canada, with Answers in Genesis speaker Dr. Georgia Purdom. Over 100 women attended the four sessions we offered on Saturday. Some women drove several hours, including one woman who drove all the way from Syracuse, NY (approximately four hours away)! Women are definitely hungry for learning how to give logical, reasoned answers to questions beginning with God's Word and starting or building a godly legacy in their own home.
Dr. Purdom sent me this report:
---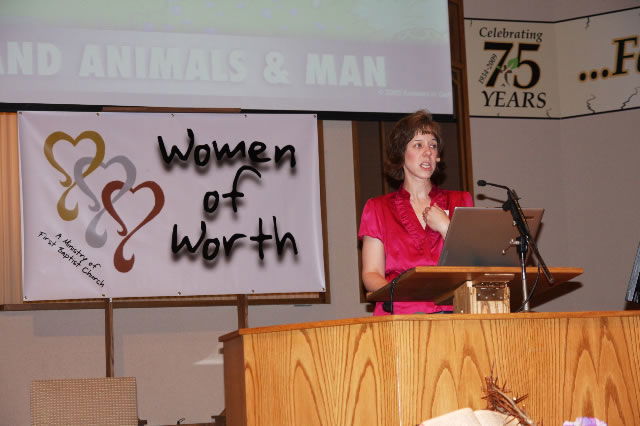 The presentation I gave on Eve, "Beauty and Lies: The Legacy of Eve" was the most talked-about talk, with women stating they wanted to hear more presentations of this type. The Eve presentation was particularly challenging to put together because there is so much information in the first several chapters of Genesis alone relating to womanhood, marriage, and parenting. I will have no problem putting together additional talks on these topics beginning in Genesis for future women's conferences.
We received much positive feedback. If the written evaluations we got were reflective of the group as a whole, then approximately 30–40% of the women were not familiar with Answers in Genesis. Since this church has hosted AiG conferences in the past, this means that many of these women came from outside the church, which is very exciting!
Here are some of the comments we received:
"As a teacher, I often get questions related to the purpose of life, death, and suffering, etc. from my students. These sessions will help me to answer these questions more effectively."
"The use of personal testimony from your own family, life, your daughter, infertility, marriage are great illustrations and what really bring the message home, especially at a women's conference because we can identify with some aspect of what you share . . . ."
"Dr. Purdom really encouraged me to know more about what I believe. It challenged me that I should always have an answer for what I believe."
Regarding the presentation on Eve: "DO THIS AGAIN!!—excellent talk for women."
"Informative, direct, scripturally supported talks. I really enjoyed the personal touch Dr. Purdom added, sharing her heart and struggles, and art was awesome reinforcing words and still tasteful."
"Thank you for taking the time and effort to put this conference together. Although I am quite familiar with AiG, it was refreshing material that Dr. Purdom presented and it was obvious that she desired to further educate women biblically."
"This conference has changed the way I think about things. I came today not really expecting to get anything out of it. I couldn't have been more wrong." (This young woman recommitted her life to Christ! Please pray for her).
"So excited to be able to say I attended the fist AiG women's conference and look forward to more!"
Many also commented on their realization of the need to teach their children, grandchildren, and children's Sunday school class more about God's Word and to give them logical, reasonable answers to defend their faith.
First Baptist Church Waterloo and their women's ministry, Women of Worth, are to be highly commended for all the time and effort they put into making this conference a success. I'm very excited about the opportunities Answers in Genesis will now have in offering conferences specifically geared toward women and hope that many will take advantage of it.
---
For more information on hosting Dr. Purdom and an Answers for Women conference at your church, contact our Events department.
Devotion
Go unto

(Genesis 41:55) And when all the land of Egypt was famished, the people cried to Pharaoh for bread: and Pharaoh said unto all the Egyptians, Go unto Joseph; what he says to you, do.

(Act 2:36) Therefore let all the house of Israel know assuredly, that God has made that same Jesus, whom you have crucified, both Lord and Christ.

We direct the lost to the Lord Jesus Christ because He is Lord and the appointed One to save the lost from their sins.
Thanks for stopping by and thanks for
praying
,
Ken