Earlier this week, Carl Kerby concluded a Genesis seminar in Jerusalem, Israel (he spoke about his trip to Israel at this morning's staff meeting in northern Kentucky). Speaking just two miles from Jerusalem's walled Old City, Carl shared special messages with our Answers in Genesis tour group of 65 people (and to a few other Christians, including from Norway and Israel); these sessions took place over three evenings.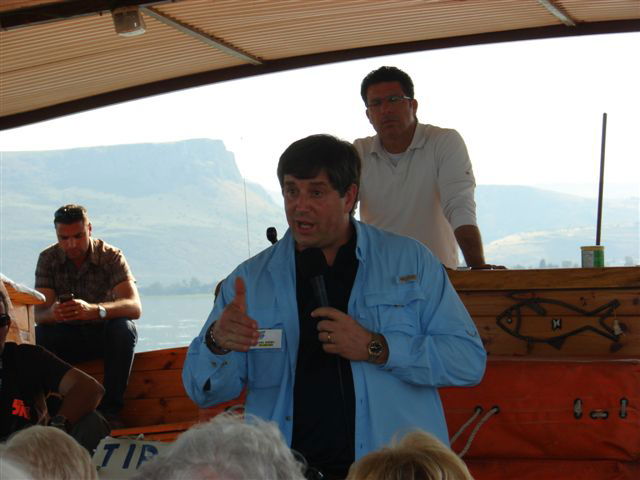 Along the tour route and before arriving in Jerusalem, Carl also spoke to the AiG group, including a memorable devotional on a boat in the middle of the Sea of Galilee. The ship's captain arranged for (his first time, he told us) a U.S. flag to be hoisted alongside the Israeli flag as a show of respect to our group and the country we represented.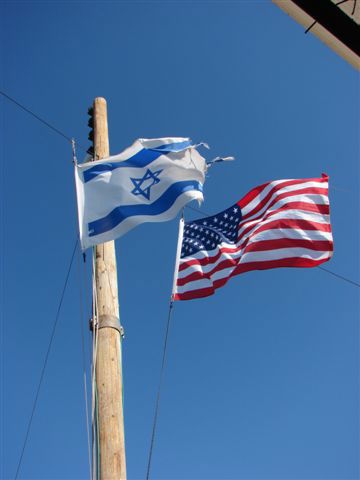 My friend Eitan Kashtan also spoke on two of the evenings in Jerusalem. He is a Christian who operates a publishing company in Israel (see the cover of my dinosaur book that was translated into Hebrew and printed by Eitan).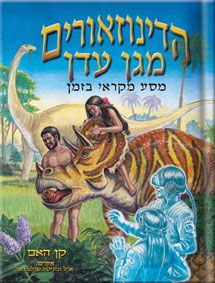 He shared with the group that the Christian population of Israel—the land of the Bible and our Lord Jesus Christ—probably numbers not even 8,000 souls (out of over 7 million people)! His best guess is that 98% of the Christian homes throughout Israel receive his magazine (which always features at least one article on creation). Find out more at:
http://www.hachotam.org/english/index_e.htm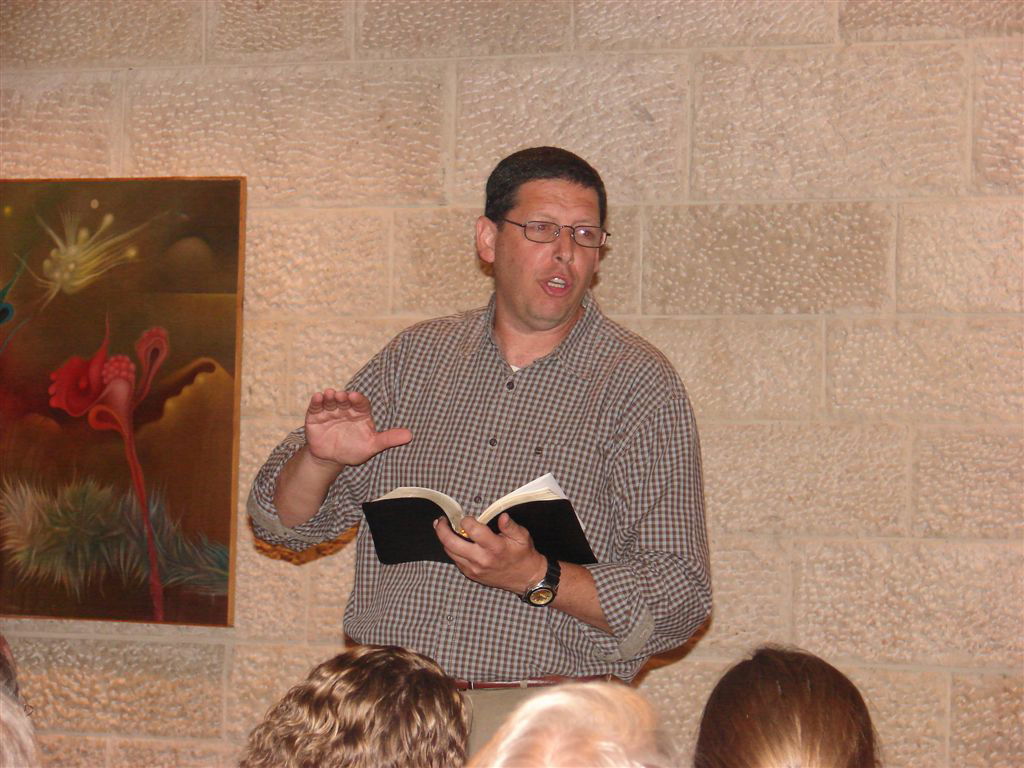 The tour guide for one of the AiG buses was not a Christian, yet because he grew up in a Christian home, he knew the Bible very well. This guide told a friend (who then told us) that we were the best group he had ever guided through Israel. This man's father passed away on Sunday—he was a strong Christian and a well-known Christian leader in Israel. So, please pray for the son (David).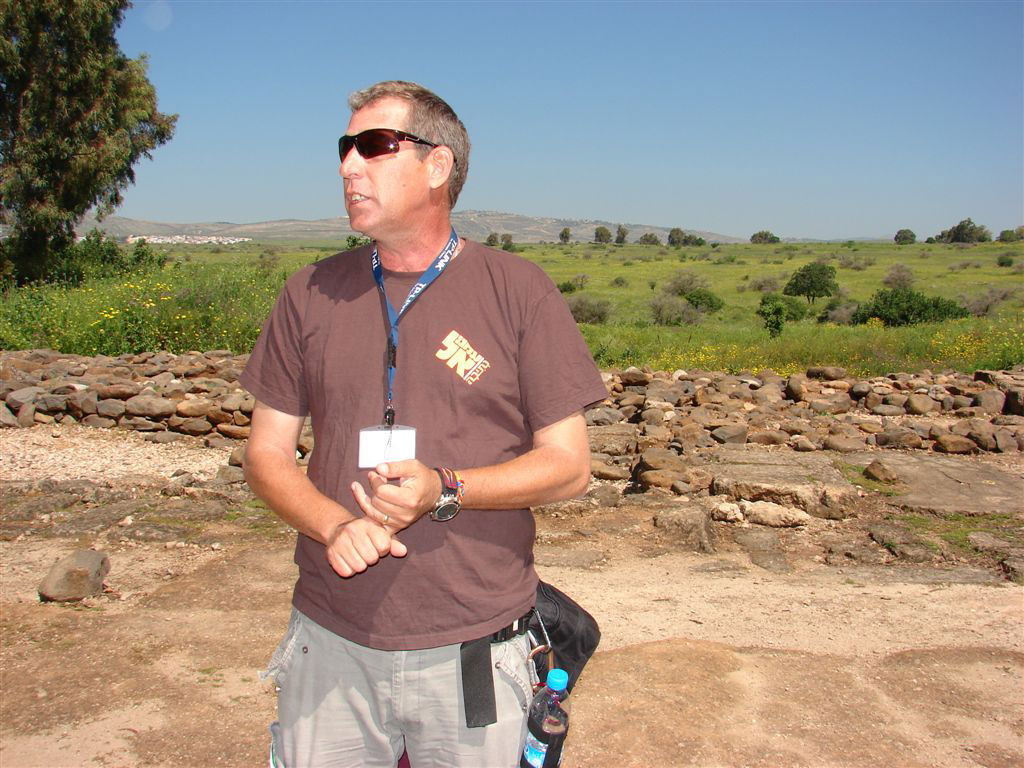 In the photo, David stands and talks to the group in northern Israel and within a few hundred yards of the Lebanese border (see the small Lebanese town in the distance) right where he served as a tank commander in the war with Lebanon in the early '80s.
On one evening, Tom Meyer, a college student in Jerusalem who is originally from Chicago, recited the Book of Revelation. What was remarkable is that Tom did so entirely from memory—all 22 chapters!
Find out more about this exceptional young man at:
www.thescripturecannotbebroken.com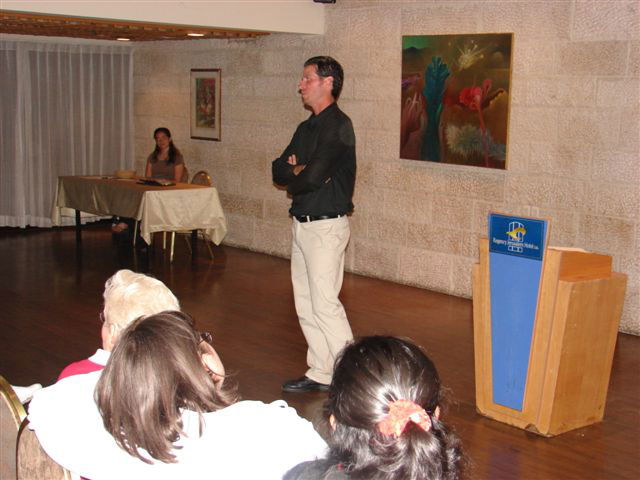 On another evening, and so that our guests could meet yet another Christian living in Israel and having a ministry, the tour participants heard a young man—getting a science PhD in order to become more involved in creation ministry in Israel—give a brief talk after Carl spoke. This same man visited us last year in northern Kentucky to attend our International Training Seminar at the Creation Museum. For now, I will keep his identity hidden so that his PhD program in Israel is not compromised in some way if more people were to find out about his creationist beliefs.
Indeed, the trip to Israel shows that AiG ministry continues to be a worldwide outreach.
Last Day for Discounted Pricing on Creation College 3
Today is the last day to take advantage of our early bird special pricing for Creation College 3. Be sure to register now for this exciting conference, which features over a dozen speakers, two incredible musicians, and almost thirty teaching sessions to choose from! We are currently in the process of adding even more late-night sessions, making this one of the great conference values of the year.
Creation College 3 is being held near the Creation Museum, and your registration includes admission to the museum for that week. Participants will also receive some great resources when they arrive, and we are offering CEU credits for attending the sessions.
Go to www.creationcollege3.com for more information and to register. You can also give us a call at 1-877-244-3370 for more details. I look forward to seeing you this July 20–24 at Creation College 3.
Devotion
Admire

(Genesis 41:38–39) And Pharaoh said unto his servants, Can we find such a one as this is, a man in whom the Spirit of God is? And Pharaoh said unto Joseph, Forasmuch as God has showed you all this, there is none so discreet and wise as you are.

If we have done a good job in ascribing all we are and have to the Lord Jesus Christ, then the lost will admire the Lord Jesus Christ in us.
Thanks for stopping by and thanks for
praying
,
Ken