Answers magazine is certainly unique. There is nothing else like it in the world—a creation/worldview/family (all ages) apologetics magazine that honors God's Word and proclaims the gospel. As each issue is produced, the rave reviews keep increasing. Here is a sample of feedback received this week:
Thank you so very much for the blessing this publication brings to my life. I have long seen the world as God's special creation and celebrated that fact weekly, but I have had a hunger to understand that creation better (the better to marvel at it). Your magazine is like the food that helps to satisfy that hunger.
Answers
magazine not only is a glossy printed magazine, but also is a special
website
that is updated with additional content and features for each issue.
If you have never subscribed, I urge you to do this through the AiG website.
Fond Memories
Recently we came across a photograph that brought back very special memories.
In March of 1993, Pastor Don Landis and his family from Jackson, Wyoming, visited our family in San Diego. Don and his wife Bev (and their children) became special friends of ours. Don was one of my main confidants in helping me make the decision to leave San Diego and begin what is now called Answers in Genesis in Kentucky. Partly because of our relationship and also for his wise counsel, Don became the founding chairman of the Answers in Genesis board.
The photograph taken in March 1993 as both our families visited Disneyland brought back memories of the time we lived in San Diego, but also the time I struggled so much with what the Lord wanted us to do for the future. Now we look at the Creation Museum and AiG ministry and can see God's wonderful guiding hand in all that happened—yet at the time, we were pleading with the Lord for direction and the faith to do what He had called us to do. Many times I look back and see how God has directed our paths—even though, at the time, it seemed such a struggle to understand what was happening and what decisions we should make.
The photograph also reminds us how young our children were when we moved to Kentucky in early 1994!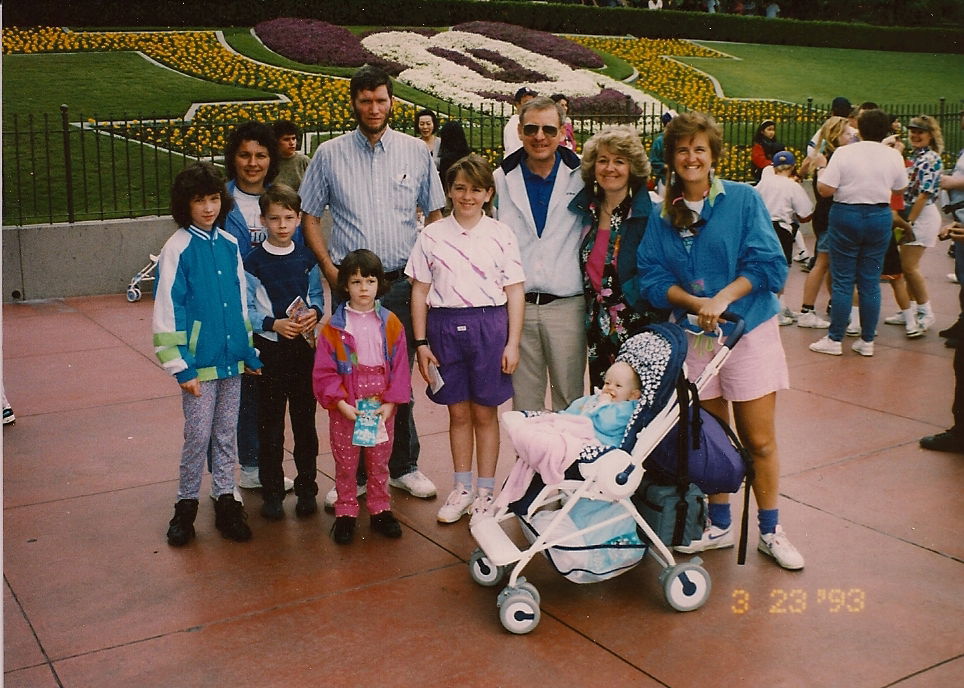 More on Decline of Christianity in America
In
yesterday's blog
, I mentioned an edition of
Newsweek
magazine that contained articles about a survey and the decline of Christianity in America.
A recent USA Today had an article titled "No Religion? No Problem." The article mentions a survey released in March 2009 titled "American Religious Identification Survey (ARIS 2008) Summary Report, March 2009 (Trinity College)." It too notes a decline in professed belief in Christianity!
Devotion
Throng

(Mark 5:24) And Jesus went with him; and much people followed him, and thronged him.

Some throng the Lord Jesus Christ out of curiosity or to be associated with His Church while still holding back, but we do with unreserved yieldedness to Him.
Thanks for stopping by and thanks for
praying
,
Ken