The new global warming DVD and study guide are "hot" at AiG! Thousands of the DVDs have already been purchased. This high-quality video was produced by AiG and Coral Ridge Ministries. It debunks a lot of the hype and deception in Al Gore's movie An Inconvenient Truth. Your eyes will be opened, and you will get a whole different (and accurate) understanding of the global warming issues once you watch this fascinating and revealing presentation. If you haven't obtained this new resource, I urge you to order the DVD and accompanying study guide from AiG's online bookstore.
Join 70,000 Others
Around 70,000 people now subscribe to
Answers
magazine. We receive so many great testimonies from subscribers—such as this unique one:
I have been serving the last few months on a . . .  Jury. I always pray before I go that God will give me wisdom and help me to be a good testimony for Him. The other day, while waiting for a witness to show up, we (the jurors) got into a debate on creation vs. evolution. I "just happened" to have the current issue of Answers with me (God prompted me that morning to bring it along). Most everyone was so impressed with the magazine. One lady took the order form, and several others wrote down the website. Thanks so much for your awesome publication."
If you don't subscribe,
do so now
through the AiG website—and don't miss the coming special Darwin issue. Join 70,000 others who get this incredible publication for the
whole
family (even has a mini-children's magazine in the middle).
Starting Point Should Always Be God's Word
We have received a lot of positive feedback about the current online creation/evolution debate on BeliefNet.com. Not only are many comments being posted on BeliefNet—but we receive comments such as the following one, which came from someone in Australia:
I just wanted to express what a pleasure it has been reading the debate that has been going on between Ken and Karl. . . . I was greatly encouraged by the humble and Christ-like way in which Ken was responding in the debate (both of them have been respectful) and with the honest way he laid out from the get go his (and AiG's) foundation in God's Word.

It's so refreshing and personally brings me great joy to see this debate occur; more often than not it appears that opportunities like this are few and far between for AiG and biblical creationists to explain clearly where they are coming from and are able to explain why they believe what they believe. This debate has really highlighted the main issues and forced Christians to take a good hard look at their worldview; after all–if we believe the Bible is the revealed word of God, and that this world including ourselves are fallible and imperfect, it makes logical sense our starting point should always be God's Word, which claims to be pure.
Using the Creation Museum Visit to "Win Someone"
Another great testimony from a Creation Museum visitor (it was great to see so many Christian school children at the museum yesterday, including from Calvary Christian School, where some of our staff members send their children—visitors continue to pour in every day):
I wanted to take the time to write to tell you how much we enjoyed the Creation Museum. My wife and I came up in September, and we are so impressed by what God has done through your work. A friend visited the museum and recommended it to us; I'm so glad we went! I subscribed to the Answers magazine and bought lots of materials. My faith has been strengthened, and I intend to buy more and to get a membership. I wrote down many facts to help someone away from the truth come to know Jesus. I have been praying God would prepare me to win someone blinded by evolution. Through your materials and your work, I have been equipped to that task. Thanks again and keep up the good work; keep your heart encouraged and be not weary in well doing."
What Is It?
Our daughter Danielle is a piano teacher. She sent me this photo that I thought I would share with you—but what is it? Yes, it is a photo of a degenerate mutant resulting from sin . . . and her piano. (I may need help to be allowed back in the house tonight now!)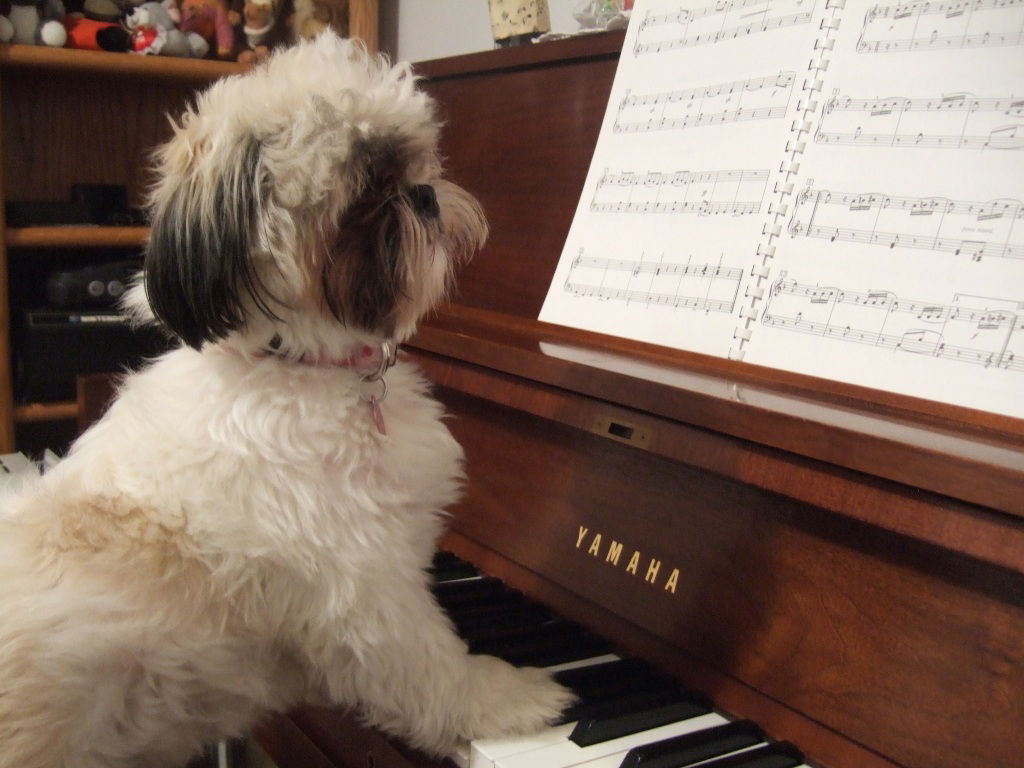 Thanks for stopping by and thanks for praying,
Ken