On Tuesday of this week, AiG board member Tim Dudley (who is the president of New Leaf Publishing and Master Books) gave a remarkable testimony concerning his life and the unlikely series of events that led him to become president of a Christian book publishing company—but more than that, how he came to acquire Master Books and to be the major creation book publisher in the world.
This testimony will touch your heart, and I urge you to listen to it. You can click to the audio file and be challenged.
Great Weekend in Arkansas
Dr. Tommy Mitchell
was in Harrison, Arkansas, this weekend. He held sessions at both Eagle Heights Baptist Church and Grace Christian Center.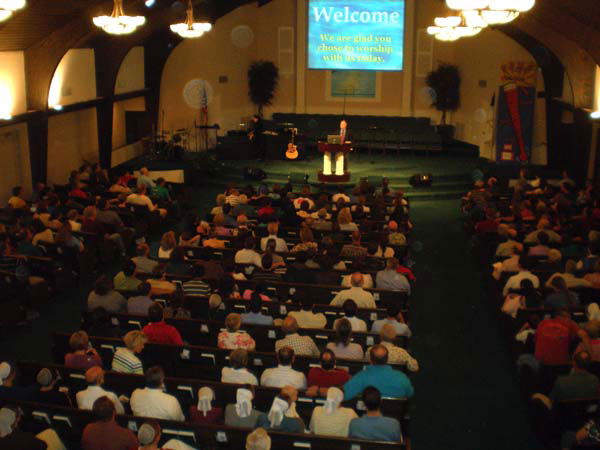 All the meetings, Tommy told me, were well attended. This was due in great measure to the efforts of Melinda Beauchamp, the seminar chairperson, who worked tirelessly to involve many churches in the community.
There were many testimonies from those in attendance about how the ministry of Answers in Genesis had strengthened their faith. Dr. Mitchell spoke to several teenagers who had used materials from AiG in presentations both in school and at church.
There were a number of people at the conference who were quite skeptical, though, about Answers in Genesis. Tommy had the opportunity of speaking with them and answering their questions. We pray that the Lord will touch their hearts, and they will consider the things they heard.
In addition to the regular sessions, Dr. Mitchell also spoke at a men's prayer breakfast Monday morning. Even at 6:30 a.m. there were 40 men present. Later that day a homeschool meeting was held at Grace Christian Center. The sanctuary was filled to capacity with children of all ages to hear about the wonders of God's creation. It was a wonderful weekend in Arkansas!
Devotion
Dear

(1 Thess. 2:8–9) So being affectionately desirous of you, we were willing to have imparted unto you, not the gospel of God only, but also our own souls, because ye were dear unto us. For ye remember, brethren, our labour and travail: for labouring night and day, because we would not be chargeable unto any of you, we preached unto you the gospel of God.

The Lord Jesus Christ makes the lost dear to us so we want them to be saved, & we preach the gospel to them with a hopeful vision of their salvation.
Thanks for stopping by and thanks for
praying
,
Ken