Last week, AiG speaker Mike Riddle did a series of talks in Brenham, Texas. On the first day, Mike did four different sessions for 1st–6th graders. He usually speaks to young people on topics like "The Riddle of the Dinosaurs," AiG's well-known "7C's of History," and fossils.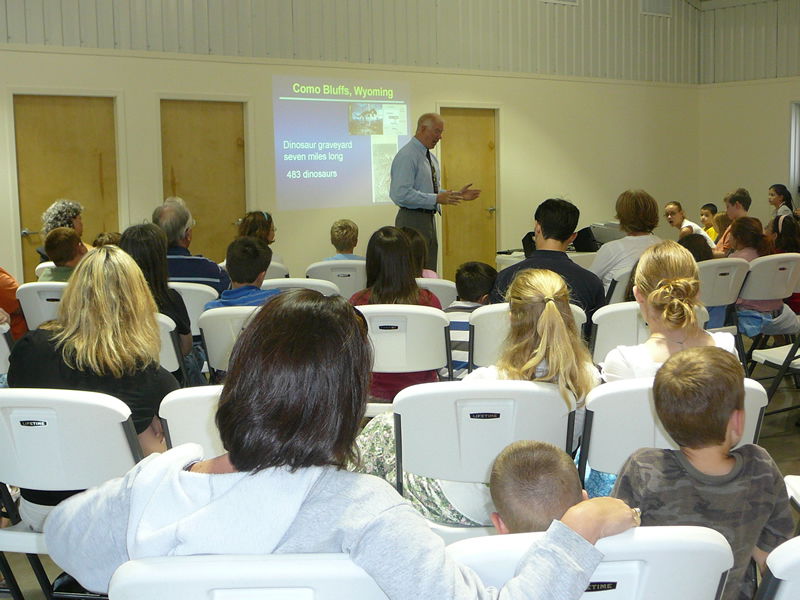 On the next day, Mike did four special sessions for teachers. Each presentation was geared to help instructors be better prepared to teach origins in the public schools. In addition to speaking on what creationists believe, he spoke on understanding presuppositions and assumptions in the origins debate–and using critical thinking skills. Mike also had the opportunity to meet with the Chairman of the Texas State School Board, Don McLeroy (a biblical creationist), and gave presentations to an open audience at the Brenham High School auditorium.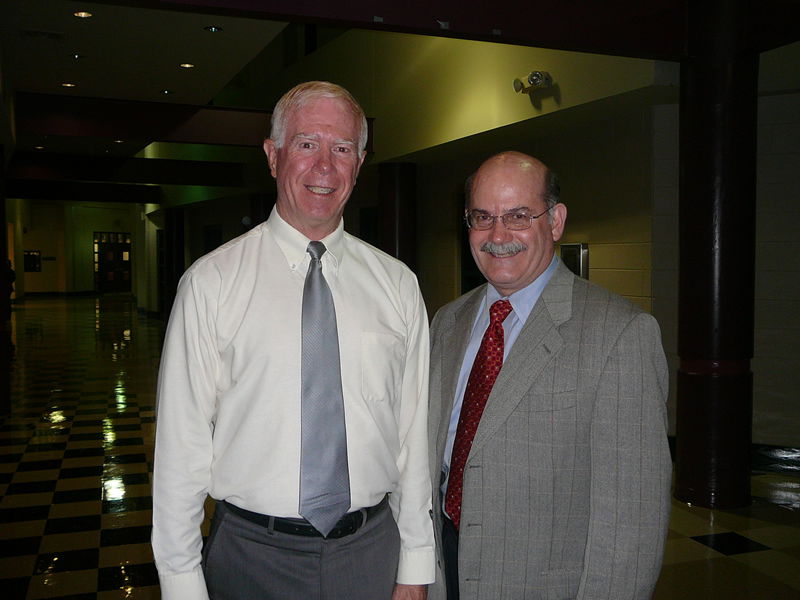 Take Us out to the Ballgame (Well, Except for Me, That Is!)
Yesterday (Sunday) was "Creation Museum Faith Day" at the Cincinnati Reds baseball game. Everything went well I hear, except for one thing: I was not there myself to enjoy it (though I was happy to be speaking at the influential First Baptist Church of Jacksonville, Florida—see the blog item below).
Just before the Reds game started, Mike Zovath, museum VP, was honored to throw out the ceremonial first pitch, with CCO Mark Looy catching—they are the co-founders of AiG along with me. It sounds as if the many AiG staff who were there at the game enjoyed watching their home team, the Reds, beat the visiting St Louis Cardinals 7–3. (Sorry, Brad Benbow, about that—he's an avid St Louis fan and was in attendance to see his team lose; Brad is a valued ministry consultant who helped arrange for us to be the "Faith Day" title sponsors.)
The 37,000 people in attendance saw a well-played game, I hear, and they were informed about the Creation Museum throughout the day (the museum is located only about 20 minutes from the ballpark). As the crowd left the stadium, our staff passed out museum bracelets to the fans—with www.CreationMuseum.org stamped on the bracelets—as well as a variety of flyers and witnessing booklets. See the photo below.
Oh, and Mike Zovath's pitch from the mound? It was a little high and wide—but pretty good for someone in his late 50s! (Now, aren't you surprised that an Aussie like me even knows baseball terms like "mound" and "high and wide"?)
"Creation Museum Faith Day" was co-hosted by a locally owned Christian business called Prasco. The Grammy Award-winning Christian group Mercy Me sang after the game.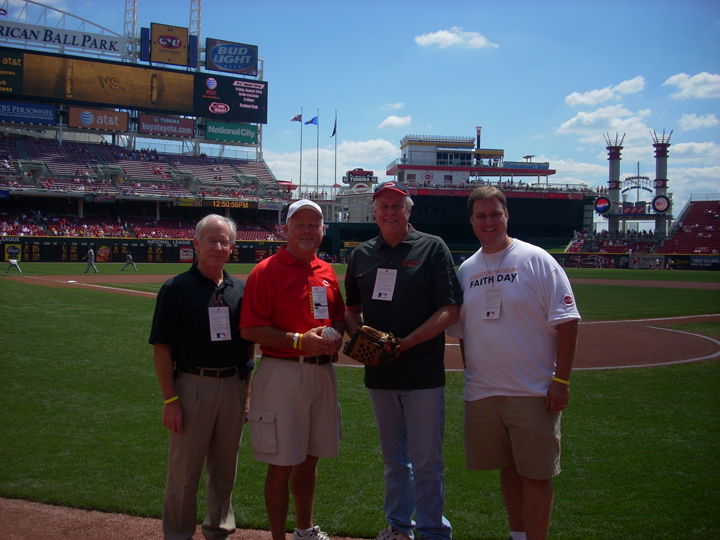 ---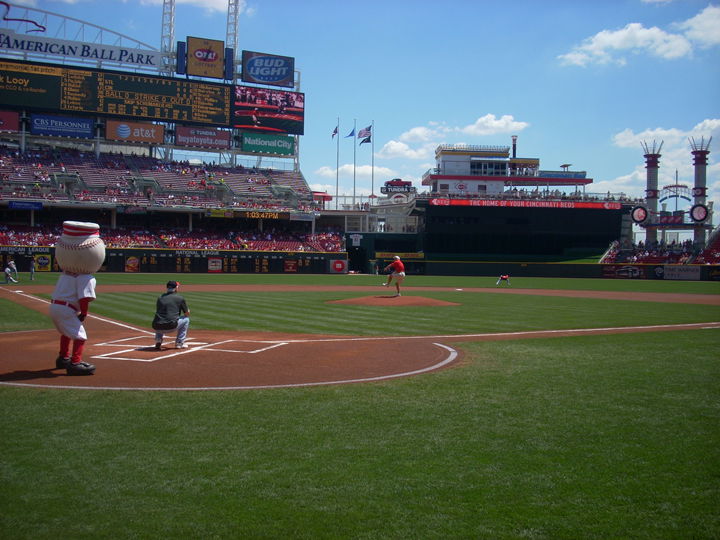 ---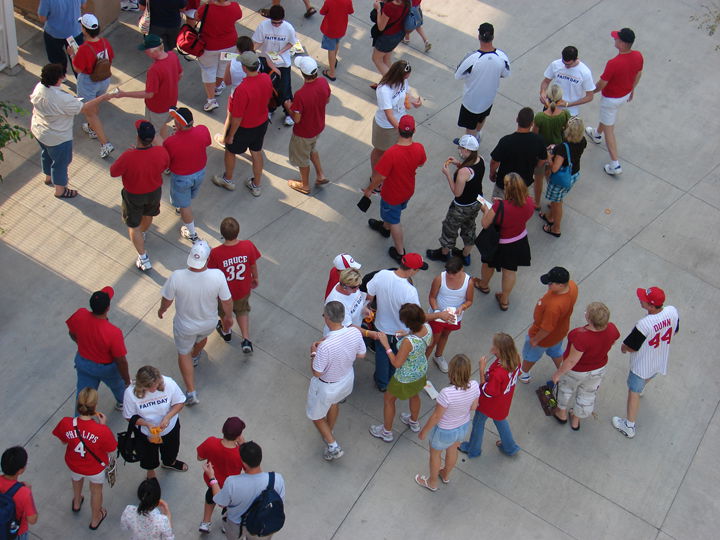 Build Their Faith Instead of Tearing It Down
Some recent museum feedback:
We recently traveled from South Carolina to visit the Creation Museum. We had been planning to visit since we first heard the news about you building it. We love AiG and support what you are doing as a ministry. We are a homeschooling family living to bring up our boys according to Deuteronomy 6 and on the authority of the entire Bible, from Genesis 1:1! Of course, family members couldn't understand why we would want to take our boys there instead of a "fun" place on vacation. But our boys WANTED to visit the museum. We all couldn't wait!

Well, we were blown away! I thank God for you and what you are doing as a ministry. I am now telling our homeschool friends to go to the one place that will build their faith instead of tearing it down! And, of course, that is the Creation Museum! [We] can't wait to go back! Thanks again for turning our lives in the correct direction in our walk with God. We have chosen to be different from our culture, and you help us to stay strong in that.
Thank you!
Jacksonville, Florida
Last night I spoke to thousands of people (in a more than 9,000 seat auditorium!) at First Baptist Church of Jacksonville, Florida. I had a lot of terrific feedback, including one man who told me his father—a number of years ago—had stopped going to church and showed no interest in spiritual things. This man came across a DVD with me giving a similar message to the one I gave last night on the relevance of creation. His father was thrilled at the message and said something like, "This is what the church needs to be preaching." He returned to church and has been going ever since!
I had a tremendous number of young people come up to thank me and ask for autographs, ask questions, etc. A LOT of the resources went out the doors last night—and we still have the second part of the conference tonight!
Devotion: Ruins
(Judges 16:21) But the Philistines took him, and put out his eyes, and brought him down to Gaza, and bound him with fetters of brass; and he did grind in the prison house.
Sin ruins it all and would do to us what it did to Samson–take away our strength (to resist temptation) and sight (discernment) and service (purpose in life).
Thanks for stopping by and thanks for praying,
Ken