Last week, several AiG scientists and other staff drove five hours to Pittsburgh to attend the Sixth International Conference on Creationism, a gathering of scientists and researchers (and some lay people) that occurs every 4-5 years. Dr. Andrew Snelling of our staff was a key person at the ICC—not only did he present three papers (on methods used to date the Grand Canyon, one on radiohalos and research in Australia, and another on radiohalos in England—who says that creationists don't do research!?), but he was also the ICC's editor-in-chief. In previous years, Andrew has won the top technical paper twice in the past three ICCs. AiG's Dr. Georgia Purdom also presented a paper—on bacterial adaption.
Over 350 full-time attendees plus 50 speakers came from around the world (e.g., Nigeria, Korea, Sweden, plus the major European countries—and Mexico and Canada) to hear the latest in creation research. In the evening, attendance—including local residents—swelled to about 650 people. As usual, the Creation Science Fellowship hosted the event, and this time ICR was the co-sponsor. The photo shows AiG's Walt Stumper (left) with ICC board member Stu Chandler at the AiG exhibit located next to the meeting room.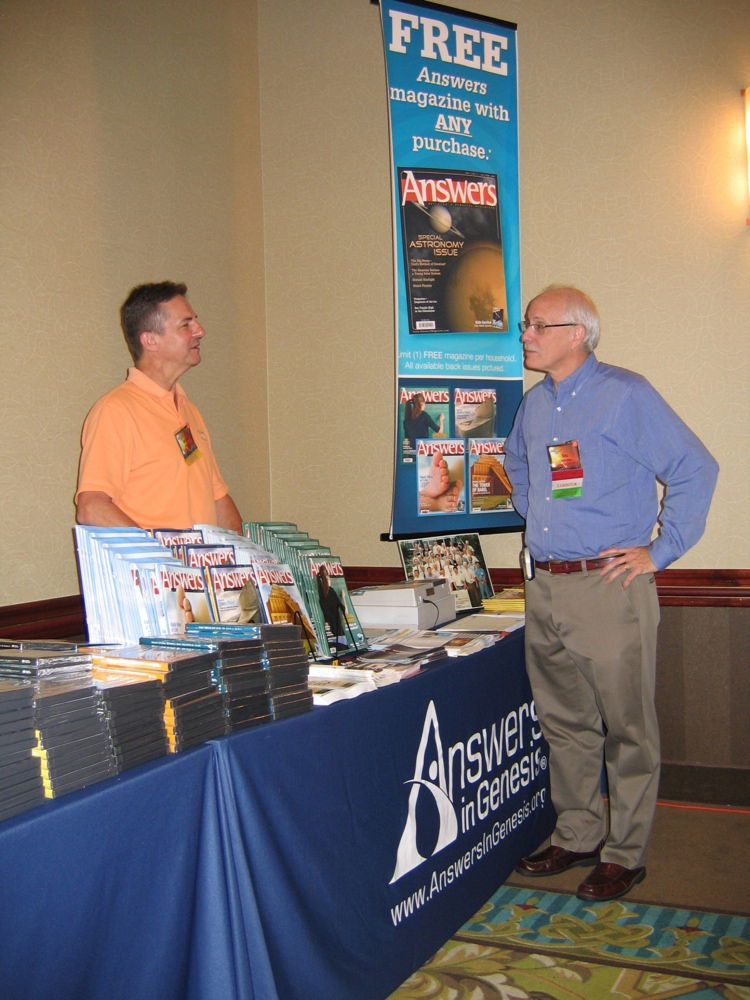 Dr. Terry Mortenson, one of our researchers and popular speakers, returned from Pittsburgh last week. Here is what he shared with me:
Over 400 people attended to hear 37 peer-reviewed technical papers presented. They covered such diverse topics as beneficial mutations in bacteria, a powerful computer program for studying mutations and natural selection, radiometric dating of a geological formation in England, bioethics and the image of God, a young-universe cosmology, the length of the Ice Age, details of the Hebrew text of Genesis 1 that refute a popular old-earth view, the creation of cosmic magnetic fields, the structural stability of Noah's Ark, the erosion of Niagara Falls, and many other interesting topics.

The technical quality of many of the papers was high and there was plenty of discussion after each paper, sometimes rather lively as creationists from different perspectives work to unravel the many mysteries of God's creation.

These papers have helped to develop and strengthen the Creation-Flood model, but with each paper we see how much more research needs to done. It was encouraging to see a number of graduate students there who are doing creationist research at secular universities—one session was devoted to discussing how we can encourage, mentor, and help provide funding for more Christian students to join the battle by getting their PhD in an area that can advance the creation model.

God has made an almost incomprehensibly complex creation for scientists to study. Though lots of questions remain, two things are clear. One, true science powerfully confirms the literal truth of Genesis chapters 1–11. Two, evolutionary stories are fatally flawed in explaining the cosmos, the rock layers of the earth with their fossils, and the origin and diversity of living things. Of course, that is no big surprise, since the Bible is the inerrant propositional revelation of the Creator.

I was personally encouraged by many people who came up to me to say that my research on the 19th-century origin of the idea of millions of years—and of the church's compromise with that idea—has been very helpful to them, both through my one-hour DVD and two-hour DVD and my book.

We press on in the cause of Truth. —Terry
Creation in Costa Rica
While in India, I received this highly encouraging report from someone I met at the Creation Museum who told me he had used AiG resources in Costa Rica recently. Here is Scott's account:
Hello from Lima, Ohio. Our 10-member team from Meadowbrook Baptist Church has returned safely from Costa Rica. As you asked, here is a quick summary of how God used us and the materials from Answers in Genesis.

I've attached some photos from our trip showing us using the VBS "Amazon Expedition" posters to teach the kids in Spanish. As you might be able to see in the photos, we changed the words from the VBS posters from English to Spanish so they could understand. We did AiG's "7 C's of History" in Spanish, which fortunately, was still 7 C's, even with the translation!

First, our U.S. church did AiG's Amazon Expedition for 5 nights of VBS at our home church in June—to 25 children. The lessons were fun and informative, and sparked some good questions from the children. We had one known salvation decision made at the end of the week.

Then our team of 10 went on our missions trip to Costa Rica in last month. It was exciting to be used by God as well as seeing how God is using and working thru pastors, missionaries, and others down in Costa Rica. We ended up being part of 4 church services, did two days of VBS, layed down a concrete floor for a new Christian school at a church in Carpio, and instructed and encouraged 5 Costa Rican pastors and their families during a 3 day pastors' conference.

Here is how Answers in Genesis was a part of our missions trip:

In Cartago, we passed out AiG Spanish tracts to adults and children in a public park. We passed out around 500 in only 20 minutes. Tracts included "Is there really a God?", "Dinosaurs and the Bible," and "Where did the Races come from?" Unlike in America, the people were polite and accepted them gladly. Some people asked for more for friends and family. We saw several people sitting right there in the park and reading them. We prayed that someone will be impacted by these tracts handed out that day.
We were involved in 4 church services, one teen service, and 3 regular church services. During the regular church services, many from our group were allowed to run the children's church portion of the service. We did games, crafts, and songs (in Spanish), but we also taught the 7 C's of History. One of our team members, Carmen, speaks Spanish, and did all the children's lessons so we wouldn't need a translator. Carmen did a wonderful job going through the 7 C's with the children. I was excited and proud of her the way she discussed dinosaurs being created on day 6, and dinosaurs on the ark. The kids had not heard these ideas before. One child spoke up and said that they had been taught about the Big Bang in school, and that we come from monkeys (even in Costa Rica). Carmen did great explaining the truth to these youngsters. Another child expressed disbelief about the dinosaurs on the Ark, but again Carmen was firm and told him it was so. I was also impressed about the way she taught "Confusion" [the Tower of Babel event]. She made a special effort to teach the kids that there is only one race, and that we are all the same color, just different shades of the same color. She also explained why we speak different languages, which was perfect for this environment.
We distributed more of the AiG Spanish-language tracts at each of the church services, and left several tracts with the pastors of these churches to hand out. There was a youth soccer tournament going on in the afternoon following a Sunday morning service at one of the churches. The pastor asked if he could use our tracts to hand out to the mostly un-churched soccer players later that afternoon. We gave him all we had with us that day.
A wife of one of the pastors we ministered to told us that the 7 C's lesson we taught the children was the best lesson they'd ever been taught by all the groups that have come down to Costa Rica. She was very impressed that her daughter knew all the 7 C's and was reciting them for her that night.
We did a two-day VBS for children ages 4–12 in Carpio, where we laid the concrete floor. We had as many as 245 kids in one session, and ended up ministering to over 400 kids during the week in VBS and the children's church programs. Again, Carmen taught the 7 C's of History. We also tried teaching the children the 7 C's song in Spanish, which goes:

Creacion, Corrupcion, Catastrofe, Confucion, Christo, y la Cruz. Consummacion es la ultima C, las siete C's de la historia.

It was an exciting, yet tiring, 10 days. But it was worth it. Thanks to AiG for being a part of this trip. Please pray for us that we've made an impact on the people of Costa Rica.

One of the photos is of Pam and me holding the creation poster and the verse poster for the creation lesson. As you can see, we had the posters changed into the Spanish language.

I will definitely be in prayer for you in India, and as always, for the ministry of Answers in Genesis. Thanks.

—Scott Trochim, Ohio
Motorcycle Leap of Faith
Now, why are we mentioning the first annual "Crabfest"—August 30 in Blanchester, Ohio (about 50–60 miles from AiG and our
museum
)? There is an interesting background to the big crab involved in all the festivities, including a motorcycle jump.
Crabfest is a one-day event at an AiG-supportive church—Freedom Worship Baptist Church in Blanchester. In addition to music, food, and games, it will be the site of a remarkable motorcycle jump (with Evel Knievel connections) over a large model of a horseshoe crab, which was donated by AiG to the church many years ago (after we had obtained it from a museum on Baltimore's harbor). The church calls this the "World's Largest Horseshoe Crab" (I doubt there are many competitors, though!), and motorcycle jumper Gene Sullivan will attempt this leap over the crab.
Mr. Sullivan was the bodyguard of famed motorcycle daredevil Evel Knievel (in fact, he presided over the services of Knievel's funeral last November). His jump over the crab will be filmed for use during a feature special on TBN doing a look at Sullivan's career and this tour.
The biggest challenge with this jump? Sullivan will not be able to see the landing ramp on the other side of the model crab due to the size of the crab. The horseshoe crab has become something of a roadside attraction, as it measures over 68 feet long, 24 feet wide, and 13 feet tall. The "Crab" has been host to everything from weddings to cover shoots for CD albums—and can seat as many as 65 people under its shell.
For information and photos, go to the Crabfest information page.
Devotion
Our strength

(Ruth 3:18) Then said she, Sit still, my daughter, until thou know how the matter will fall.

When hearts race with anticipation for what will happen and urge says to jump in, our strength is to sit still and see how our Lord Jesus makes the matter fall.
Thanks for stopping by and thanks for
praying
,
Ken