Twelve months ago, AiG opened the world's first major creation museum. Over 400,000 visitors have now come to the museum—and indications are (despite the horrible gas prices), it will be a very busy summer. For an update on the all happenings, go to the website. (Opening of the new petting zoo, hot-air balloon rides, spectacular fireworks display this evening, opening of a new café, and many other exciting happenings are scheduled this weekend and throughout the week.)
TEN-YEAR ANNIVERSARY
At yesterday's staff meeting, Mark Looy and I presented Kay Davis (wife of Buddy Davis) with a special gift on her 10th year of employment at AiG. Kay and Buddy have been associated with the ministry for around 14 years. Congratulations, Kay.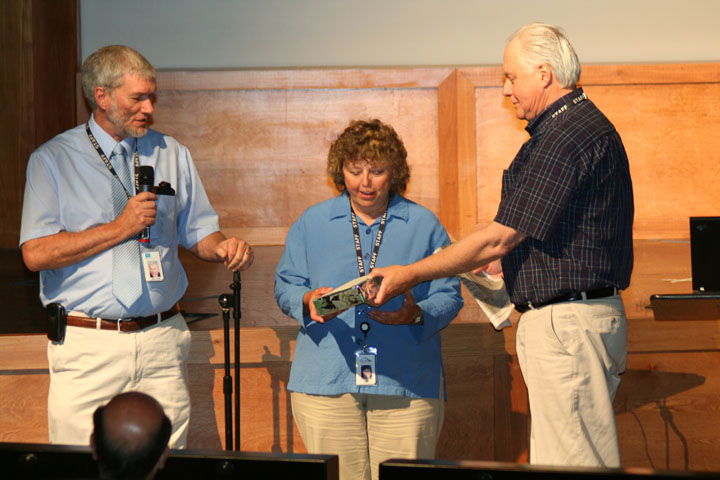 The staff has grown considerably since Kay and Buddy came on board—it is now close to 300. However, we counted up yesterday that around 12 of the staff go back to the early days 14 years ago.
DYNAMIC APOLOGETICS SPEAKER
AiG staff had another one of the wonderful opportunities the Lord brings to us regularly. Dr. Voddie Baucham, who has his own apologetics ministry and pastors Grace Family Church in Texas, spoke to the AiG staff on expository apologetics. Staff members were thrilled with Voddie's approach, which so meshes with AiG. In fact, Voddie is one of the speakers at AiG's Branson, Missouri, national conference in July—if you haven't signed up for that event, I urge you to do so. We are now up to around 1800 registrations. The staff gave Voddie quite an ovation after he finished speaking. I have included the audio file of Boddie's talk—this is VERY different to the normal presentation pastors give, and I encourage you to listen to this. Once you do, you will want to sign up for Branson and not miss more of this powerful teaching for today's world. Listen here.
I have included a photo of Voddie as he spoke to the staff. We trust there will be many further opportunities for Voddie to speak with AiG. His apologetics teaching is SO needed for the church today.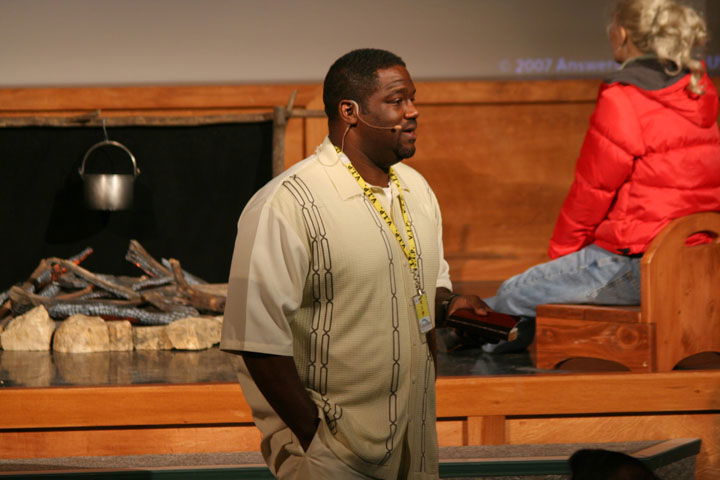 DEVOTION
Perfecting holiness

(2Co 7:1) Having therefore these promises, dearly beloved, let us cleanse ourselves from all filthiness of the flesh and spirit, perfecting holiness in the fear of God.

In Ethiopia dust blows down the streets; perfecting holiness is treating each sin like dust in our eyes, we must stop now & cleanse it with tears before going on.
Thanks for stopping by and thanks for
praying
–and PRAISING the Lord for what he has done through AiG and the Creation Museum. Ken