A young couple flew in from London to visit the Creation Museum. The young man intended on asking the young lady to marry him. While standing in the Garden of Eden section of the museum's creation walk, he heard from the overhead speaker these words, "And God said, it is not good that man should be alone . . . ." That was his cue! He decided that was the place to do it—so, he proposed right there. I have enclosed three photographs of the couple in the place where this proposal took place. I do not know if others have done something similar, but to my knowledge, this is the first in the Garden of Eden at the Creation Museum. Congratulations to Martin and Anna!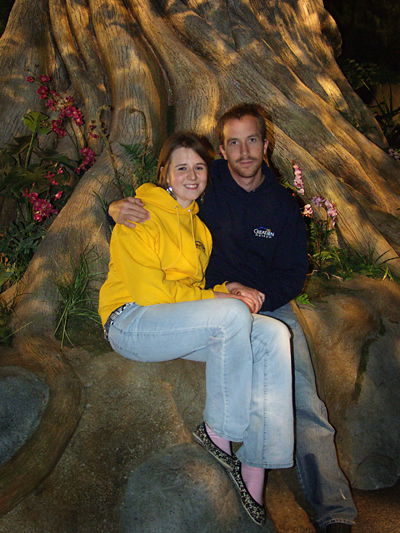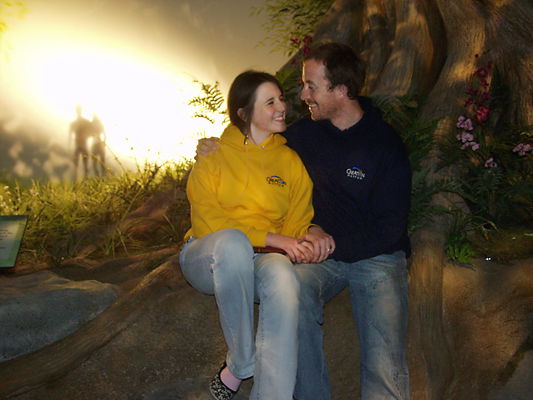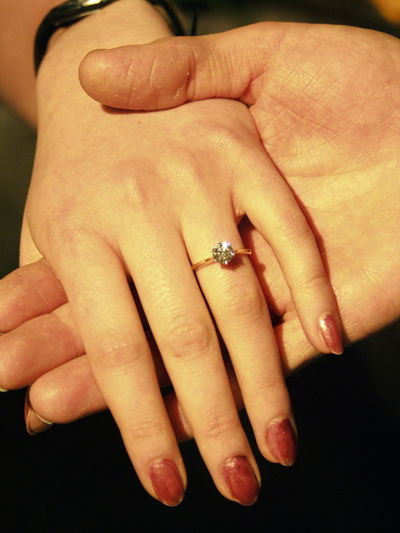 We had them give us more background to this event. Here is what one of our staff reported to me about the couple:
In the summer of 2006, Martin, a Royal Marine Commando, from the Isle of Wight, met Anna at a Christian conference shortly after she graduated from the University of Oxford. They both found that they had a united passion to be true to the identity and characters that God had ordained for them.

Martin said, "I had a desire to propose to Anna in the Garden of Eden. Even before I met her, I knew that God had someone prepared for me and that I was being prepared for her . . . . When we met, we looked to the first man and woman, Adam and Eve, in order to discover how our natures were designed to be. . . ."

It was fitting that the context for the proposal should be in the newly created Garden of Eden at the Creation Museum in the light of their shared conviction in the mission statement of this ministry. When AiG was on tour in the UK last summer, the couple traveled the length of the country by train, car, and finally by boat in order to hear Ken Ham speak (on the Isle of Lewis off the coast of Scotland). After the conference Martin became a life-time member of the Creation Museum, and they both made plans to visit the museum after his six-month tour of Afghanistan. Their expectations of the museum were more than they ever expected.
We pray God's blessing on this couple as they now prepare for marriage. I gave them a signed leather bound edition of the book Genesis of a Legacy as a gift and reminder of their time at AiG.
Branson Update
There are now 1,650 people registered for our Branson, Missouri, conference in July! Registrations are coming in about 100 a week! The facility will hold around 2500. If you are considering coming to Branson for vacation (to enjoy the many shows) and also to attend an AiG Defending Your Faith apologetics conference (what a great way to justify a vacation in Branson!!)—then go to the AiG website for details.
"I Wish [Richard Dawkins] Would Know Him [Jesus]"
A supporter wrote:
Two days ago my wife and I watched the film, Expelled: No Intelligence Allowed at your suggestion from reading the Answers Update April newsletter. We thoroughly enjoyed it, and I looked forward to seeing what it was that you said, "You will not believe what happens toward the end of the film," and I guess you mean what Richard Dawkins actually said about the source of life as he sees it! Absolutely unbelievable that he could only believe that some life had to evolve before us from some higher intelligence from outer space. Wow! Of course, I believed that our Creator, Jesus, is the name of his "higher Intelligence from outer space." I wish he would know Him!
All Because of Sin
The son of one of the founders of AiG (Mark Looy—Chief Communications Officer) ended up in hospital this week from playing baseball! See photograph! Chris Looy had a collision with the second baseman on Tuesday night! Trying to encourage Mark and his wife Renee as well as Chris—I told them this all happened because of sin—the answer is in Genesis! I also said that Chris needed to play a real game like Australian cricket or Australian football (rugby)—instead of such a dangerous game as baseball! We do pray Chris recovers quickly (he has a concussion, but is feeling better)!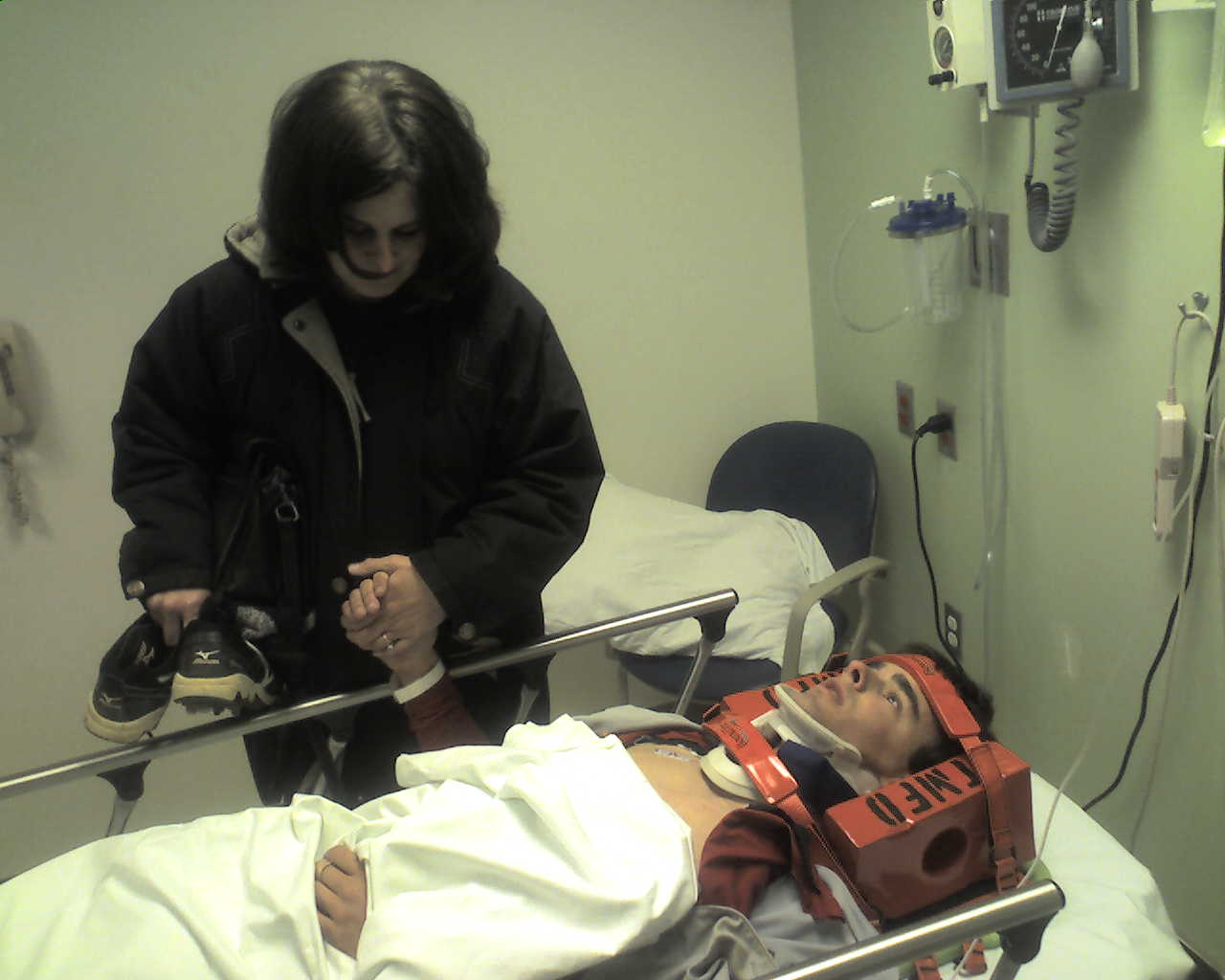 Devotion: Yet a Little While
(John 7:33) Then said Jesus unto them, "Yet a little while am I with you, and then I go unto him that sent me."
We have yet a little while left on earth to be faithful by daily partnering with God to accomplish the Great Commission before we report to God for our evaluation.
Thanks for stopping by and thanks for praying,
Ken