God certainly works in ways we totally don't expect! Yesterday (Friday), a family visited the Creation Museum because their 12-year-old son (Jonathan—see photograph taken with me in my office) asked to see the Creation Museum as his birthday present (He turned 12 on Thursday). Jonathan helped out as a volunteer with our book tables at the Home Educators Conference in Georgia last May. I gave Jonathan a special acknowledgment and presentation in the SFX (Special Effects) theater before I spoke Friday afternoon.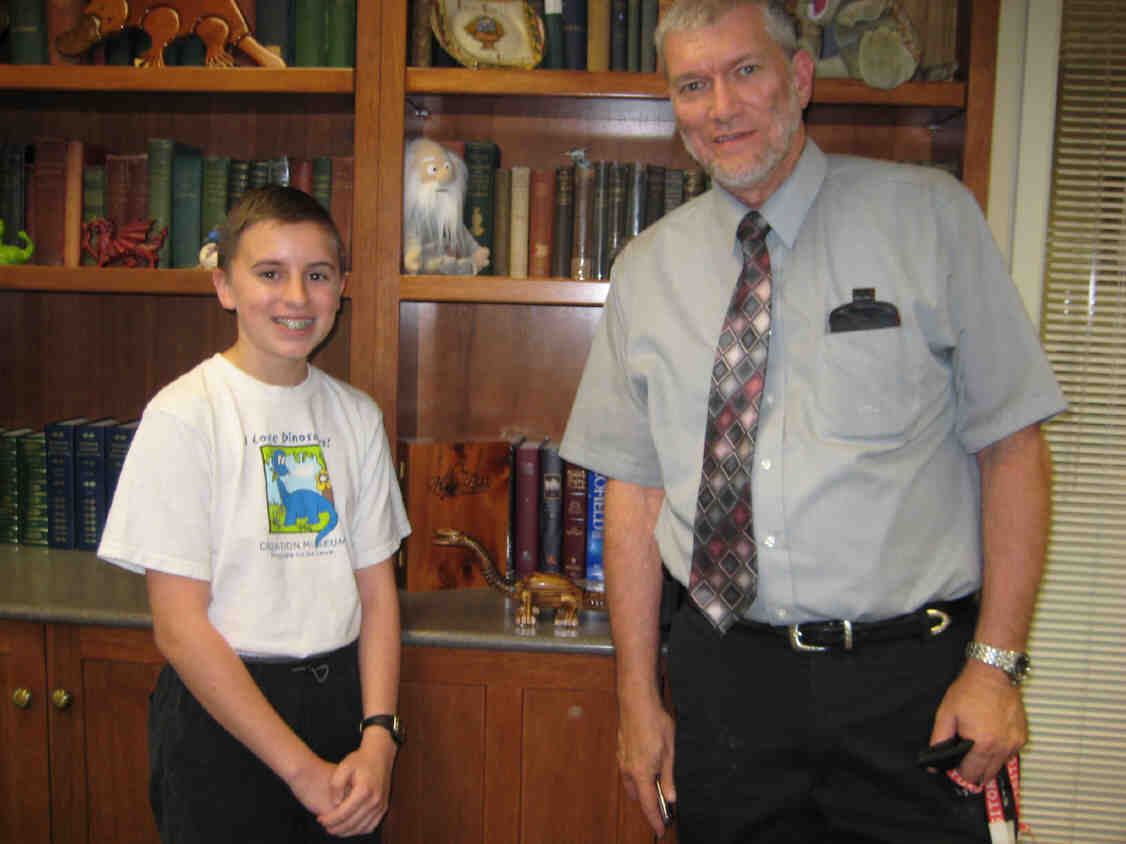 Last evening, I was walking through the Creation Museum with my nephew who flew in from Australia. Jonathan's family was still in the bookstore getting ready to leave. I found out that Jonathan's younger sister (Esther) asked to give her life to Christ after seeing The Last Adam video in our Last Adam Theater. Her mother told me they spent time with her making sure she understood it all—and she did. She understood about the lamb depicted in the film and that Jesus became a sacrifice for us. There is no doubt The Last Adam presentation (which, by the way is available on DVD so anyone can use this as a powerful outreach) is one of the most powerful presentations of the gospel I have ever seen.
Pray for Esther as she grows in the Lord. I gave her some materials to help her do this.
COPING WITH TROUBLES
On Thursday at the AiG staff meeting, Dr. Christian Wei (from Saipan—see photograph of Dr. Wei and his son, Christian Junior taken at AiG this week), gave a message to the staff about the persecuted church and what the Bible tells us about coping with troubles that come our way. It was a very moving message, and I want you all to have the ability to hear it. We will post Dr. Wei's message in an upcoming blog.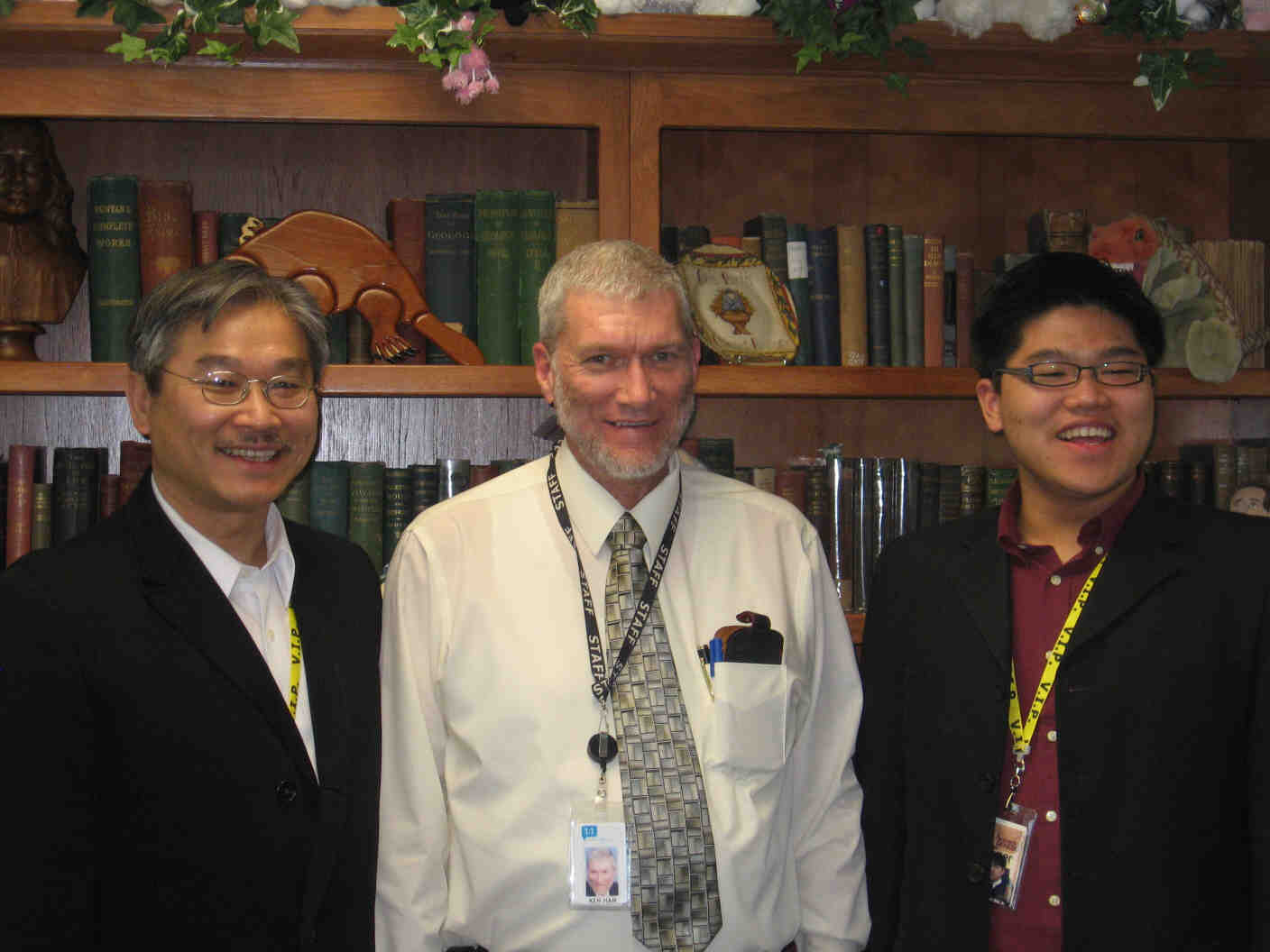 Dr. Wei was part of the International Team being trained this week at AiG in Creation Evangelism. We held a reception last night and presented each of the team members with a certificate. I will share more about that tomorrow.
CAKE AND ICE CREAM
It is our tradition at AiG that when a staff member leaves, we have a send-off with cake and ice cream for all the staff. Yesterday was, one of our programmers, Dave's last day (see photograph), as he and his family prepare to go full time into mission work with New Tribes Mission. After 8 years with AiG, Dave and his family will move to Pennsylvania to continue raising the rest of their needed support, and then to Florida to the New Tribes Mission headquarters. Recently, I had the privilege of speaking at the New Tribes Mission headquarters in England. AiG and New Tribes both use the chronological approach to Bible teaching. We pray God's blessing on Dave and his family as they launch out into another phase of their lives.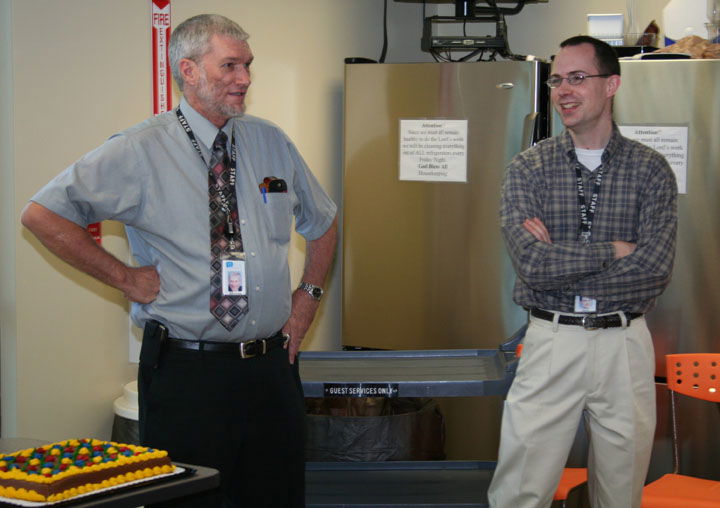 9/11 OUTREACH PARTNER VISITS MUSEUM
Some of you might remember the name of policeman Ralph DiCosimo. We highlighted his special ministry in New York City in the wake of the 9/11 terrorist attacks. (Read my interview with this former police officer.)
Ralph and his wife Jillian -- with their children -- made the 12-hour drive from Long Island to be with us yesterday (and today). He was so thrilled to have been able to tour a museum that he had been following with great interest for so many years. Ralph was hosted here by one of our staff members, Pete.
DEVOTION
Severed

(Lev 20:26) And ye shall be holy unto me: for I the LORD am holy, and have severed you from other people, that ye should be mine.

We have been severed from the world so that the world does not go in us, but we have not been taken out of the world so we preach the Gospel to the world.
Thanks for stopping by and thanks for
praying
Ken