AiG staff members are feverishly working on the construction of a petting zoo to open in conjunction with the 12-month anniversary of the Creation Museum. This will be a great addition to the Creation Museum for kids and adults. I have enclosed two photographs of the construction and the area where the petting zoo will be located (across the lake from the museum building). We have already located some unique animals to be a part of this petting zoo—more on that at a later date.
INTERNATIONAL HISTORY
AiG broke another historical marker this week as ten internationals from six countries came to our museum/office complex for an intense week of training. We are operating under the slogan "Training Creation Speakers for the World."
These internationals from Europe, Asia, South America, and the Middle East have traveled a total of 108,747.28 miles round trip to be involved in this training. As Dr. Crandall welcomed each of them on Monday morning, he shared with them that these meetings were the fulfillment of a two year dream for Answers WorldWide. Monday, I met with them all morning to go over the basic relevance talk and then how to develop their own talks.
Like most of our guests coming to the museum, they were all absolutely "thrilled and chilled" by what they saw, heard, read, and experienced. As a special surprise for each visitor, Walt Stumper (AiG librarian) printed out newspapers for each country represented.
We thank God that many people have given to make this wonderful training seminar take place. Please continue to pray for all of our trainees. I have included three photographs of a number of our special international visitors today.
MORE INTERNATIONAL VISITORS AT THE CREATION MUSEUM
. . . Also on Monday, the president of the Rotary Club of nearby Florence, Kentucky, dropped by with four visitors from central India who are here in America for several weeks as a part of what is called Rotary's "Group Study Exchange" for professional men and women. Today's guests were from Maharashtra, India. They are concluding a month-long visit to Kentucky. Pictured in the front row from left to right: Ravi Shivde, Vaishali Balajiwale, Swati Gokhale, Anuradha Totey. Back row: local Rotary International officers hosting the group, Jack Lundy and Gary Griesser; and Mark Looy, AiG's CCO.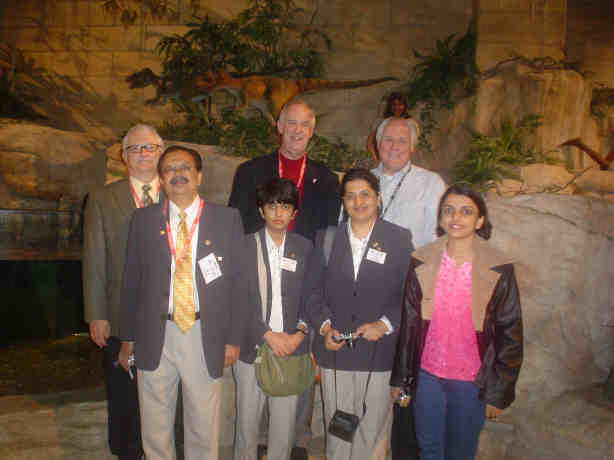 As well as the guests from India and our International Training participants, there was a family from Germany visiting the museum. It continually amazes us that people come not from just the USA and Canada, but from all over the world.
AiG 2009 ISRAEL TOUR
AiG is happy to introduce our Holy Land Tour one year from now. The first day the tour was announced over 50 phone calls were received seeking additional information.
Because we are committed to the authority of Scripture, the more people understand the "places" of the Bible, the more vivid Scripture becomes. I will be on the tour, and with our other speakers, we will make commentary as we travel together.
Check out our Holy Land Tour at http://www.pilgrimtours.com/AiG.htm
DEVOTION
"Yet not I"

(Galatians 2:20) I am crucified with Christ: nevertheless I live; yet not I, but Christ liveth in me: and the life which I now live in the flesh I live by the faith of the Son of God, who loved me, and gave himself for me.

When old sinful habits or former colleagues in sin come to us to recognize them with a call of, "It is I" our response is to resist with the reply, "It is not I."
Thanks for stopping by and thanks for praying.
Ken