After the final session at Blackshear Baptist Church in Georgia last night, a group of six young people came up to me with their "I love Ham" shirts!
I found out that this group comes from Harbor Worship Center in Dawsonville, Georgia, and they had been through my video series. They heard I was speaking in Flowery Branch, so they came to the evening session wearing their special shirts.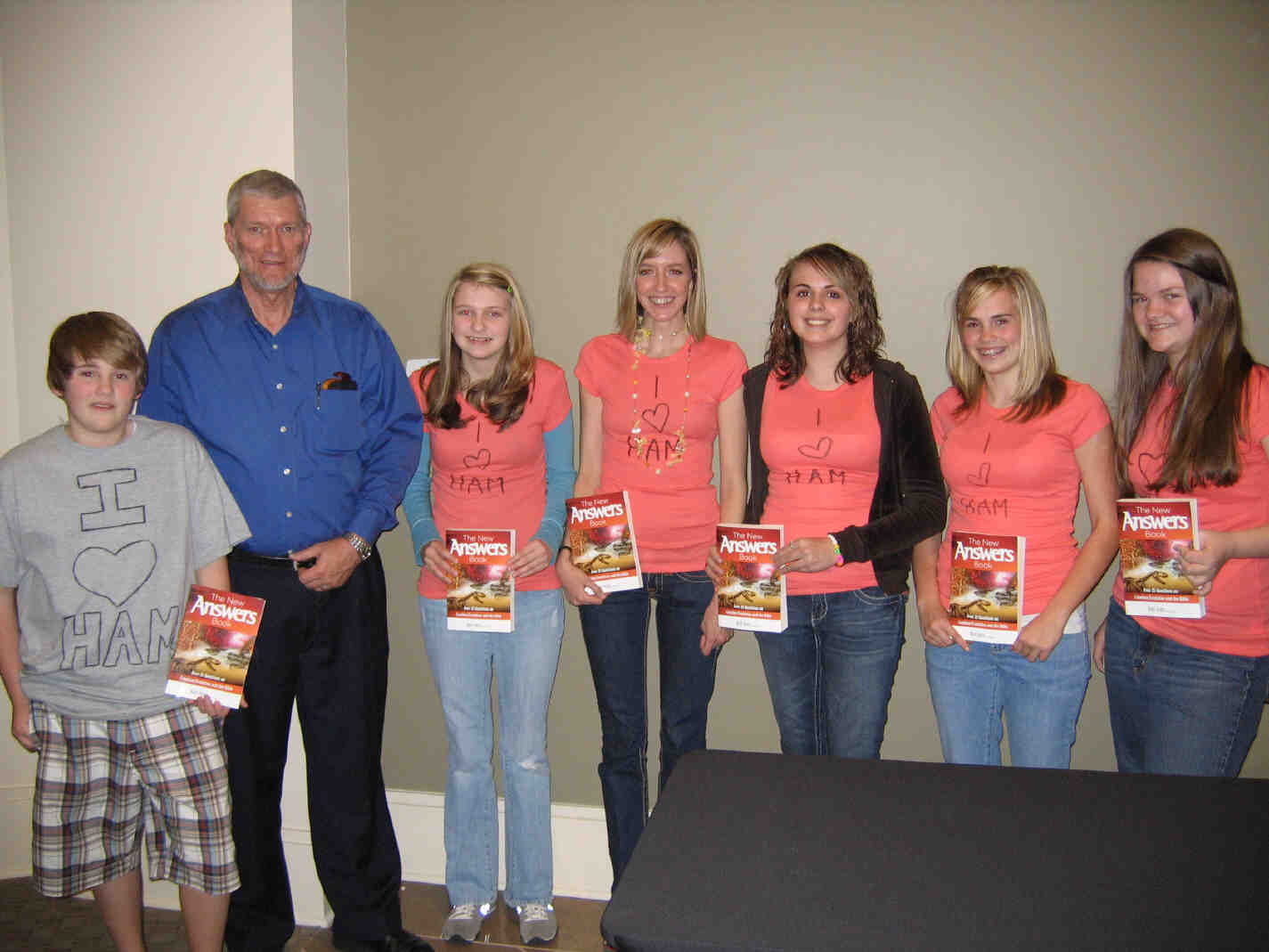 In the photograph are Christy, Kaitlyn, Morgan, Mason, Amanda, and Emily.
What so thrills and encourages me is to see young people like this who are so enthused for the creation message/ministry. God is raising up a generation to stand upon the authority of the Word of God.
I have also included three photographs taken in the church auditorium during the day. There was a tremendous response from the people—nearly all of the resources we took were purchased. I get so excited to know that so much material (shipped on a number of pallets) has now been distributed in this area. As well as the congregation from the host church, many visitors from other churches came to the various sessions/services.
I praise the Lord for the numerous testimonies received from people after each time I spoke.
FROM GEORGIA
Here is an email I received from someone in Georgia after flying home today:
I wanted to let you know that your ministry is an answer to prayer. Our pastor, just this morning, taught, [as you do,] that we are all called to be evangelists. We may be the seed-planter, or we may be the waterer. But it is God that does the growing!! I am convinced that God is really using you to speak truth to a nation that is drowning in untruth. My daughter was using a "solid" home school curriculum, K-12. We were overwhelmed with disappointment that it was from an evolutionary point of view. I was frantically searching for something to counter what she was being taught. A Google search brought us to your website, then your magazine, then your conference. I see God's hand all over my family finding your ministry. I hope to have a home school co-op next year using your curriculum. Thank you so much for following God's obvious call in your life and using your gifts to not only glorify Him, but also to edify the misled masses!
LAS VEGAS
I will be speaking in the Las Vegas area on Wednesday night along with my brother Stephen who is over from Australia for a conference. I guess I will need to tell people in this area that chance doesn't work!
You can obtain details about this speaking engagement from the AiG website.
Thanks for stopping by and thanks for praying.
Ken