We were thrilled yesterday when Fred and Bonnie Priebe (known as Lincoln Living Historians) visited AiG. Fred dresses as Abe Lincoln and performs many of Lincoln's various speeches.
When I found out that Fred and Bonnie were visiting and that Fred brought his Lincoln outfit, I asked Fred to do a special performance before I spoke at the Creation Museum in the SFX theatre yesterday.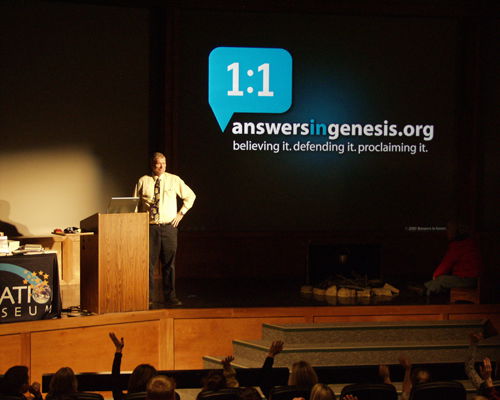 So, after I was introduced by our guest services staff member, I welcomed Abraham Lincoln to the stage.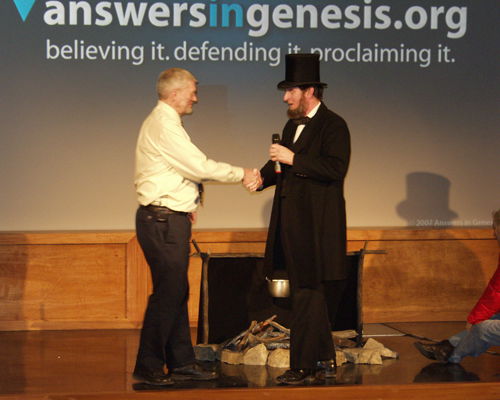 Then Abraham Lincoln (Fred) gave some historical background and then gave the famous Gettysburg Address.
As many of you know, particularly when my hair and beard were darker, many people would tell me that I looked like Abraham Lincoln (but sounded like Crocodile Dundee!). So, I took the opportunity to borrow Fred's outfit, and thanks to the computer touch-up technology accomplished by our Photo FX photographers, transformed myself into a sort of Abe Lincoln look-alike—but I don't think I'll give up my day job!!!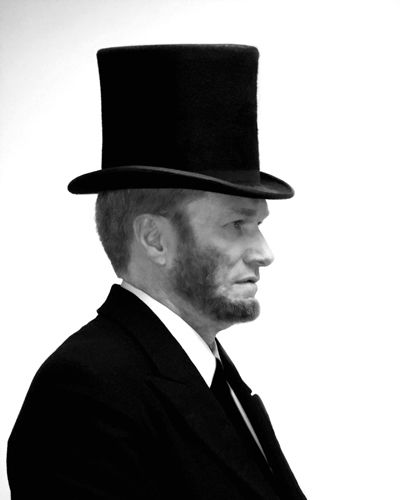 We will see Fred and Bonnie (from Michigan) back at times doing more of their presentations.
OPENED EYES
It is so encouraging to receive feedback like this one that came in after one of my recent trips to California from one of our new Online Education students:
Ken spoke at our church a few weeks ago . . . that's why I'm taking this class. He really opened the eyes of many people during the 3-day conference. We have a very Bible-based church, but still many people don't realize the terrible effects of their evolution beliefs . . . . My daughter's Sunday school teacher was very impressed with the conference, too; she has taken the words "Bible stories" out of her class.
ANOTHER
ANSWERS
MAGAZINE RAVING FAN
A subscriber wrote:
I unfortunately attend a VERY liberal high school and, in most cases, anti-God. I was given a subscription to this [Answers] magazine in January; that issue's cover story was about the equal value of life . . . for the unborn . . . for women . . . for all. I also received a copy of the Noah's flood issue and an issue of Education or Indoctrination. As school started in September, my class began to discuss abortion and oil. Already reading my first issue cover to cover multiple times, I was able to give a truthful, God-fearing answer and have the real scientific facts to back up what I said. A small while later in my "science" class, my teacher was lecturing about the K-T boundary and a massive astronomical impact—yet again my second issue of Answers came into play. Yet again I (politely) baffled my narrow-minded teachers. After discussing that topic, we "discussed" the "proof of evolution" in antibiotic resistant bacterium . . . . Again my issue of Answers came right before the topic was discussed in the classroom, and again this happened with my next two issues. Obviously this is in no way a coincidence. I eagerly await my next issue, April–June.
Answers
magazine is growing rapidly—over 60,000 subscribers—if you don't subscribe yet,
consider doing this today
.
WHO RECEIVED THE $1.6 MILLION TEMPLETON PRIZE?
The New York Times reports:
The $1.6 million Templeton Prize, the richest award made to an individual by a philanthropic organization, was given Wednesday to Michael Heller, 72, a Roman Catholic priest, cosmologist and philosopher who has spent his life asking, and perhaps more impressively answering, questions like "Does the universe need to have a cause?" Michael Heller, 72, winner of this year's prize. He says science and religion "are prerequisites of the decent existence." The John Templeton Foundation, which awards grants to encourage scientific discovery on the "big questions" in science and philosophy, commended Professor Heller, who is from Poland, for his extensive writings that have "evoked new and important consideration of some of humankind's most profound concepts." Much of Professor Heller's career has been dedicated to reconciling the known scientific world with the unknowable dimensions of God. In doing so, he has argued against a "God of the gaps" strategy for relating science and religion, a view that uses God to explain what science cannot. Professor Heller said he believed, for example, that the religious objection to teaching evolution "is one of the greatest misunderstandings" because it "introduces a contradiction or opposition between God and chance.
Well at least we don't have to worry about ever winning the Templeton Prize—we would never be considered because of our stand on the authority of God's Word beginning in Genesis!
You can read the entire article at:
http://www.nytimes.com/2008/03/13/science/13prize.html?_r=2&oref=slogin&oref=slogin
Thanks for stopping by and thanks for praying.
Ken