AiG staff photographer Lynn Jolly was at the AiG offices on Friday with her daughter (and staff member) Crystal (that's the trouble with many of our staff—they can't stay away even on vacation days—they are addicted to AiG!!!)—she managed to take these two photographs of a beautiful rainbow—one is taken from the front of the AiG Creation Museum, and one from the back staff parking lot.
The rainbow was a promise from God He would never again judge the earth with a global Flood—and there are a number of exhibits in the Creation Museum concerning the fact that such a global Flood did occur. At the time of the Flood, Noah and his family were saved in the Ark that God had Noah build—Noah's Ark is a picture of salvation, a picture of Jesus. Just as Noah and his family had to go through a doorway to be saved, so we need to go through a doorway, the Lord Jesus— As we read in John 10:9: "I am the door: by me if any man enter in, he shall be saved..."
As we particularly think of the babe in a manger at this time of year, remember why our creator became a man—because of our sin in Adam (which separated us from our God), He stepped into history to become a perfect man, to die for our sin, and be raised from the dead. Because of what the Lord Jesus did on the cross, He offers a Free gift of salvation for all who receive it by faith.
By the way, in the fourth issue of ANSWERS magazine (that is being put together right now), I have an article on the meaning of the rainbow.
VEGEMITE FOR CHRISTMAS?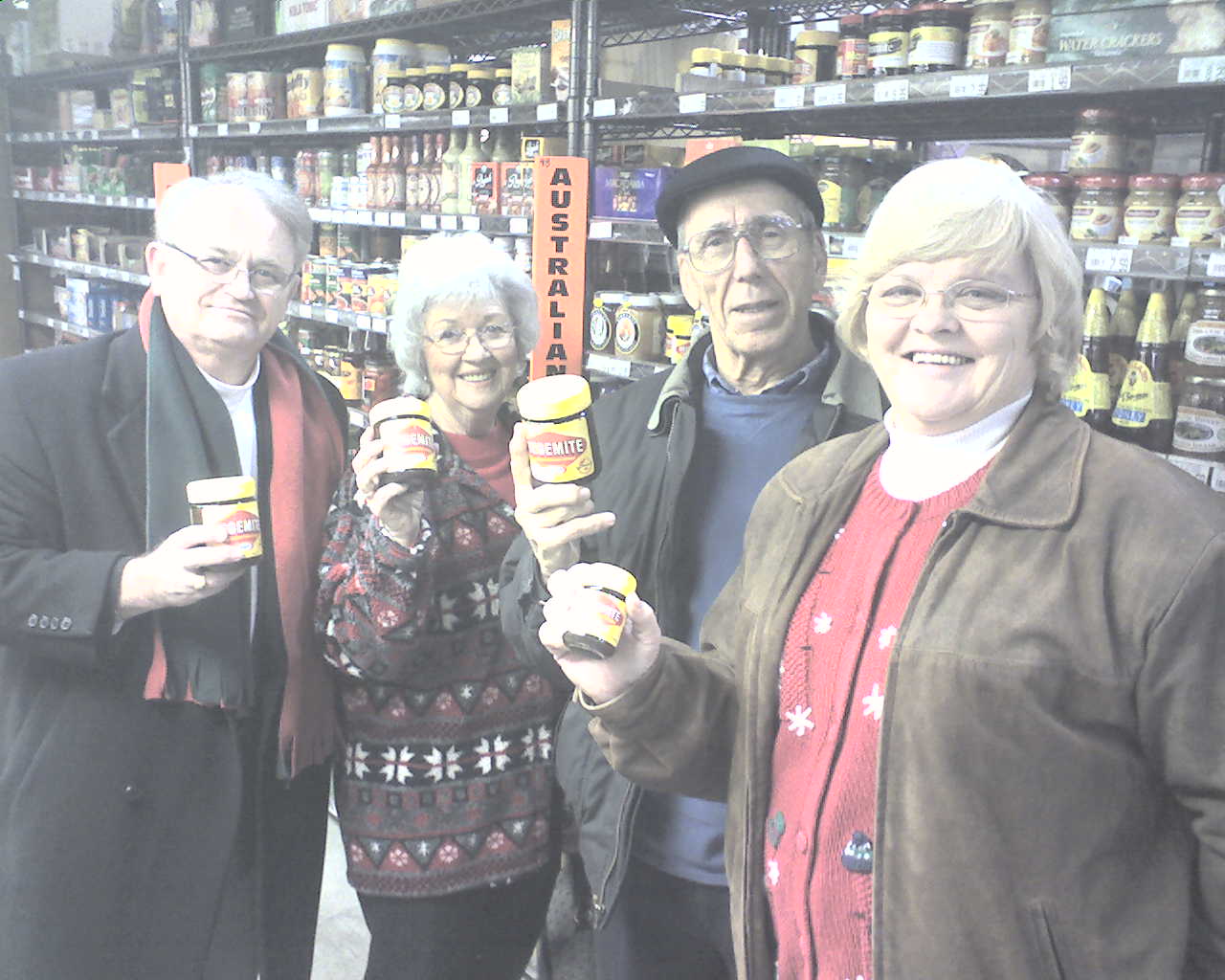 In our Cincinnati area, there's a huge international grocery store (it's bigger than a Super WalMart ... or even our Creation Museum) called "Jungle Jim's" (http://www.junglejims.com/) It's something of an institution here in our Tristate area (Kentucky, Ohio, and Indiana). Whenever I run low on Vegemite, a sandwich spread hugely popular in my homeland of Australia (I have just returned from there, by the way), we dash off to Jungle Jim's for a "fix." Most Americans who try this salty spread -- largely made from yeast -- just absolutely can't stand it. I use that observation in some of my talks and articles (see the Genesis of a Legacy study guide).
Some relatively new AiG staff members who had never tried Vegemite (yet have heard me often talk about this "delicacy") visited the Jungle Jim's store earlier this month to pick up a jar of their own. The photo (taken on a cell phone, so the photo is not great) shows Dr. David Crandall, Jan Thompson, Bob Thompson, and Diana Crandall holding up jars of Vegemite while visiting the Australian section of the store.
The Crandall's had tried Vegemite before and the Thompson's tried it later in the day. Typical of almost all Americans, all four can't stand the powerful, salty (BUT WONDERFUL) taste. So I'm hoping this delicacy won't go to waste, and that the Thompson's will think of me at Christmas! I don't mind "re-gifting."!
Thanks for stopping by and thanks for praying
Ken