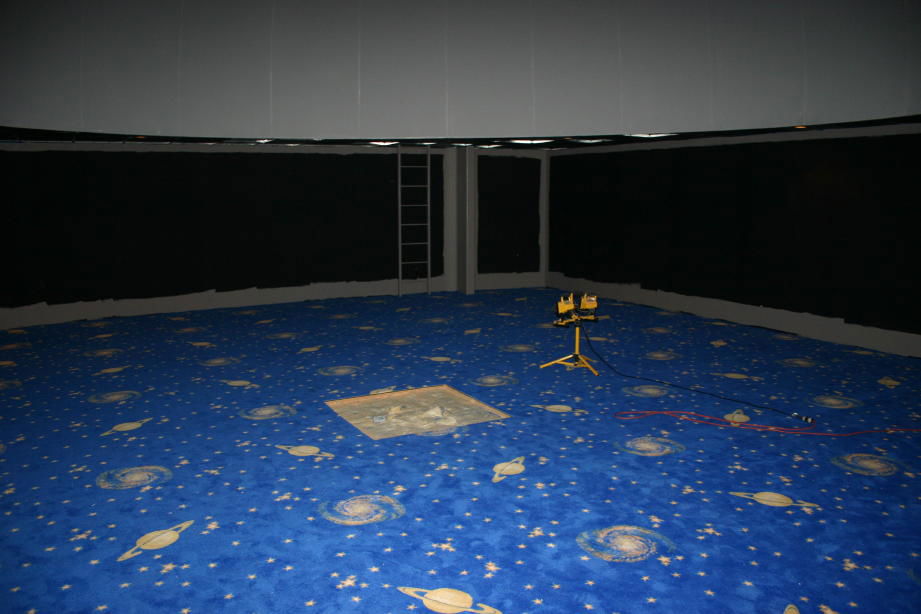 AiG is so thankful that we were able to find a carpet installer who was willing yesterday to get the planetarium carpet installed! I have enclosed a photograph I took today to give you a sneak preview of what you will see when you walk into the planetarium.
The carpet was specially designed for the Creation Museum---it was made in Northern Ireland by a businessman who donated the carpet to the museum project.
The planetarium seats will be installed beginning this Monday.
SURPRISE VISIT
This afternoon I received a phone call from a good friend and AiG supporter, Dan Wooster, from Greenville, South Carolina (Dan is a computer prof at Bob Jones University). Dan told me he was traveling with a group of 40 students from Hampton Park Baptist church on their way to a youth camp. He asked if I could give them a behind-the-scenes tour of the Creation Museum. So this afternoon, I took the 40 students through the museum, also teaching them some of the major points the museum will be making to people.
I have enclosed a photograph of Dan trying out one of the new Planetarium seats, and also a photograph of the 40 young people and their leaders taken in the Creation Museum lobby late this afternoon (Sunday).
On Monday, we have a church group of around 80 people coming in for a special tour of the Creation Museum. I will also be speaking to them on the relevance of Genesis and what the Museum is all about.
Thanks for stopping by and thanks for praying.
Ken