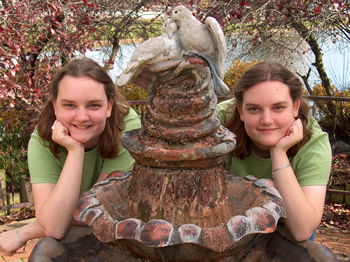 Well, much more than the seams on a ball and in a quilt.
Two special young ladies in central Ohio who have so sacrificially supported AiG over the years have once again accomplished something outstanding to benefit the work of AiG.
Sarah and Elizabeth Garcia have "signed on" again with Answers in Genesis. And their new, ministry-specific Signature Series Quilt Project offers you a chance to make that "life-saving" play. Proceeds will benefit the inspiring evangelistic work of AiG's Dr. David Crandall and his worldwide outreach, including translation ministry.
In May 2004, at the age of 16, these rookie twins from Fredericktown, Ohio, threw out their first ball with the donation of their first quilt project for AiG. Its popularity was a testimony to God's blessing, raising over $30,000 for the Creation Museum!
Like famous Red Sox slugger Ted Williams and his favorite bat, these now-19-year-old twins are still using the same 1960s sewing machine to produce the Series-playing equipment. More committed then ever to the spreading of the message of the Cross and the oh-so-desperately-needed teaching on biblical authority, Sarah and Elizabeth are scouting for fellow players among AiG supporters.
Using their "farm time" (the years between the training of childhood and the blessing of marriage) as a camp for nurturing servants' hearts, the twins have invested many thousands of hours in this "training exercise." Fabric was scouted all over the US, but only the highest quality was signed on: poodles, dinosaurs, astronomy, and fossils (just to mention a few). Equipment was hand-chosen by Sarah and Elizabeth: autographed books, sculpted dinosaur heads, unique accessories, and so much more. Each team comes with its own hand-numbered and signed card. There's even a special "team" honoring Ken Ham, that veteran player of 25-plus years (but keep in mind that Ken is an Australian and enjoys cricket, and doesn't understand baseball—though he is one of the most popular creation speakers in the world).
So, sign on soon. Don't wait until tickets are sold out and the game is over! (And thank you for bearing with us through some of these puns.)
Signature Series Quilts Each large package contains a variety of autographed books and a personally signed photo of Ken, Buddy, Kay, and the Garcia Girls. Sarah and Elizabeth have been hunting these authors down since June 2005, and each book has been specially chosen to complement the theme of its quilt package.
The Ken Ham Collection is a special series of quilts to celebrate the Hams' 19 years of mission work in the United States. Each of 19 large quilt packages has been "named" for a specific year in their ministry. Ken's followers will have no trouble identifying the reason for the fabric that was used: astronomy, One Blood, fossils, dinosaurs, and poodles!
The Buddy Davis Collection is a chance for the true Buddy Davis fan to show their support of his ministry with AiG. Based on Buddy's favorite theme, dinosaurs, this collection features the only two twin-size quilts in the project. (These two larger packages even contain special "mounted dinosaur heads" that were sculpted, molded and painted by Buddy.)
The Kay-Bug Collection is a special grouping of quilts designed to meet all of your gift needs. There's something for Father's Day, Mother's Day, birthdays, and even one for that special baby shower. Dedicated to Kay Davis, these packages honor her role as Buddy's wife and God-given helpmate.
Besides the many larger packages, there are quite a few lovely baby-size quilts in the Ken Ham, Buddy Davis and Kay-Bug collections that make great gifts and witnessing tools (one of the quilts was sent to Romania to witness to a non-Christian family about the joy of raising your children to love the Lord). Also, many of the larger packages have matching baby-size quilts, so don't forget to browse the entire Signature Series.
These quilts are offered on a first-come, first-served basis, and the proceeds (potentially many thousands of dollars) will go to AiG's worldwide outreach. As a part of this outreach, Dr. Crandall, who directs it, has already facilitated over 100 translation projects, translating AiG resources into as many languages. Also, Dr. Crandall is ready to organize (and thus one of the needs for more funds) to bring pastors/Christian leaders from third world countries to AiG. They will be taken through the Creation Museum, receive many hours of lectures/training from AiG professional staff, and be sent back to their respective countries with a library of materials to spread the message into places AiG could normally not get to.
Purchasing one of these hand made (with much love) quilts not only gets you something very special, but supports AiG's worldwide outreach that endeavors to spread the creation/gospel to all nations.