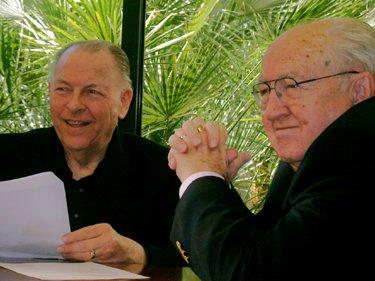 We usually don't devote a front-page web article to a past event or a new video production unless they are significant to the cause of biblical inerrancy. With this article, we will do both, as Answers in Genesis presents a retrospective look at this year's commemoration of the 50-year legacy of the historic book The Genesis Flood, and we will show you a new related video about the book (see link below).
The culmination of our year-long celebration of this 1961 book (which even secular historians consider to be a major milestone in the creation vs. evolution issue) was a day-and-a half conference held at the Creation Museum last month. This event of remembrance paid honor to the book's two authors, considered by many to be among the greatest defenders of Christianity of the past 50 years: Dr. John Whitcomb and Dr. Henry Morris.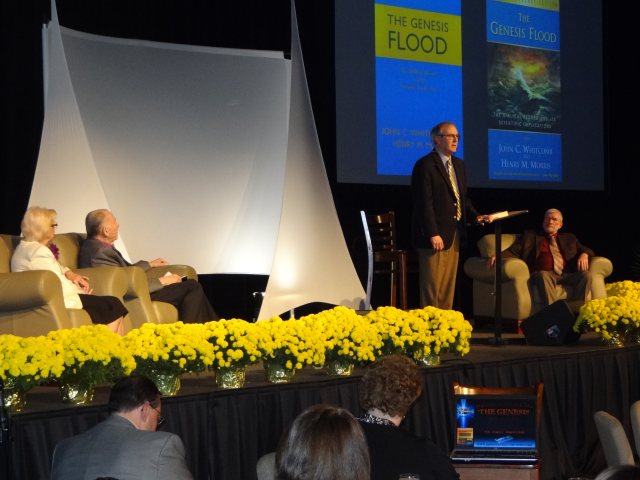 At a special banquet on October 21, the book's legacy was celebrated and the two authors were honored as several tributes were paid. Dr. Whitcomb, who is 87, travelled to our Creation Museum's new auditorium with his wife and four adult children (and eight grandchildren), as did Dr. John Morris, son of the book's late co-author, Dr. Henry Morris. John represented the Morris family and the ministry of ICR (the organization founded by Dr. Henry Morris). Special plaques were given to both men.
That evening, prominent Christian leaders paid video tribute to Drs. Whitcomb and Morris. They included greetings from well-known Bible teacher Dr. John MacArthur of Grace Community Church in California, and Dr. Woodrow Kroll, host of the international radio program Back to the Bible, who reminisced about getting a copy of The Genesis Flood one year after it appeared.
A specially produced, just-released video (longer than what was shown at the banquet) with clips from Drs. MacArthur and Kroll and several other Christian leaders can be viewed on YouTube.
We gratefully acknowledge the efforts of Whitcomb Ministries, Faith Baptist Bible College and Seminary in Iowa, and Calvary Chapel of Paradise, California for their partnership in producing this excellent video.
Here is a sampling of photos taken during our special fiftieth anniversary celebration of The Genesis Flood at the October 17 banquet and the all-day conference October 18.
To obtain your copy of the special 50-year anniversary edition of The Genesis Flood, go to our online store. You can also order the book's update, written by Dr. Andrew Snelling.
If you visit the Creation Museum over the next few weeks, please check out our special "Genesis Flood" book exhibit inside the museum's portico (along the ticket line). Our museum's exhibit designers have assembled an excellent tribute, which includes: a first edition of the classic 1961 book, copies of correspondence between Drs. Whitcomb and Morris in the 1950s and early 1960s, and a special video interview with Dr. John Whitcomb, in which he recalls how The Genesis Flood was put together and how God has blessed it over the past 50 years.
Lastly, here is an interview conducted with Dr. Whitcomb as he shared how the book came to be, and how The Genesis Flood has been mightily used of the Lord to equip Christians—and has also undermined evolutionist uniformitarian geology.