App with Answers
Calling all mobile users! Do you like new apps—especially free ones? Answers in Genesis is excited to announce our new mobile application for Android and Apple. (No worries for those with a different platform—this content will also be accessible on any mobile device with a web browser.) We've been working on this app for a while now, so we're thrilled that it will be coming soon to a device near you.
Of course, this app doesn't replace our website, AnswersInGenesis.org. Instead, it provides additional tools aiding users in evangelism and personal spiritual growth. It also helps you stay up-to-date with Answers in Genesis as you can easily access our free digital content. Look for this app soon in Google Play and the iTunes store as well as a web version at GetAnswers.org!
Check out what this nifty app can do:
The "get answers" feature provides answers to 61 of our most common biblical authority questions.
Check "our latest" to stay current with our most recently posted blogs, podcasts, articles, and videos. All of these are located in one spot, conveniently formatted for your mobile device.
Our app's "Answers in Genesis events" feature shows you all of our upcoming events—around the world. You can select any event to get details and directions on your mobile device.
"My library" synchronizes all the content you have previously purchased or will purchase in the future using your Answers in Genesis web account. For Apple devices it also shows content purchased from the iTunes in-app store. All of the digital books have been formatted specifically for use in our mobile app.
The "shop" feature allows you to securely purchase digital content on an Apple device or anything in our web store on all other mobile devices.
"For kids" is a feature designed to engage a wide range of young people. From videos to blogs to cartoons, kids can keep coming back for answers.
Did we mention that all of the above features and content are totally free? We hope these tools will be a blessing to all who use them. Additionally, "Answers premium" unlocks two great witnessing tools for a low, one-time price of $1.99.
The Check This Out video series is a great tool to show someone a brief video on one of six topics. The price to download these digital videos outside of the mobile app is $12.99 in our online store—so this premium feature alone is well worth $1.99.
Our digital tract feature allows you to send any of our items in the "get answers" section as a digital witnessing tract. How often do you get to give someone a tract that answers his exact question—and then follow up later to start a dialogue? This premium feature makes it easier than ever.
Get ready to add this app to your home screen for quick and easy access to answers!
Show and Tell
Using the new AiG app introduced above or by going through our website, you can fill up your arsenal of answers by purchasing digital downloads. Affordable and accessible, these downloads include videos, ebooks, audio presentations, MP3 music, and PDF charts. Interested in a video on stem cells and cloning? How about the Astronomy Pocket Guide ebook? Or The Answers Book for Kids? With more than 200 digital downloads available, you can find a variety of resources to encourage and equip you. Then show and tell others, sharing your faith.
In Store: The Wheels on the Bus Go Round and Round … and Flat?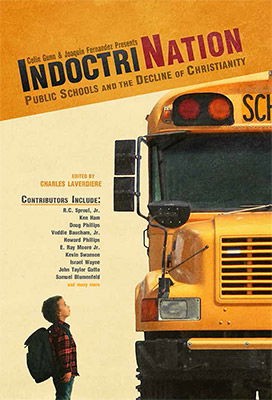 The children scramble up the stairs of the big yellow school bus. It's a weekday morning tradition for the bus to collect America's kids. Because when it comes to the education of our children, Uncle Sam knows best … or does he? Education involves far more than reading, writing, and arithmetic. It is shaping the heart and mind of a child toward either a biblical or anti-biblical worldview. And public school education is far from neutral, as you'll discover through the book IndoctriNation.
You may have seen the eye-opening video IndoctriNation, touring from a yellow school bus the U.S. public school system. As a companion to that award-winning documentary, the book allows you to take a deeper look into the state of public education and what options are available for parents who desire to raise their children in the fear of the Lord, which is the beginning of wisdom (Proverbs 9:10).
The new theme of AiG is "Standing Our Ground, Rescuing Our Kids." Secular humanists are becoming proactive in teaching children to believe evolution as fact and thus reject the Bible. We must stand our ground against such efforts and rescue our kids through the saving truth of Jesus Christ (Galatians 1:4).
Question of the Month
My family is planning a trip to the Creation Museum. … Is there a way we can see more of what it's like before we visit?
Though nothing compares to actually visiting the museum, we do have a virtual tour option that lets you look around various rooms and get a feel for what's here—or relive a past visit to the museum and remember what you learned! This photo tour was upgraded last year and now has features like a full screen view, panoramas of the Christmas Garden of Lights, and more.
(Have a question for InSite? Let us know! Be sure to mention that your question is intended for InSite.)
Did You Know?
Lights, camera, action! At the end of last year, the Ark design team created a new main video on ArkEncounter.com. Many people don't realize it's a new video, though, because the starting image is still the same as before. But click the "play" button and be transported to Noah's house as he listens to and heeds God's warning of judgment. Share this promotional video with your friends as you encourage others to pray for and support this gospel-centered cause.