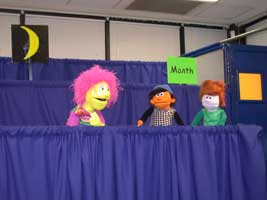 It was a variation of "Buddy Davis meets the Muppets" when a talented troupe from Texas USA put on a tremendous puppet program for the AiG–US staff last month.
H.I.S. Productions, a ministry of First Baptist Church of McAllen, Texas, has developed a wonderful teaching and evangelistic puppet outreach to young and old. Earlier this year we discovered that the group was using the teaching songs from AiG musician (and dinosaur model-builder) Buddy Davis to present biblical truths—from Genesis to the Gospels—through puppetry. In fact, almost every program ends with Buddy's powerful "I Believe" song.
In all, eleven of Buddy's "songs of teaching" (from his eight CDs) have been carefully choreographed by the puppeteers, as nine volunteer young people—behind the scenes—manipulate puppets, signs, stuffed dinosaurs, etc., while Marvin and wife Esther Luksa direct the excellent program.
On a June tour of the Midwest and New England, the group stopped by AiG in Florence, Kentucky, so that we could see and hear firsthand what the puppet troupe was doing in incorporating AiG's major teaching points in its programs—as well as AiG's music. The puppet presentations are of high quality, with excellent Bible-centered teaching, that we believe would bless an age range from 6 to 60.
This is a great example of what we are trying to achieve in AiG ministry: motivating people to "pick up the ball and run with it," carrying the information far and wide. In addition to its creation presentations, H.I.S. Productions can put on other programs, including a patriotic one suitable for July 4 and other US holidays.
For more information on this unique "creation evangelism" outreach, go to the website www.hisproductions.net, or call the church office in Texas at (956) 686-7418.