Their hearts—and minds—were "filled to overflowing," as nearly 800 guests loaded up their cars and buses and began to scatter to the four winds. They had spent five hectic days together at AiG's Creation 2003 Conference, West Harrison, Indiana, USA, 22–26 May 2003, soaking up biblical/scientific truths about God's glorious creation.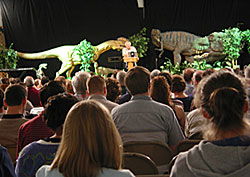 Guests came from around the world, including such unusual places as Botswana, Macedonia, Colombia, Guatemala, and South Korea, representing doctors, lawyers, scientists, teachers, and laymen from a wide range of occupations and ages.
The conference grounds were filled to overflowing. All the rooms were taken in the lodge, and all the seats in the conference hall were accounted for. Many guests had to find beds in area hotels, campers, and even tents.
Behind the scenes, the interview room was also a beehive of activity. TV and radio stations gave a total of 34 interviews (many one-half-hour long). The journalists came from as far away as Switzerland.
26 in-depth lectures, plus 2
"Filled to overflowing" describes the schedule, as well. Twelve highly qualified scientists and theologians from around the world spoke, giving a total of 26 in-depth, back-to-back lectures on a variety of topics (along with two extra sessions, which were tacked on late in the evenings).
Guests weren't here to play: the meetings lasted from 8:15 AM to 9:45 PM. When two late-night sessions (lasting between 10 and 11 PM) were added at the last minute, nearly the entire crowd stayed to catch every last word.
Even the last day's conference speakers said that they'd never seen such a large percentage of attendees stick it out to the bitter end—only it wasn't bitter, they found it sweet. Among the attendees was a woman who rescheduled her cancer operation to make sure she wouldn't miss the opportunity to have her faith encouraged.
Every guest seemed to have a common purpose—to equip themselves for more effective witness and evangelism in their various ministries and walks of life.
Worldwide impact: Augusto, Igor, …
Along with the lectures in English, AiG set aside divs for live translations into Japanese and Spanish.
AiG's translation coordinator Katia Berra held a special meeting with all the international guests, and she discovered: "They all said the same thing. The need is so great in their countries to get back to the foundational issue of Genesis/Creation, just like in the United States. They can't wait to get back to share this information. They also kept saying, 'We need materials in our language!""
"The Lord definitely wanted me here!" Augusto Calvo, youth pastor, Bogotá
Among the Spanish-speaking guests was Augusto Calvo, a youth pastor from Bogotá, Colombia. When I talked to him, he was grinning from ear to ear, excited how the Lord had opened this opportunity for him to learn precious truths that he could take back with him to help minister to university students and scientists. Unable to pay the airfare himself, he saw the Lord provide all his needs from two unexpected gifts.
Augusto was thrilled how the speakers gave him tools to help connect science and the Bible. Although the lectures were often very technical, he said he had no difficulty understanding them because of the easy-to-follow multimedia presentations, the printed notes for each lecture, and the excellent translations by Katia Berra.
Diego, a volunteer translator for AiG who had just gotten married the week before, willingly gave his time to assist AiG at Creation 2003!
Igor Netkovski, veterinary student, Skopje, Macedonia
Another excited visitor was Igor Netkovski of Macedonia, a former Communist country north of Greece. Igor, a second-year veterinary student, has struggled in the face of constant attacks on the Creator by his atheistic professors. He nearly quit his major, but was convinced to stay and find a way to be a testimony for the Lord. In his search for answers, he came across AiG's booklet on dinosaurs (in English), and there he found AiG's website. At our website, he says, he found answers to all his questions, which have greatly helped him teach a group of college students at his church, located in the capital, Skopje.
Igor was excited when he learned about Creation 2003, which coincided with a trip he had already planned to see friends in the USA. Although he had to reschedule his flight at the last minute, the Lord worked it out so that the plane had one seat open for him.
"Now I'm on fire!" Igor said after the conference. He can't wait to get home to share what he's learned, and to begin helping translate materials into his native language. In Macedonia, where the Orthodox Church holds sway, most people are atheists, who see evolution as a virtual religion and they "think church is for stupid people." He believes these materials will be revolutionary tools in the hands of the small but growing evangelical churches.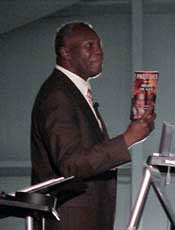 Getting the message out in every way
Several creation ministries attended Creation 2003 or set up displays. But the same message ran throughout the conference: Christians don't need to "prove" the truth of the Bible, but if we begin with the biblical record of history, then we can make sense of the world we observe today. Guests had the opportunity to sit down, eat, and talk with the speakers one-on-one, in a casual, friendly atmosphere.
Indeed, Creation 2003 is not like any other AiG-US conference. It's not intended for most "laypeople" in the church, but for those with a strong scientific bent who want to know more about the latest developments in creationist research, which is constantly improving and fine-tuning the creationist model of Creation and the Flood. AiG wants to help leaders in ministries across the nation—and the world—use this information to communicate Biblical truths to church audiences that crave answers from the Bible.
Already planning for next time
After the final session, one lady came to the back desk and asked if she could take the entire stack of leftover schedules. She wanted to share them with her friends and acquaintances, hoping to encourage them to attend the next conference (sorry, no dates yet)!
Other opportunities just around the corner
Soul saved after Creation 2001!
AiG received an e-mail from a woman who attended Creation 2001 with her husband, and the couple returned for this second conference: "My husband has become a believer since the first conference (he was baptized last week!), and he credits the conference with helping him overcome many of his objections to the faith." –Jennifer Q.
Praise the Lord—that's what these conferences are all about—breaking down barriers to the Gospel!
Among the speakers at Creation 2003 were two outstanding scientists from the Institute for Creation Research, Dr Steven Austin and Dr Larry Vardiman. They will be among the scientists participating in the upcoming 2003 International Conference on Creationism, 4–9 August 2003, Beaver Falls, Pennsylvania, USA, (412) 341-4908, [email protected], which we encourage you to attend.
AiG is also looking forward to hosting an international conference next year in Budapest, Hungary. Creation Conference International will be a wonderful opportunity to reach Europe with the most critical issue of our day—defending the Gospel where it faces the most intense attacks today, the history in Genesis.
And in the southern hemisphere, AiG Australia already has more than 200 bookings for its January 2004 "Supercamp," a week of talks and family recreation at which there will be 13 scientist/speakers, including guest speakers from the UK, Germany, and the USA.
AiG wants to do everything it can to get out the message that God's Word has the answers, and that Christians can defend the Gospel where it is most under attack today—the foundational history in Genesis, where we learn about God, sin, and the need of a Savior. Check our events calendar to find a faith-building conference coming to a city near you! And thanks for your support that makes all this activity possible.