Last week a great Christian leader and great man—who stood on the authority of the Word of God—passed away.
Born in the years following World War I, he was to die many miles from his place of birth, after a lengthy illness and recent hospitalization. He's being mourned by the many who were impacted by his life, and who were inspired by his commitment to the Lord and His church.
He was also a patriot, who spent many years as part of an effort to counter communist expansion and tyranny. He was a man of considerable warmth and charm, yet uncompromising in his religious beliefs.
And it's not who you think.1
Harold "Alex" Alexander died in Anchorage, Alaska, USA on March 31.
In a few words, we would describe him as "a man of action in both his vocational life and church life"—a man who lived out the precepts of the Bible, from its very first verse, at work, church and at home.
In the professional world, Alex (as he was known to everyone) was a major figure in the completion of the famous 800-mile-long Trans Alaska Pipeline, where he served as a superintendent of pipeline operations.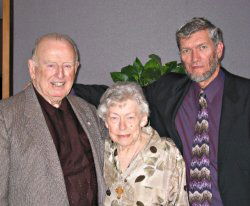 His achievements in Alaska had followed a distinguished military career. During World War II, Alex served in the US Navy and was loaned to the Marines (who were defending islands in the South Pacific). Later, he worked with the Army during the Korean conflict against Communist North Korea. He retired in 1992 from the Army Reserves at the high rank of lieutenant colonel. A graduate of the Army's Command General Staff School, he was also an instructor in the Army Reserves.
Alex was born April 10, 1921, in Macon, Georgia. He met his wife, Alice, in 1946 while attending Georgia Tech. They were to have four children and nine grandchildren.
When most people think of retiring, Alex remained vital into his 60s and beyond. He attended seminary, sat on the board of an Anchorage symphony orchestra and continued on with his teaching Sunday school (something he did for over 40 years).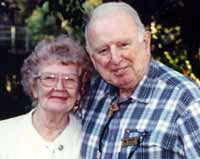 Above is Norma Ham (Ken's mother) who enjoyed fellowshipping with Alex when he and Alice visited Australia a few years ago. The three became fast friends. This photo has stood for years on Alex's bureau at home (one of only two).
For AiG, he is best remembered for being the chairperson (the last time at age 80) for two major Answers in Genesis conferences he and Alice organized in Anchorage. Alex and Alice were personal friends of many on the AiG staff (including both of the coauthors of this article, who got to know him well—including enjoying their fellowship on a trip to Australia several years ago).
Alex's daughter Aneida told us that her father deeply appreciated AiG's message that the Bible could be trusted. Not surprisingly, her father's strong beliefs in the authority and accuracy of the Bible were passed on to her, and she is now actively sharing her beliefs in a literal Genesis, and when needed, is confronting biblical compromise she witnesses in the church.
Aneida informed us that her family's wish was that in lieu of flowers, donations could be sent to Answers in Genesis. The funeral for our dear friend Alex was held Monday, and interment followed at Fort Richardson National Cemetery in Anchorage.
Our deepest condolences go to Alice, Aneida and the rest of Alex's family (including Alex's one surviving sibling, Imogene Robertson, of Macon, Georgia), as we fondly recall the life of a wonderfully warm, active man who loved his family, his God and His Word.
Note