Question: How do you help in the building of a museum by using 201,000 sq in of cotton flannel fabric, 109,512 sq in of polyester batting, 482,400 inches of thread and 350,000 scissor snips?
Answer: One stitch at a time!
A family of four, living in rural Ohio, USA, has come up with a wonderful idea to raise money-and awareness-for what they believe will be the greatest history museum in the world. Their highly creative gift idea should be of special interest to you if you have a friend or family member expecting a child.
Ignacio and Janis Garcia have raised their 16-year-old twin daughters, Sarah and Elizabeth, with the importance of the love of God and service to others. So, armed with an old Sears sewing machine purchased at a garage sale and a $5 pair of snipping scissors, this family has completed 115 beautiful baby quilts in just under two months-a monumental undertaking-to offer to AiG supporters in exchange for a donation to the Creation Museum (now under construction in Northern Kentucky, USA). This history museum will present visitors with the true timeline of history as recorded in the Bible, not the evolution story.
The Garcia family passionately wants to have a part in the building of this Bible-proclaiming family museum and to encourage others to use their talents for the Lord by considering additional ideas to raise funds for the project. Here is the background.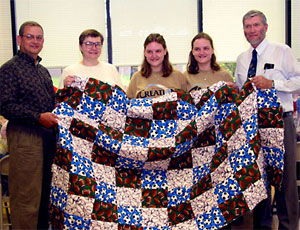 In October of 2003, in Bladensburg, Ohio, the Garcias heard Ken Ham, AiG-US President, speak at a conference and discuss the needs of the museum. Although they were somewhat strapped financially (the family had just come through a year of unemployment due to company downsizing), the Garcias became convinced that God was leading them to help build the Creation Museum-and to inspire others to get involved. After brainstorming and prayer, they were lead to Nehemiah 2:18: "Then they said, 'Let us arise and build.' So they put their hands to the good work."
Little did they know that God had already given them the means to help. You see, the girls had learned to sew a few months earlier and had begun making "Ragtime Baby Quilts." They had offered a few of these lovely quilts to other charities (including a home for unwed mothers), but because these quilts had Bible verses printed on the tags, the agencies refused to accept them unless the verses were removed. Sarah and Elizabeth, however, refused to compromise on their principles. No tags, no quilts! The glory for the project, they said, must go to the Lord. So, they called AiG in March to see if the quilts could be used as a museum fundraiser in some way.
Why Answers in Genesis?
Over the years, AiG has been a major source of "food" for their family's spiritual growth (second only to studying God's Word), they say. Ignacio and Janis had been raised to believe in evolution but were challenged to believe a literal view of Genesis after attending an AiG conference in 1995.
They continued to delve into God's Word and became convinced that what AiG was teaching had everything to do with the authority of God's Word, from Genesis to Revelation. If they couldn't believe God when He said that He created everything in six days, why should they believe God when He said that Jesus" death paid the price for their sins?
In appreciation for how God had blessed their family through the AiG ministry, the Garcias (especially the twins) were inspired to spend the past two months feverishly making 115 Ragtime Baby Quilts (each measuring approximately 32 x 40 inches). They are of excellent quality, made of 100% cotton flannel, and have been rolled and wrapped (like a giant Tootsie Roll) in "tulle" (a fine, airy, mesh-like fabric).
Furthermore, inside each quilt is a plush beanie-type dinosaur in its own plastic egg. Every roll bears a hand-numbered "hang tag" and a "care card" containing words of dedication to the museum, designed to be mementos of your support of this project.
The girls prayed over the quilts as they sewed and labored, asking that each recipient (i.e. the baby, but also the parents if applicable) would come to know Jesus as their Savior.
For your donation of $250 (with the entire proceeds benefiting the museum), you can own a handmade, child-size quilt created especially by the Garcias to support the Creation Museum. Because there are only 115 quilts, this offer is available as supplies last. (However, in a few weeks, we will let you know of another project of the Garcia family-comprising four larger (twin) quilt packages containing special items-to be offered as gifts in exchange for a larger donation to the museum building fund.)
The Labor Belongs to Us All
In working on these quilts for AiG, the family chose the passage of Exodus 35:4-36:7 (dealing with the building of the tabernacle) as something of a "theme" for their enormous project:
This is the thing which the Lord has commanded, saying, "Take from among you a contribution to the Lord; whoever is of a willing heart, let him bring it as the Lord's contribution … . And let every skillful man among you come, and make all that the Lord has commanded."

… And all the skilled women spun with their hands, and brought what they had spun … . And all the women whose heart stirred with a skill spun the goats hair. God's people brought gold, silver, bronze, linen, hides, whatever they had that was needed by the workers. They brought so much more than was needed to complete the building that the workers went to Moses and asked him to stop the people from bringing their offerings. Moses had to issue a proclamation: "Let neither man nor woman any longer perform work for the contributions of the sanctuary."
The twins hope that their quilt project will inspire others, in whatever ways they can, to support AiG. God may have given you a talent or an idea that could be used as a fundraising event (e.g., a garage sale, special church offering or even a musical performance), with the proceeds going to the museum building fund. (See the section below for ideas that others have successfully tried.)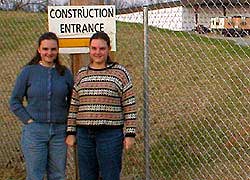 This museum belongs to all of us, but the Garcia family might feel a little more "ownership" than others, after committing hundreds of hours to this special project. Sarah and Elizabeth have told us that they intend to take their own children and grandchildren to the museum, and they will tell them how it belongs to them, too. God has blessed the museum with over $11.6 million in donations, but we still need to raise another $13.4 million.
Please join the Garcia family in prayer, so that soon we will be able to say, as they did in Exodus 36:6-7: "Thus the people were restrained from bringing any more. For the material they had was sufficient and more than enough for all the work, to perform it."
In another passage of Scripture, we read about the rebuilding of the walls of Jerusalem in Nehemiah's day, which was a witness to the world for many generations. The same might be said about the witness that the Creation Museum will have in our day and for generations to come.
Have you considered asking the Creator to show you some creative ways to serve Him?
Other Creative Ways People Have Already Helped AiG
An exciting ministry opportunity at AiG is "Gifts in Kind" (i.e. donations to AiG of time and material in lieu of cash). Many people, like the Garcias-from all walks of life-have "invented" creative ways to help with the museum project.
Here are some creative projects that AiG supporters-both in our Cincinnati-area and throughout the country-have already undertaken:
Who: Individuals, couples, youth/church groups, whole families

What: Donation of time, skills and/or labor

When: A vacation, a weekend, a day, a month, even an hour

How:

Donation of skills-be a plumber "on call" for emergencies, make phone calls or type data in our office!

Donation of materials-the original security gate for the Creation Museum property was a gift!

Donation of services-a pilot loaned his plane and time to take aerial shots of the museum property!

Donation of "passing through" services-a tire-store owner in Buffalo, New York, offered to install free tires any time we're in the area!

Donation of materials/services "at cost'-someone has offered to install, at cost, an alarm system at the museum!

And, of course, donation of money-a children's Sunday school offering to AiG was recently received!
The possibilities are limited only by your imagination!