I often think back to the four years of battles as we struggled with humanists, lawsuits, and misinformed people concerning the rezoning of land for this phenomenal outreach. But what continued to spur me on were testimonies like this one:
"Your ministry was instrumental in my accepting Christ. I'm confident I speak for thousands. Please keep up the excellence! Can't wait to bring the family to the museum. HURRY!" – S.D., Ohio
As you look at the artist's rendering of the Creation Museum and offices, let me share with you some of the fascinating history behind this project—including many things you may have never heard before.
Almost 20 years ago, a board member of the creation ministry in Australia (now called Answers in Genesis) and I stood on a piece of land along a busy highway, asking the Lord to allow us to have such a property for our headquarters—and also for a Creation Museum.
Ever since I can remember, the Lord has given me a vision and burden for a major Creation Museum outreach. Every time I would visit a secular museum in America or overseas, I have watched children (thousands over the years) gaze in wonder at the displays that indoctrinate them in humanistic evolutionary thinking. My burden intensified.
I still can see a dad and his young son looking at the model of "Lucy" (our supposed ape-like ancestor) in the Natural History Museum of London. The father explained to this youngster that this was their ancestor—that humans evolved from this creature. I've seen heart-wrenching images like this repeated many times over the years. It's all so sad.
Oh, how I have so wanted to see a major, truly world-class center of which the world would take notice. One that shouts loudly that the Bible is the true history of the world—that the Bible is history on which the gospel of Jesus Christ is based—that the Bible can be trusted and has the answer as to where we came from, who we are, and what must be done to be saved to live for eternity with our Creator.
But, little did I know that the Lord, who heard our prayers, had a plan far beyond our limited vision. We didn't get that land in Australia, but 14 years ago the Lord brought our family to America. Over the years I have realized how important it is for a ministry to be centered in America to reach the rest of the world. After all, this country is the center of the business and Christian worlds.
We began the current AiG ministry in America almost seven years ago. We are in a region that has an international airport hub and is central to the major population base of the USA (the Cincinnati/Northern Kentucky area is within a day's drive and just over an hour's flight of almost two-thirds of the population).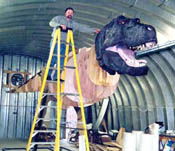 Here's how the Lord has blessed—and challenged—us since 1994:
Miraculously, we met Buddy Davis (a taxidermist, sculptor, and singer) in the first year of the ministry. We discovered that, for years, he and his wife, Kay had been burdened by the Lord to build their own Creation Museum, to give the glory and honor for the creation to the Lord Jesus Christ.

Buddy had been building dinosaur models for many years, but he really didn't know why. He just had this conviction he was to do so. Buddy has now given his wonderful collection of over 70 life-size dinosaurs (beautifully sculpted—equal to the best in the world) to AiG for the Creation Museum. And he continues to build more!

Many of you are aware of the rezoning battles we had to fight to get the right piece of property for this museum outreach. Our library holds numerous binders—literally many feet high—of newspaper articles and correspondence relating to these events. Much of the world's major media covered this story—CNN, NBC, ABC, USA Today, and the two most prominent papers in Britain.

Also, Australian, Japanese, and American newspapers, as well as various radio and TV broadcasts from around the world, covered our museum project. We could not have paid for the publicity! In fact, in a very real way, this publicity caused massive growth of the AiG ministry.

And then, we lost the land we had been praying and fighting for. A setback? Well, we came across another piece of property that I could only describe as "Wow!" With 1,250 feet of frontage along a major interstate—just two exits away from Cincinnati's major airport hub, 47 acres featuring a beautiful spring-fed lake and thickly wooded areas. You couldn't ask for a better piece of property for what the Lord has called us to do!

Something else so phenomenal—so out of the ordinary—happened. A supporter contacted us to tell us about a museum in Baltimore that had spent $17 million on exhibits, but was closing down. Because our Creation Museum plans had to be put on hold, and we wouldn't need money immediately to pursue the plans, we agreed to a budget of $20,000 for buying items at the museum's auction.

Well, we walked away with about 70% of the exhibits (literally millions of dollars' worth) for $19,000! Another miracle! The Lord was preparing the way!
What will you experience when you visit the museum? Imagine this: you walk onto a 10,000 square foot display area. You are taken on a thrilling journey through the history of the world from beginning to end—Creation (in six days); Corruption (entrance of sin and death); Catastrophe (Flood of Noah's day); Christ/Cross (the gospel clearly outlined and based in real history); Consummation (new heavens and earth to come).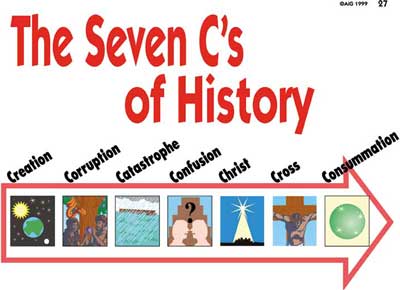 As you discover the "Seven C's" of history, you will also learn to put on biblical glasses and understand how to correctly view the universe through the lens of Scripture.
Then, you move on to a 30,000 square foot area, about 40 feet high! You will see dinosaurs (and pterodactyls flying above), special displays (walk-through replicas of a cell and fish, etc.), a Noah's Ark model, aquariums, and many other visually stunning exhibits.
As you walk through these displays, looking at them through the "lens of Scripture," you will be given answers to questions like: Cain's wife, dinosaurs, the origin of "races," carbon dating, where God came from, and so on. The gospel will be presented clearly and people challenged to believe the Bible!
This will be "in-your-face" evangelism (in a nice way). In other words, we are going to confront the world (and the compromising church) to believe God's Word, from the beginning. In fact, this center will shout the creation/gospel message throughout the world—you see, people will even be able to take a "virtual tour" of the museum on our internet site.
Wouldn't you want to take a major part in this unique and vital project that will proclaim the clear gospel message in its real-world, historical context to our needy world?
We need to raise around $14 million. Actually, for a 95,000 square foot center, we have kept the price way down by a "gifts in kind" approach. (For instance, our architects have donated at least $200,000 of their time!)
Because of weather, necessary ground preparation, and other complicated factors, if we are to break ground in the spring, we need to raise $3.75 million by December 31. This will enable us to begin construction on our first phase in March of next year, but we must first hire the construction firm and order the steel and other building materials in January. The shell of the building could then be completed (if funds come in) within 12 months.
We realize the Lord is in control, and if this doesn't occur, we will just delay the project for many months. But with all that's happened, I believe it's time for God's people to get behind this exciting outreach and see it become a reality.
I am now officially launching our fund-raising drive for the Creation Museum. Would you pray about a special gift for this project? And please, if it means cutting back on your normal giving to AiG or to your church, we would ask you not to do this. (We don't want to affect giving toward the normal day-to-day operations of our ministry.) We are asking you for a special gift, over and above your normal support, specially designated for the Creation Museum.
Pray with us that if the Lord so allows, we would raise the necessary "phase one" funding of $3.75 million before December 31. We will then finish out the building and exhibits as the rest of the $14 million is raised.
When you look at the culture of America today from a Christian perspective, the country is becoming less Christian every day. The anti-Christian sentiment is growing. Evolutionary humanists are waging a full-scale war against our faith through our country's educational systems, media, and, yes, science museums. Wherever you go, the Bible is under attack!