What recent event made young people in Northern Ireland (making up more than one-third of an audience of 2,009) pack the Waterfront Hall, the largest audience hall in Belfast (with thousands of others, according to box office officials, not being able to attend because the tickets sold out)?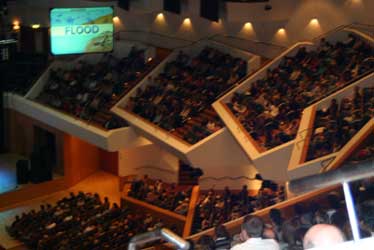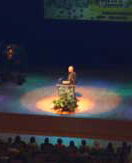 And what brought over 2,000 students (from Missouri, Arkansas, Oklahoma, Indiana, Illinois and Kansas) to the rural area of Joplin (southwest Missouri), USA, to spend part of their spring break in a massive gymnasium?
What may surprise you is that it didn't involve food, sports or even music. These youths, from elementary students to college-age (along with hundreds of adults) came from many miles around because they were hungry for answers and thirsty for Truth—the kind that only God's Word can provide. And answers are what they got through these two back-to-back AiG events that occurred on opposite ends of the Atlantic Ocean. They are just the latest meetings that AiG–US's Ken Ham has been holding for the past 10 years, as AiG continues to provide real answers—from the Bible—to life's tough questions, at speaking engagements designed for all ages.
God is certainly stirring the hearts of the next generation to reclaim cultures for Christ, as experienced during Ken's speaking engagement (March 7, 2005) at the Waterfront Hall in Belfast, Northern Ireland where attendance records were broken and hearts were changed. In fact, this crowd of over 2,000 most likely made it the largest public creation meeting ever in the United Kingdom (and perhaps continental Europe as well).
"As I began the meeting and looked around this auditorium [Waterfront Hall], what hit me was that at least one third, and possibly more, were young people," said Ken. He added that he has noticed a dramatic increase in the number of young people attending AiG meetings in recent days.
I was one of the youths in the Waterfront Hall in Belfast on Monday night when Ken Ham was speaking. I'm 16 years old and I've been a Christian for 8 years. I just want to encourage you people in Answers in Genesis. God is using your work in MIGHTY ways. Us as young people have SO many questions and it is so easy to doubt, I left that meeting feeling more assured of my faith than ever before. Ken Ham has a remarkable gift and I know for a fact the Holy Spirit was working through you that night. You brought up so many issues that we as young Christians find so hard to talk about with others. I also really want this event to happen again. I went into school the next day and so many of my non-Christian wished they had been there because so many of them are longing to know the TRUTH that I know. I REALLY hope you will come back soon to Belfast because your message is so very relevent to get to people at my age before their hearts harden and they no longer search. Thank-you also for your brilliant literature may God bless you all for the AMAZING work you do each day.
– Lorna McCollum, Ireland
This increase of young people seeking answers was made even more evident at the recent Answers in Genesis Family Conference in Joplin, Missouri USA (March 20–22), where over 2,000 students (1,333 elementary school and over 700 junior/senior high school) came to hear life-changing messages by Ken Ham, Buddy Davis and Dr. David Menton. With an estimated 5,000 people being reached through this three-day conference that was geared for all ages, the attendance far exceeded what the conference leaders had initially projected, especially considering the event was held during spring break week for many schools.
Jay St. Clair, outreach pastor at College Heights Church, the sponsoring church* for the AiG Family Conference in Joplin, said he sensed the spirit of God stirring people and giving them a hunger for the Truth.
St. Clair said he believes God is awakening His body (the Church) and that these young people are being set apart by God's Truth.
"When you've got Truth, you've got freedom," said St. Clair.
One area in which people (and young people) are being set free from evolutionary thinking involves dinosaurs. They are probably used more than anything else to convince children and adults that evolution is a fact and that the earth is millions of years old. Sadly, most people, including many Christians, think of evolution when they see a dinosaur. And many Christians can't give real answers when asked about dinosaurs.
Through his talks and books on this popular subject, Ken has opened many people's eyes to the truth about dinosaurs, and how the Bible explains some of their supposed mysteries. (By the way, at the Joplin conference, a special dinosaur exhibit was displayed, loaned to AiG for this conference by creationist friend Tom Sharp of Oklahoma.)
If you have never heard Ken speak on this fascinating topic, you can listen to the two-part radio program that was recently broadcast on Dr. D. James Kennedy's radio program, Truths That Transform (heard on hundreds of radio stations worldwide each day). These messages were recorded at Dr. Kennedy's Coral Ridge Presbyterian Church in Ft. Lauderdale, Florida, USA when Ken Ham spoke to Dr. Kennedy's congregation on Sunday, January 30, 2005.
What about you? Do you have a hunger for God's Word and a thirst for His Truth? Would you like to be better equipped to defend your faith by answering questions about Noah's Flood, fossils, dinosaurs, astronomy and the creation/evolution debate? Do you want to learn how to use creation evangelism to help turn around a secular culture?
Then make plans now to attend the 2005 Creation Mega Conference from July 17–22, 2005 at Liberty University in beautiful central Virginia (Lynchburg). During this conference, you will have an opportunity to hear 26 of the world's leading creationist speakers and researchers. With two tracks (basic and advanced), you don't want to miss this wonderful opportunity to help transform the culture in America!
---
*Working with a committee made up of local businessmen, church leaders and several laypeople—they spent a year and a half planning this regional conference. They decided that there wasn't a church auditorium large enough in the area to be the host facility, so the conference was actually held at a Joplin university. Return to text.