I've become paranoid about . . . buses!
You see, a few years ago, our board of directors started asking the question, "What happens if Ken gets hit by a bus? Who would run AiG? What is our emergency plan?"
In fact, the board talked about this supposed "bus" so much, I didn't want to hop on a bus—or even cross a road when I saw a bus coming! I think I've become paranoid about buses!
But it's a very important question. I've seen too many ministries not plan properly for the future, and when the founder(s) are taken to heaven, a mess is left on earth.
Actually, it's not just me. The two other founders of AiG (Mark Looy and Mike Zovath) are in their 60s as well. Last month, I announced some major changes at AiG as we plan for the future. No, I'm not going to retire—unless the Lord (and my wife and the AiG board) makes it obvious I should.
The ministry of AiG has grown exponentially over the years—even more so when the Ark opened. Over the years, as CEO and president, I, along with others, have worked hard to identify visionary leaders within the ministry who exhibit God's calling on their lives. And I have sought to place them in positions of authority as the ministry has matured.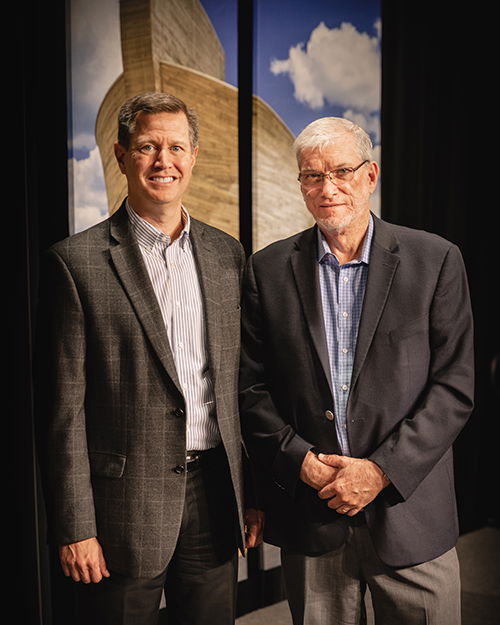 A Providential and Powerful Message
About five years ago, I made a recommendation to the board about what should happen if there ever was such a bus! Many of you already know Joe Boone, who came to AiG about 12 years ago to take our Advancement department to another level. Joe and his family first heard me speak on June 9, 1995, at a homeschool conference in Indianapolis.
Now, why is that date so important?
It sticks in my mind because my father went to be with the Lord on that very date. I knew he was gravely ill—we spoke often on the phone in May and June of 1995. He told me not to cancel my talks at this Indiana conference and not to fly back to Australia for his funeral. I remember him saying something like, "I won't be here, so I'd rather you do what God has called you to do: preach the Word."
The talks I gave at that June 1995 conference totally changed Joe and his family spiritually. Sometime after Joe heard me speak, he encountered tragedy in his life. His wife was diagnosed with a brain tumor, which would take her life 9 years later.
At about the same time, Joe's father (who was in business with Joe) was diagnosed with acute leukemia, which he miraculously survived. Joe explained to me later that what he heard me teach about what the Bible says about death and suffering really helped them through some terrible times.
Joe was a CPA and had been running a business that built fire trucks for 17 years before joining AiG. As he now says, he'd gone from making equipment to rescue people from the fires here on earth to being part of a ministry to help rescue people from the eternal fire. So Joe is still in the fire-fighting business!
Actually, I've found that many of our staff are working at AiG because this ministry had a phenomenal impact on their lives as children, teens, or adults.
So Joe has a very special connection to AiG. And because of his work in the Advancement department, he has met many of you. Our staff has such love and high respect for Joe, as do our supporters.
Also, Joe has been one of my confidants when I've sought counsel in dealing with various matters. I proposed to the board that if anything ever happened to me, Joe should be placed in the position of leading AiG in an emergency situation, until the board made a permanent decision about AiG's leadership. The board approved this proposal unanimously.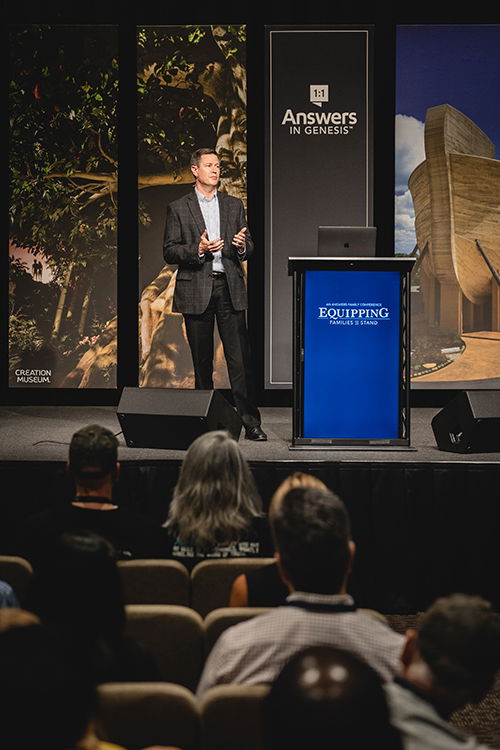 Well, recently, because of the size of the AiG organization, and to show our staff and supporters that we are carefully planning for the future, I (with unanimous board agreement) appointed Joe as the president of AiG, under me as CEO.
Since then, so many of our staff members have told me what a great move they believe this is! A number of employees said to me, "There's no one more suitable or better equipped to be president than Joe."
Also, Mark and Mike are making changes in their roles as they continue in the ministry, using their wealth of experience—but giving others more responsibility and authority. And we have made (and will continue to make) structural changes within AiG as we prepare this ministry for the future. We recognize AiG went through a pioneer stage and then a growth and maturity stage, and today it's a very different ministry—but with the same mission and message!
Maintaining a Clear Message
As I constantly remind our staff and supporters, the Bible has never changed, but the culture changes. This necessitates making tactical changes as we try to reach people with the truth of God's Word and the gospel in more effective ways.
Now, I have also worked with others within the ministry to implement policies and strategies for the protection of the ministry. I've seen so many churches and Christian organizations lose the mission of their founders. (Think about the Ivy League schools that were once Bible-centered, and most of today's Christian colleges that have strayed from the biblical stands they once held.) Sadly, in just a few generations, most Christian institutions have become very liberal in their treatment of the Bible and have become more secularized!
AiG has a detailed statement of faith (which most Christian institutions don't have) with many specifics spelled out carefully. This has been done to protect against employing a person who could undermine the mission and move it another direction. We have also set up an editorial review board within AiG to monitor all content we produce and approve all articles, books, videos, and so on—with an appeals process for the purpose of checks and balances.
I'm sure you've observed that the culture around us has become increasingly antagonistic toward the Christian faith. In this anti-Christian climate, AiG has had to fight legal battles over freedom of religion issues. This battle over the free exercise of religion (which is really a fight against Christianity most of all) is heating up and is getting worse in the entire Western world.
Many people and organizations have been encountering problems with social media platforms. They are being banned from Facebook, YouTube, and other such platforms just because they speak publicly about what the Bible clearly teaches about marriage (one man for one woman), gender, abortion, and other social issues.
I've had many meetings with our staff about doing our best to protect AiG in the future to continue getting our messages out to the public. AiG's websites are some of the most-accessed Christian sites in the world. Our social media presence is also very large.
Many ministries are now recognizing that we need Christian alternatives in place for future mass communication.
Many ministries are now recognizing that we need Christian alternatives in place for future mass communication. Such planning is all a part of man's responsibility, while trusting God's sovereignty that his Word will be proclaimed freely.
Reaching Forward Through PureFlix.com
As we looked at this critical area, we realized it's not within our ministry focus to create our own social media platforms—it would be extremely costly as well as time consuming. It would be better to cooperate with specialists in these areas for the sake of protecting our content distribution for the future.
Recently, we negotiated an arrangement with an organization called Pure Flix (PureFlix.com) for carrying all of our video content. (It's nonexclusive—an important detail that allows us to look at other opportunities if we need them.)
I look at Pure Flix as a Christianized version of Netflix. Their entertainment division is also producing more Christian-based movies. Now, none of us are perfect! And we wouldn't necessarily agree with all the content on Pure Flix—but I know the heart of the leaders involved, and they want to help God's people have a content base of family-friendly Christian movies and TV programs to choose from.
This service enables God's people to help discern what would be suitable for their family. It's sort of analogous to AiG's CreationColleges.com website. We list the Christian colleges that agree with AiG's tenets of creation. Now we can't guarantee the content of everything that's taught at these colleges, and I'm sure we would all have some theological and other differences—but the college list gives our supporters a base to work from in discerning a college that suits their teen.
Pure Flix has already begun the process of adding hundreds of AiG videos to its inventory. Our aim is to have our live programs (such as Answers News) available on PureFlix.com as well.
Now, we will still sell our large range of DVDs, but all that content—every single video we've ever done (hundreds of them)—will also be available on Pure Flix. Also, any of the Pure Flix Christian movies that we can fully endorse will be showing at the new Answers Center at the Ark Encounter beginning next year—and at no extra cost to ticketed guests.
Actually, it's really worth subscribing to PureFlix.com just for the Answers in Genesis content (the equivalent of purchasing a few AiG DVDs per year). Every video we've ever produced (and many people have asked for some of our older video presentations), and everything we will create in the future, plus all of our Facebook Live and other programs, will be available in one location. We've never been able to do this before.
This arrangement is saving the ministry significant amounts of time and money. Through this agreement, the AiG ministry can take advantage of a complete online video content infrastructure that would have cost us tens of millions of dollars to develop on our own (and countless man-hours), not to mention the opportunity to reach an expanded audience with AiG's apologetics resources.
PureFlix.com . . . will be a one-stop place for all AiG video content.
It will be a one-stop place for all AiG video content—and it will help ensure our content will still reach the public should we ever encounter resistance from the secular media platforms.
Now to commemorate this new arrangement, Pure Flix is making a special offer to AiG supporters. Normally, Pure Flix offers a one-month free trial of a subscription. However, if you make a gift of any size this month ($10 suggested minimum), they will offer a two-month free trial when you sign up. We'll send you a special Pure Flix coupon code to start your free trial after receipt of your donation.
You can make a donation at AnswersInGenesis.org/donate. (Just type "Pure Flix" in the comments section on the donate page to receive your Pure Flix coupon code in a follow-up email.)
Now, we do have many special ministry projects that need funding as we continue to expand our outreach. But rather than ask you to consider donating specifically to one of these outreaches this month, I would like to ask you to consider this instead.
I want you to know that we are serious about protecting and organizing this ministry for the future. We recognize you have invested your support and prayers in AiG's evangelistic outreach. As an encouragement to us, and especially to Joe and the enormous responsibility I've placed upon him as president, can I ask you to prayerfully consider giving what you are able in supporting this cutting-edge ministry? I'm asking for your vote of affirmation in what AiG is doing to see that your investment in the harvest of souls is protected for the future.
And please, consider the wonderful new Pure Flix offer—it's a great investment for your family.