Special Offer: Charter Your Course on the Ark
The Ark Encounter themed attraction isn't scheduled to open until the spring of 2014, but you can get on board with the project much sooner—now, in fact.
While you won't be able to tour the full-size Ark we're building just yet (there's still much work to be done), you can reserve a lifetime spot on our modern-day re-creation. But you'll have to hurry. The door on this opportunity closes soon.
For a limited time, the Ark Encounter is offering exclusive charter lifetime boarding passes. And when we say limited, we mean very. Only the first 500 individuals and 1,000 families will receive the VIP benefits; only the first 1,000 individuals and 2,000 families receive the premium ones. And when the park opens, these boarding passes pass into history.
So, what's included? First, you get lifetime admission to the Ark Encounter and the nearby Creation Museum. There are also special behind-the-scenes "hard hat" tours, invitations to special charter member events (including the grand opening), a parking pass, eight one-day tickets for friends and family per year, restaurant and merchandise discounts, and more. Those who act fast to receive the VIP and premium benefits can expect special collectors items, passes to the Creation Museum planetarium show, VIP parking, and plenty of other goodies.
Your Ark Encounter passes will let you step back into time to experience God's Word in a living way. From the Tower of Babel to ancient city streets, you'll be right there in the pages of Scripture. The best part is that when you buy one of these boarding passes, you're helping us build the Ark and show the world that the Bible can be trusted.
The charter lifetime boarding passes can be purchased in one payment or spread out—just pick the plan that works best for you. But whatever you do, don't miss the boat on these.
Back to the Family
While we can't take away all the stress from plotting your summertime getaway, Answers in Genesis can offer you a family-sized event at a family-pleasing destination for a family-friendly low cost. All you need to do is click on over to the Proclaiming the Faith mini-site and register. Then, get ready for a great family time together.
In Store: Public Indoctrination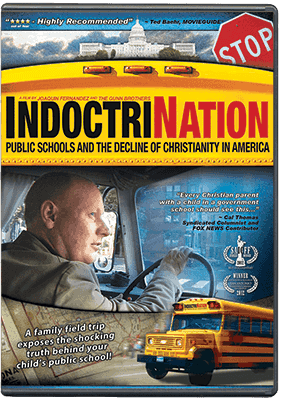 In the United States, nearly 90% of children from Christian homes attend public schools. But what are they really learning there? The answer revealed in the new documentary IndoctriNation: Public Schools and the Decline of Christianity in America may shock you.
Colin Gunn, a Christian filmaker, led his family on a field trip to find out exactly what goes on after the bell rings. Driving a converted school bus, Colin and his family took a summer road trip from New York City to Washington, D.C., from Boston to the Creation Museum, on a quest to understand the origins and social impact of American's modern public education system. Are the public schools an educational "neutral zone" or a humanistic program designed to undermine the influence of the Church and the family? Is there truth to the "salt and light" argument that encourages Christians to send their kids to public school?
Featuring interviews with teachers, administrators, parents, and evangelical leaders, the documentary dives into the complex political, economic, and moral problems with America's educational system. Consider this a wake-up call for the the damaging effects of a government-controlled education monopoly.
Should Christian parents hand their kids over to public schools? Watch this documentary before you decide.
Consider buying a copy of IndoctriNation for every parent you know. All of them need to see what's really happening to our nation's children.
Question of the Month
How can I pray for Answers in Genesis?
If there's one thing we never have too much of, it's prayer. Every project, article, book, video, and outreach event here at AiG moves forward with hours of prayer—both our own and that of our many supporters worldwide.
Because there's so much going on at the ministry, we haven't always had an opportunity to let our readers and supporters know how to pray for us. But we recently addressed this by launching a new prayer site.
The new site makes it easy for you to sign up for AiG prayer updates through email. We'll let you know throughout the year how you can stand with us in our prayer needs (as well as how God has answered).
(Have a question for InSite? Let us know! Be sure to mention that your question is intended for InSite.)
Did You Know?
Did you know that Ken Ham, president and CEO of Answers in Genesis, recently celebrated his 60th birthday? The staff of AiG and his family commemorated the day with a surprise trip down memory lane (and illustrator Dan Lietha couldn't pass up the opportunity for a new cartoon about "old age"). It's not too late to wish him happy belated birthday on his Facebook page.
About InSite