Upcoming Event: Your Next Great Family Vacation
Family vacations can be a tricky prospect. You spend hours researching the best rates, narrowing down a list of attractions, and hoping to take in something for each member of the family. Honestly, you may want a vacation from the stress of vacation planning after all that.
While we can't take away all the stress from plotting your summertime getaway, Answers in Genesis can offer you a family-sized event at a family-pleasing destination for a family-friendly low cost. (That means you can relax.) In fact, we'll take care of most of the planning for you so that you can focus on learning together at Proclaiming the Faith: A Family Conference (July 16–20, 2012).
So, how do we build a family-sized event vacation like this? First, we pick a beautiful location: Branson, Missouri, home to theaters, museums, amusement parks, and more. Then, we add in some of the most engaging—and challenging—speakers on biblical authority, including Ken Ham, Steve Ham, Andrew Snelling, Jason Lisle, and more.
But a good vacation needs something for everyone, and that's what makes this conference unique. For the kids, Buddy Davis will bring his humor, music, and stories of adventure during interactive workshops. Your children will also learn about the wonders of the world with David Menton and be amazed by "Gospel Illusionist" John Swomley. For teens, we're planning a special "teen track" with Mike Riddle that's fresh, engaging, and relevant. Georgia Purdom will lead several "women's track" events to equip and encourage wives and mothers. (Check out the schedule for more details.)
Family events, however, also need plenty of family time. Each day of the conference begins with family worship, featuring award-winning songwriter John Eliot. In addition, we've packed in plenty of free time for you to explore Branson together—or relax at the hotel pool.
In fact, we want getting ready for this event to be so stress-free that we've even gathered together a list of nearby lodging (we did the work for you). Call them and tell them you're with us, and they'll give you a discount.
If you're worried that an event like this could cost more than you could afford, go ahead and take a deep breath. Sign up right now, and the cost is $215 . . . for all of you, for all the conference sessions and events. Seriously.
You'll still have to get to the event, and family travel presents its own set of challenges. But as far as planning for next summer's great American family vacation, consider it almost done.
All you need to do is click on over to the Proclaiming the Faith mini-site and register. Then, get ready for a great time together.
An Amazement Park
Strap yourself in and get ready for IncrediWorld—a VBS adventure like no other. We call it an "amazement" park because we know you and your kids will be amazed by God and His love for us. Now that's something you can get excited about.
Get On Board
Have you considered supporting the Ark Encounter? Well, we are excited to announce that you can now purchase Charter Lifetime Boarding Passes, with up to 22 exclusive benefits offered for a limited time. These special benefits—including extra tickets, collector's edition products, and more—will not be offered again once we run out of the limited quantity available. Find out more on ArkEncounter.com.
In Store: Begin with Begin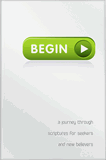 When Christians pass out New Testaments and tell people they need to start with John to understand the gospel, something key is being missed. As people learn of the good news, they also need to have an understanding of the bad news in Genesis: our sin in Adam and our need of a Savior.
In today's world, people who read the New Testament only, by and large, rarely understand the gospel and the full meaning of the Christian faith. They have little understanding of the foundations of the gospel and how all Christian doctrine connects.
With the new book Begin, Ken Ham and Bodie Hodge decided to do something "radical." They sought to give readers an overview of the Christian faith and the message of the gospel by presenting it the way God does it in His Word, and that's by starting at the Bible's beginning.
This easy-to-understand commentary takes readers on a journey through the Scriptures and helps them understand the structure and context of the Bible. There's a brief summary of events and history concerning Genesis 1–11 (the foundation), a look at Exodus 20:1–17 (the 10 Commandments), a journey through John (the gospel), an examination of Romans (the epistle from Paul), and a look ahead to Revelation 21–22 (the fulfillment in heaven).
Hand this book out to new believers, seekers, and even skeptics, and it will provide them with a first step to building a consistent study of God's Word. Pastors and teachers will find this book helpful when leading congregants and students into a greater understanding and focus on the infallible message of God.
So, when someone asks where to begin, you can tell them to Begin at the beginning.
Question of the Month
What resources would you recommend for teens?
Teens certainly need resources to help them defend their faith and to grow in their understanding of Scripture. And we want to be here to equip them. Here are some tools that can help your teen (or teens you know) get equipped to face a skeptical world:
(Have a question for InSite? Let us know! Be sure to mention that your question is intended for InSite.)
Did You Know?
Did you know that we have conferences and events all over the U.S.? From San Francisco to Denver to Milwaukee to Dover, there's likely to be an upcoming event near you (most of them free). Our Answers Outreach map let's you take a look quickly and easily. We can't wait to see you there.
About InSite